Abrams high on safety pledge Johnson's Hog future
Published: Friday, December 4, 2020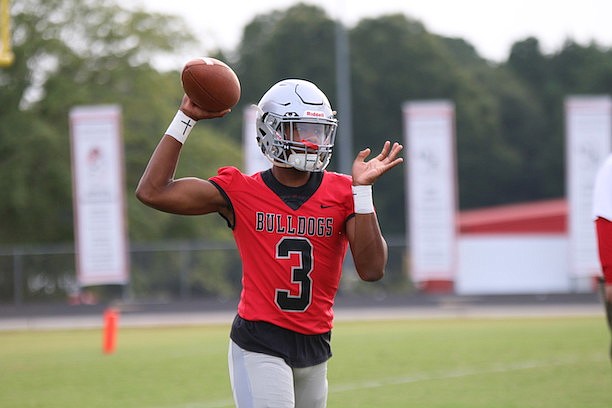 FAYETTEVILLE — A former Colt and Boll Weevil is trying to get some Bulldogs from the Peach State to the finish line.
Cedartown, Ga., head football coach Jamie Abrams is an Alabama native who played his high school football at Rivercrest and in college at Arkansas-Monticello.
His team is led by Arkansas senior safety commit Jayden Johnson (6-2, 205) and Georgia junior linebacker pledge Cedric Washington (6-2, 220) and will take a seven-game winning streak into Friday night's Class AAAA second-round state playoff game with visiting North Oconee (5-6).
It will be Cedartown's first game in three weeks with a bye week followed by a forfeit win over Lithonia Arabia Mountain, who could not play due to covid-19 concerns.

"It seems like there is always something going on," Abrams said. "We had trouble even getting practice started, played our first two games with very little practice and now haven't been able to play for nearly a month.
"All the kids, Jayden included, have done a great job staying the course and believing in what we are doing and we have had success from that. We have been able to ride the wave into the playoffs."

Abrams played at Rivercrest from 1997-99 and Arkansas-Monticello from 1999-2001 before finishing up at Minnesota State-Mankato, where he started his coaching career as a graduate assistant.
After a few high school coaching jobs in Georgia, Abrams took over for Doyle Kelly after being the defensive coordinator at McEachern.
"I got the job and maybe five or six weeks in everybody gets quarantined and shut down," Abrams said. "We didn't get our whole team back and together for a long time. We were sitting in the middle of August when we should have had our first game and instead we have to shut down again for two more weeks because of covid on our team.
"Then the first day we were finally ready to have practice, it got rained out. We practiced Tuesday, Wednesday and Thursday and then got shut down for covid again – this time for three weeks. We had a rough start just trying to get on the field."
After losses to Rockmart and Calhoun, the Bulldogs have won their last seven games by at least 24 points.
Cedartown has former Georgia and current Cleveland Browns running back Nick Chubb and four current Division I prospects among its alums.
"Once we got some practice in, we got things rolling," Abrams said. "Now here we are again, just anxious to back out on the field again. Hopefully that will happen this week."
Johnson, who announced his pledge to Arkansas on Thanksgiving after previously being committed to South Carolina, has played a variety of positions on both sides of the ball for the Region 7A-4 Conference champions.
Johnson has rushed 48 times for 347 yards and 5 touchdowns, hauled in 17 passes for 336 yards and three touchdowns and also had 17 tackles, 3 interceptions, a pass deflection, a forced fumble and a recovered fumble on defense during the regular season.
"He has played everywhere from quarterback to wide receiver to running back on offense," Abrams said. "On defense, he plays corner and safety and he has played a lot of special teams as well. He has played a lot of football and I do think that having played so many places is going to serve him well in college."
Johnson, who also had offers from Oklahoma, Ole Miss, Virginia, Georgia Tech, Kansas State, Coastal Carolina, Memphis and other programs, is coming to Arkansas as a three-star safety prospect, according to 247 Sports, ESPN and Rivals.
"He's got range and height, he is an intelligent kid and the fact that he has played a lot of positions has helped him know what all is going on out there on the field," Abrams said. "That height and length is what everybody is looking for these days to go against those taller receivers."
Johnson had not visited South Carolina before he committed to the Gamecocks on June 15.
His first trip to Fayetteville will be when he enrolls at Arkansas in January, less than a month after signing his national letter of intent with the Razorbacks on Dec. 16, which is the opening day of the three-day early signing period.
"He's a smart kid, so he understands it all, but that doesn't make it any easier," Abrams said. "I guess he is in a very odd predicament. He is going to go there kind of sight unseen, but he'll be fine."
Discussion
Have a comment on this story? Join the discussion or start a new one on the Forums.