'Proud of our team': Arkansas native Drinkwitz wins coaching debut vs. Razorbacks
Published: Saturday, December 5, 2020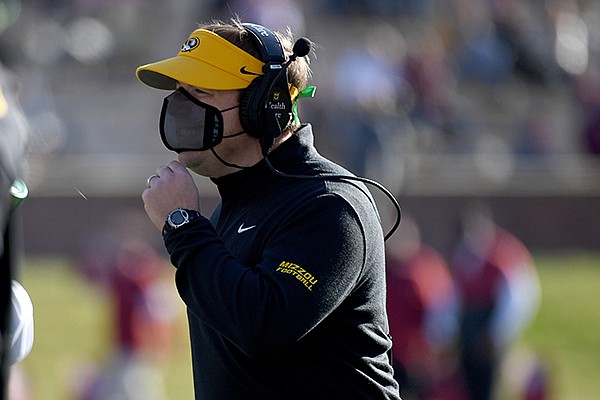 Missouri head coach Eli Drinkwitz watches from the sidelines during the second half of an NCAA college football game against Arkansas Saturday, Dec. 5, 2020, in Columbia, Mo. (AP Photo/L.G. Patterson)
Eli Drinkwitz's first foray into the Missouri-Arkansas football series ended with the first-year Tigers head coach deciding to look across the field instead of the action on the field.
Harrison Mevis kicked a game-winning 32-yard field goal as time ran out to lift the Tigers over the Razorbacks 50-48 Saturday in game dubbed the Battle Line Rivalry.
"I would be lying if I said that I didn't have any doubt, but I felt good about it," Drinkwitz said of the field goal. "He had been 6 for 6 (this season). Honestly, I looked across the field. I was about the 50, (Arkansas coach Sam Pittman) was on the 50, so I just watched him when the ball was kicked. He put his head down so I knew that we had won."
It completed the largest fourth-quarter comeback in the history of Missouri, which scored 27 points after trailing 33-23 at the end of the third quarter and 40-26 in the fourth quarter.
More from WholeHogSports
It was a game that had 1,219 yards of total offense (Missouri 653, Arkansas 566).
"What a great game and what a tribute to our seniors on Senior Day and to the toughness and tenacity that our program is showing as we continue to learn how to win," Drinkwitz said. "It was a nice job of our guys fighting in the second half. I told them that no great story is fun unless you have a little adversity.
"We faced a little adversity, fought all the way back. I'm really proud of Harrison Mevis and gave him the game ball at the end of the game. It's always good to beat your rival."
He noted it was better to win the game than lose, but respected the effort from the Razorbacks, who were without injured starting quarterback Felepie Franks and opted-out tailback Rakeem Boyd. Arkansas safety Jalen Catalon had to sit out the first half because of a targeting call and ejection in Arkansas' last game.
"I feel bad for them (the Razorbacks)," said Drinkwitz, who grew up in Alma. "They played a really good game. To play as well as they did without their starting quarterback was impressive. KJ Jefferson was unbelievable today. But proud of our team."
Jefferson completed 18 of 33 passes for 274 yards and 3 touchdowns. He rushed 13 times for 32 yards and another score in his first extended playing time of the season.
In the final minute he hit Mike Woods on a 14-yard touchdown pass and a 2-point conversion, the latter that went through the hands of Missouri defensive back Jamal Brooks.
That put Arkansas (3-6) up 48-47 with 43 seconds left, but Missouri (5-3) went 60 yards in seven plays behind quarterback Connor Bazelak to put Mevis in position to win it.
"I was just trying to stay calm as always," Bazelak said. "One thing I like to remember is, in our quarterback room we have kind of a list of commandments. One of them is we don't need a celebrity quarterback, we need a a battlefield commander. I kind of like that and just thought about that. I don't worry about. I just needed 40 seconds and three timeouts to get down the field, kick a field goal and win the game."
Mevis, who had made earlier kicks of 51, 29, 37 and 40 yards, shrugged off two timeouts called to ice him and drilled his kick right though the uprights.
"I just wanted a shot at it because I knew I was going to hit it," Mevis said. "I knew (the timeouts) were coming. It just gave me more time to think about the kick and get it right. So advantage me."
Drinkwitz praised the calmness of his quarterback, who was 32 of 49 for 380 yards.
"Yeah, you know, he's got just a great head on his shoulders," Drinkwitz said. "(He) sees the defense really well, you know, found a matchup that he felt like he could take advantage of, and he just kept hammering it. You're always — as a quarterback — gonna be measured on your game-ending drives. That's the measure of winning quarterbacks. And for him to get that one today was pretty awesome."
Larry Rountree rushed 27 times for 185 yards and three touchdowns for Missouri.
Keke Chism had 6 catches for 113 yards, and Fayetteville native Barrett Banister had 6 catches for 60 yards, including multiple first-down catches.
"He (Bannister) is just Mr. Consistent," Drinkwitz said. "He always finds a way, especially in zone coverage, to be open. I thought Connor did a nice job of extending plays and finding him today."
Discussion
Have a comment on this story? Join the discussion or start a new one on the Forums.