How we see it: Arkansas vs. Missouri predictions
Published: Saturday, December 5, 2020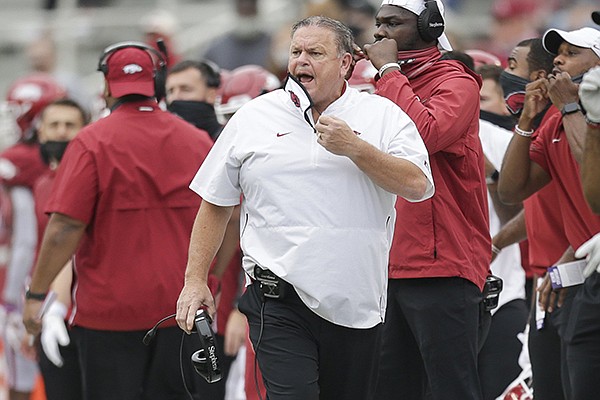 (
Charlie Kaijo
)
Arkansas coach Sam Pittman yells from the sideline during a game against LSU on Saturday, Nov. 21, 2020, in Fayetteville.
Clay Henry, Hawgs Illustrated
Arkansas has the better quarterback with Feleipe Franks, but the Arkansas secondary will miss Jalen Catalon for the first half. This looks like a toss-up. The Hogs need some good luck with covid-19 testing, but they have the better team when most of the defense is available. Barry Odom gets a shot against the school that fired him 12 months ago. Arkansas, 21-20
Matt Jones, Whole Hog Sports
The early-season momentum that helped Arkansas to a 3-3 start seems to have faded some after two consecutive losses and a week off due to covid-19 quarantines. Missouri, meanwhile, has won four of five, albeit against mostly bad teams. This is a toss-up pick based on momentum and home-field advantage. Missouri, 21-17
Scottie Bordelon, Whole Hog Sports
Missouri depends on production from running back Larry Rountree, and the Razorbacks' run defense is a question mark for me. Opponents are also exploiting holes in the secondary. Missouri, 28-24
Dudley E. Dawson, Hawgs Illustrated
The Arkansas defense will be hard pressed to stop Larry Rountree and the Missouri offense, a unit that seems to be playing its best football now. Missouri, 28-24
Bart Pohlman, The Hog Pod
The SEC East — outside of Florida and Georgia — has been brutal this season. Missouri has emerged as the "best of the rest," but that isn't saying much. Arkansas is the better team, and if the Razorback offense can click from the start, the Hogs will get the lead and keep it. Arkansas, 31-20
Seth Campbell, Whole Hog Sports
The Razorbacks were oh so close to getting the boot back last game, but now their attention shifts from south of the border to north of the border. I expect the Razorbacks to get just their second win in the series since Missouri joined the SEC. Arkansas, 28-14
Tommy Craft, The Morning Rush
Franks has been at his best on the road. He'll need to be sharp to beat Mizzou. With Barry Odom returning to Columbia, expect the Arkansas defense — hopefully with more of his men — to raise to a higher level. Arkansas, 31-24
Tye Richardson, The Morning Rush
While fans contemplate this loss for a while, the Hogs have already moved on. These fighting Razorbacks will continue their resilient ways against a different set of Tigers. Arkansas, 31-24
Discussion
Have a comment on this story? Join the discussion or start a new one on the Forums.