Razorbacks pass unpleasant test vs. UALR
Published: Sunday, December 20, 2020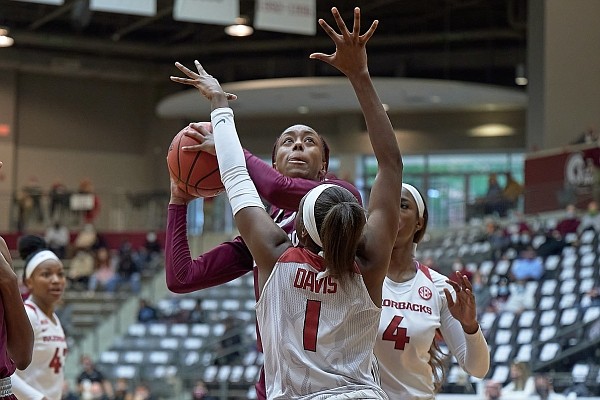 ( UALR Athletics )
Arkansas guard Marquesha Davis (1) contests a shot during a game against Arkansas-Little Rock on Dec. 19, 2020, at the Jack Stephens Center in Little Rock.
Arkansas women's basketball Coach Mike Neighbors said that playing a Joe Foley-coached team was like going to the dentist and proctologist on the same day.
That was despite a 33-point victory of the University of Arkansas at Little Rock last season at Simmons Bank Arena in North Little Rock.
Saturday, after an 80-70 victory over UALR at the Jack Stephens Center, Neighbors added a visit to the Department of Motor Vehicles to his list of things more enjoyable than preparing for a Foley team.
"It's an excruciating thing to have prepare for, to have to think about going in and physically do," Neighbors said. "They play to their strengths as well as anybody in the country. The very definition of a well-coached team. It's an honor for us to come in here and play."
Neighbors was asked to compare these 4-3 Trojans with the Trojans the Razorbacks played last season. That UALR team finished the season 12-19, Foley's first losing season since 2005-06.
"Night and day difference for me," Neighbors said. "You've got a group that appears very cohesive, for having played one of the most difficult schedules in the country. Foley is a master at keeping those guys focused at the end of the year."
Neighbors said playing UALR will provide anguish for the teams from the Sun Belt West who will play the Trojans.
"It is a Joe Foley team," Neighbors said. "On both ends of the floor. Making you play the full shot clock, and I felt for 28-30 minutes of the game they played a lot harder than we did. Got every loose ball that came their way."
UALR outrebounded Arkansas 38-28, including 14-4 on the offensive end. The Trojans made 13 more two-point baskets.
Arkansas won the game by outscoring UALR 42-3 from behind the three-point line, committing 5 fewer turnovers and holding leading scorer Bre'Amber Scott to 7 points on 2-of-15 shooting.
"A lot of attention paid to her," Neighbors said of Scott, who scored 20 points against Arkansas when she played at Mississippi State two years ago.
Brianna Crane, who like Scott is a first-year UALR player after transferring from Murray State, led all scorers with 27 points.
Senior center Kyrstan Vornes had 8 offensive rebounds in a 12-point, 13-rebound game, and Teal Battle added 18 points and 5 rebounds.
Point guard Mayra Caicedo had 10 assists, but only attempted two shots from the field.
Foley said he was pleased with his team's effort and the improvement it showed Saturday vs. the No. 12-ranked team in the country after losing by 23 to No. 10 Texas A&M nine days previously.
"More patient," Foley said of the difference. "Let's don't kill ourselves right off the bat like we did against A&M. Give ourselves a chance.
"These two games made us understand the importance of movement, hard cuts, and get down on a defense and move their feet. It's something we've got on film and we can use the next two weeks to see what we've got to do to be a really good basketball team."
Neighbors said he believes UALR will be a handful for anybody left on its schedule and beyond.
"Part of what they do is they frustrate you so much in you having to guard them," Neighbors said. "You can do 42 things right in a possession, and you do one thing wrong, and they're laying that sucker in … or shooting a wide-open shot"
Foley said the Trojans have a chance to be a much better team than last year.
"I think we're turning the corner," he said. "I think we'll get better. Playing Texas A&M and playing Arkansas is going to make us much better. If we can compete like that, and not give up, that tells you that we're starting to get ready to play some pretty basketball, I think."
Discussion
Have a comment on this story? Join the discussion or start a new one on the Forums.