Tennessee routs Razorbacks in Knoxville
By: Steve Megargee, The Associated Press
Published: Tuesday, February 11, 2020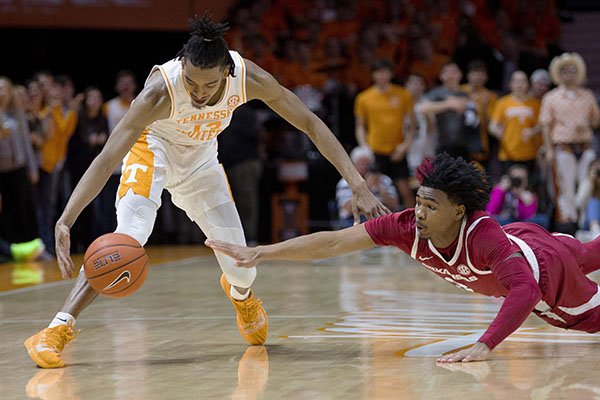 Tennessee guard Jalen Johnson (13) and Arkansas guard Desi Sills (3) go after a loose ball during an NCAA college basketball game, Tuesday, Feb. 11, 2020 in Knoxville, Tenn. (Brianna Paciorka/Knoxville News Sentinel via AP)
KNOXVILLE, Tenn. — Freshman Santiago Vescovi had 20 points and eight assists before fouling out to set career highs in both categories as the Volunteers trounced Arkansas 82-61 on Tuesday.
Arkansas (16-8, 4-7 Southeastern Conference) lost its third consecutive game, shot a season-low 30.6% and fell by double figures for the first time all season. The Razorbacks had been one of only nine Division I teams to avoid any double-digit defeats.
Both teams were at far less than full strength for this one.
Arkansas played a third straight game without second-leading scorer Isaiah Joe, who underwent arthroscopic debridement surgery on his right knee in February 4 because of recurring inflammation. The Razorbacks also held Southeastern Conference scoring leader Mason Jones out of the starting lineup, though he sat for less than three minutes before taking the floor.
Tennessee (14-10, 6-5) played a fourth consecutive game without starting guard Josiah-Jordan James, who has a groin injury. Tennessee starting forward John Fulkerson played through an illness.
The Vols did a much better job of adapting to their circumstances.
Tennessee had five players score in double figures while Arkansas went through prolonged stretches without making a basket. Jordan Bowden had 16 for Tennessee. Fulkerson had 14, Yves Pons scored 12 and Olivier Nkamhoua had 10.
Jimmy Whitt Jr. scored 19, Desi Sills had 11 and Reggie Chaney added 10 for Arkansas.
Arkansas went 7 minutes, 44 seconds without a basket during one stretch in the first half. The Razorbacks followed that up by going 8:40 without a basket in the second half.
Jones scored just nine points - less than half his season average of 20.5 - and shot 1 of 10 from the field.
Midway through the first half, Arkansas had an equal number of turnovers (nine) and field-goal attempts. The Razorbacks trailed 40-23 at halftime and never cut the margin below 15 the rest of the way.
BIG PICTURE
Arkansas: The Razorbacks dearly miss Joe. In its first two games without him, Arkansas lost in overtime to No. 11 Auburn and Missouri. This defeat wasn't nearly that close as the Razorbacks fell three games below .500 in SEC competition, a steep fall for a team that raced to a 14-2 start this season. Arkansas entered the night a respectable 38th in the NET rankings, which are used as an evaluation tool in the NCAA Tournament selection process. But it's tough to imagine the Razorbacks earning an NCAA bid if they don't finish .500 or better in SEC play.
Tennessee: The Vols entered the night having lost four of their last five games, but they ended that slide by playing much stronger defense. In its last two losses, Tennessee allowed Mississippi State to shoot 57.1% and allowed Kentucky to shoot 54.3%. The Vols simply refused to give up any easy baskets Tuesday.
UP NEXT
Arkansas host Mississippi State on Saturday.
Tennessee visits South Carolina on Saturday.
EARLIER
Tennessee 82, Arkansas 61 - Final
The Razorbacks were blown out for the first time under Eric Musselman on Tuesday.
The loss sends Arkansas to 4-7 in SEC play, where it has lost six of its last seven. The Razorbacks return home to face Mississippi State on Saturday.
Jimmy Whitt led the team with 19 points and Desi Sills added 11. Santiago Vescovi scored a game-high 20 points, and Tennessee shot 49.1 percent for the game.
We'll have more from this game a little bit later.
Tennessee 67, Arkansas 43 - 7:36 left
Jeantal Cylla ended an eight-minute stretch without a score with a dunk in transition assisted by Reggie Chaney.
Jimmy Whitt has 13 points tonight and Desi Sills has 11. They are a combined 5 of 19 shooting, and Mason Jones is 1 of 10. That's pretty terrible.
Adrio Bailey has not scored tonight. He has just two rebounds and four fouls in his 14 minutes.
Tennessee is shooting 47.7 percent for the game and is 6 of 16 from deep. Santiago Vescovi has a game-high 18 points and six assists.
Tennessee 57, Arkansas 35 - 11:41 left
Jamario Bell is back in the lineup for the Razorbacks. Right now, Eric Musselman would rather the former Arkansas defensive lineman be on the floor than Reggie Chaney and Adrio Bailey.
Eight-plus minutes into the second half, Arkansas is 2 of 7 from the floor. Eight of its 12 points since the break have come at the line. Desi Sills is the lone Razorbacks player in double figures.
According to StatBroadcast, Jimmy Whitt is a minus-22 tonight, and Jalen Harris is minus-18. They're a combined 3 of 9 from the floor with three turnovers.
Santiago Vescovi has a game-high 18 points and five assists.
Tennessee is outscoring Arkansas 30-10 in points in the paint.
Tennessee 48, Arkansas 31 - 15:59 left
The Vols already have buckets from four players in the second half. They are 4 of 6 from the floor since the break and shooting 51.7 percent for the game.
Desi Sills has four points for the Razorbacks since halftime, and Jimmy Whitt and Reggie Chaney have a score apiece. Whitt and Mason Jones are a combined 4 of 17 shooting for 15 points. Jones is 1 of 10.
Sills has a team-high 10 points. Santiago Vescovi has 15 points, and Jordan Bowden 10.
Tennessee 40, Arkansas 23 - Half
The Razorbacks easily just turned in their worst half of basketball of the season. Bad shot selection, no communication or rotation defensively, which has led to silly fouls, and too many turnovers. That's how Arkansas finds itself facing its largest deficit of the year.
Also, Jamario Bell got into the game near the end of the half, which should tell you how rough it was/how many times Arkansas fouled (14).
Arkansas' 23 points are its fewest in a first half this season. Mason Jones, who began the night on the bench, scored seven points on 1 of 9 from the floor. Desi Sills and Jimmy Whitt each have six.
Eric Musselman really needs Adrio Bailey and Reggie Chaney to bring a big-time spark after the break. The backcourt has to step up, too. Need a lot more than three turnovers apiece from Jalen Harris and Sills. Neither has an assist.
Four Tennessee players finished with six-plus points, led by Santiago Vescovi's 13. He hit 4 of 6 shots and 2 of 3 from deep. Jordan Bowden added eight on a pair of 3s.
Tennessee 32, Arkansas 18 - 3:56 left first half
The Razorbacks have five points since the seven-minute mark, and they all belong to Mason Jones. He has five points on 1 of 7 from the floor to go with two assists and two turnovers.
On top of Adrio Bailey and Reggie Chaney's foul trouble, Ethan Henderson and Desi Sills each have three as well. Arkansas has committed 13 fouls. The Hogs also have 10 turnovers.
Santiago Vescovi is up to 11 points and Olivier Nkamhoua has seven (5/6 FT).
Tennessee 28, Arkansas 13 - 6:19 left first half
The Vols hit four free throws and Santiago Vescovi hit two 3s between the timeouts to extend their lead to double figures.
Vescovi has 10 points and three assists.
Desi Sills has six points on a pair of 3s. Following his second 3, he was 8 of his last 15 from deep. That's a good sign. Shot selection, though, is important.
Tennessee 16, Arkansas 8 - 8:22 left first half
Tennessee calls for time after it cannot inbound the ball along the baseline under its rim.
Jimmy Whitt finally knocked down a shot for Arkansas, ending a seven-plus minute stretch without a bucket. The Razorbacks are 3 of 12 from the floor and 1 of 3 from deep. They've turned the ball over nine times.
There have been times when it appears this team has just completely forgotten how to value the ball. It's unbelievable.
The Vols have scores from five different players tonight. Jordan Bowden still leads the way with five points. Santiago Vescovi has two points and three assists.
Tennessee 10, Arkansas 6 - 11:57 left first half
Just a really sloppy stretch of basketball from the Razorbacks there.
Arkansas has already committed six fouls - 2 on Reggie Chaney and Adrio Bailey, one each on Desi Sills and Mason Jones. Jones was just whistled for an offensive foul. He has not done anything positive on his five touches so far.
Jimmy Whitt scored the lone point between the breaks on a split at the line.
The Razorbacks are 2 of 6 from the floor and have turned the ball over seven times. Turning the ball over so often is not a recipe to win away from home.
Ethan Henderson also providing solid minutes. He has a rebound and a steal in three minutes.
Tennessee 8, Arkansas 5 - 15:32 left first half
Mason Jones' absence from tonight's game was short lived. He entered the lineup less than three minutes in. He missed a pair of shots prior to the first media timeout of the night.
Desi Sills got the Razorbacks on the board with a 3 from the right wing. He's 1 of 2 from deep to this point. Reggie Chaney has the team's other score, a nice up-and-under move at the rim off a post-up.
Adrio Bailey picked up two fouls in the opening four-plus minutes. That isn't ideal. Chaney also has one.
Jordan Bowden has a game-high five points for Tennessee, which is 3 of 6 shooting and 1 of 2 from deep.
Pregame
Arkansas' starting lineup: Jimmy Whitt, Desi Sills, Jalen Harris, Adrio Bailey and Reggie Chaney.
No Mason Jones in the starting lineup for the Razorbacks tonight. Instead, Harris will make his third start of the season and first since the loss to South Carolina. Arkansas has scored at a 1.03 point-per-possession clip in his two starts and allowed .97 PPP.
We'll see how long Jones remains on the bench. Eric Musselman said on the pre-game show that he wants Jones to bring a punch off the bench, and for Harris to get the team off to a faster start. He'll not doubt look to push the pace.
Chaney and Bailey will begin the game together once again. For the season, Arkansas is plus-13 when they share the floor over 209 possessions. Opponents have shot 23.9 percent from 3-point range.
Tennessee's starters: Santiago Vescovi (6-3), Yves Pons (6-6), Jordan Bowden (6-5), John Fulkerson (6-9) and Jalen Johnson (6-6).
Coming into tonight's game, the Volunteers have lost four of their last five games. They sit at 13-10 overall and 5-5 in SEC play. Tennessee lost 77-64 at home on Saturday to Kentucky. Vescovi, a mid-year addition from Montevideo, Uruguay, scored a team-high 18 points on 4 of 11 from 3-point range.
Vescovi has a bit of flair in his game, and he reminds Musselman of former San Antonio Spurs star Manu Ginobili in a way. He has great range beyond the arc, hitting four 3s in two of the last three games. He is, though, turnover prone. He committed nine in his first college game vs. LSU and has three-plus miscues in six of 11 games played.
Pons is one of the SEC's premiere shot blockers. He is swatting away 10 percent of opponents' 2-point looks in SEC play, which leads the league. Bowden is a great playmaker, and a veteran. He has scored in double figures in seven straight games.
Running updates by Scottie Bordelon of WholeHogSports.com
Discussion
Have a comment on this story? Join the discussion or start a new one on the Forums.