Arkansas 2021 OL target Terry Wells named National Combine's best
Published: Saturday, January 4, 2020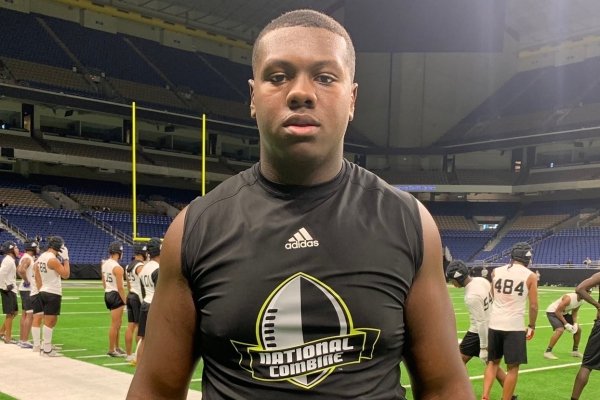 FAYETTEVILLE — It has been a pretty good weekend for Wynne junior offensive tackle Terry Wells, one of the state's top 2021 prospects.
Not only did Wells (6-4, 280) receive a scholarship offer from new Arkansas coach Sam Pittman, but he also was named the outstanding offensive lineman at the prestigious U.S. Army All-American National Combine.
That is pretty heady stuff for a young man who also sports a 4.0 grade point average and notched a qualifying score on his ACT.
"The National Combine was a great experience," Wells said Saturday afternoon after winning the award. "I learned a lot and the hard work that I have been doing to prepare for it paid off. I was so thankful to receive the Offensive Line MVP, but it's still some unfinished business to be done."
The offer from Arkansas on Friday is likely one of many more to come for Wells after his performance this weekend.
"After coach Pittman offered, I felt great about it, felt amazing about it," Wells said. "I did grow up a fan of Arkansas and I really love the program, but I want to see all my options first before I make a decision."
Wells is the third 2021 in-state prospect to be offered by the Razorbacks, joining Fort Smith Northside athlete Dreyden Norwood and Little Rock Parkview tight end Eric Outley.
Wells was also named to 247's All-Combine team along with Maumelle sophomore offensive lineman Andrew Chamblee (6-8, 295), arguably the state's top 2022 prospect and someone who has offers from Arkansas, Tennessee, Virginia Tech, Oklahoma State, Mississippi State, TCU and Kansas.
Wells now has offers from Arkansas, Kansas and Southern Mississippi, all schools he is planning on visiting unofficially in the next month or so.
"I am planning on being at Arkansas early in February," Wells said. "I am visiting Kansas on the 25th of January and Southern Miss on the 18th of January."
Wells does not have a timetable on when a decision might be announced.
"I have thought about it some, but I am not sure how I am going to go about it," Wells said.
Wells feels like one aspect of his game is better than another at this point.
"I feel good about my run blocking and I'm working on getting better with my pass blocking," Wells said. "I think I did pretty good this weekend with both."
Wynne is coming off a 7-5 season that ended with a 52-21 loss to Little Rock Christian after a 46-45 win over Vilonia in the opening round of the Class 5A state playoffs.
"We did pretty good, but we could have done better than just getting to the second round," Wells said. "I think we are going to do really good next year."
Discussion
Have a comment on this story? Join the discussion or start a new one on the Forums.