Joe's 34 leads Arkansas to comeback win at Ole Miss
By: Chris Burrows, The Associated Press
Published: Saturday, January 11, 2020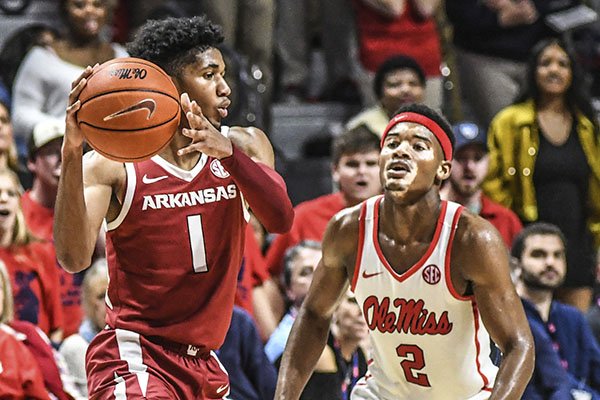 Arkansas guard Isaiah Joe (1) is defended by Ole Miss guard Devontae Shuler (2) during an NCAA college basketball game Saturday, Jan. 11, 2020, in Oxford, Miss. (Bruce Newman/The Oxford Eagle via AP)
OXFORD, Miss. — Isaiah Joe put on a clinic about finishing strong and Arkansas coach Eric Musselman loved the results Saturday as the Razorbacks rallied late to defeat Mississippi 76-72.
"Isaiah put on a show shooting wise," Musselman said. "But around the eight-minute mark we changed up the defense and it really made a difference on four of their possessions. We also got some shots with a player we wanted."
Joe was that player, finishing with 34 points, 26 in the second half, including 14 in the final seven minutes as the Razorbacks (13-2, 2-1 Southeastern) wiped out a 60-51 deficit.
Joe's most important play came on the defensive end with a steal to preserve a 72-70 lead with 17 seconds remaining. Ole Miss was forced to foul Joe and the sophomore guard converted both free throws for an insurmountable four-point advantage.
"We had to finish out at the end and that's what we did," Joe said. "Once you get in a rhythm, you sort of find yourself. My teammates were able to find me."
Mason Jones scored 13 points and added nine assists with six rebounds while Jimmy Whitt Jr. added 11 points while the Razorbacks converted 14 of 14 from the free throw line in the second half. The Razorbacks were 23 of 56 (41 percent) from the field and 22 of 27 (82%) from the free throw line.
Breein Tyree scored 27 points for Ole Miss (9-6, 0-2), but the Rebels went 2 of 8 from the field with two turnovers in the final four minutes. Blake Hinson scored 13 points, KJ Buffen had 12 points and 10 rebounds while Devontae Shuler had 10 points and a game-high 11 rebounds.
"I thought we played well for about 35 minutes," Mississippi coach Kermit Davis said. "We just did a poor job of getting to Joe late. He's a good player and made a big steal at the end."
The Rebels finished 22 of 54 (41%) from the field, but struggled at 3-point range, managing only 3 of 13 (23%). Ole Miss was 25 of 26 (96%) from the free throw line and out rebounded Arkansas 40-28.
BIG PICTURE
Arkansas: NCAA Tournament resumes are built by road wins and the Razorbacks added Ole Miss to an impressive list that includes Georgia Tech and Indiana. Joe drilled consecutive 3-point shots in a 30-second span to ignite the comeback in the final seven minutes. Arkansas scored 21 points off 16 Ole Miss turnovers.
"We had Whitt and Joe make free throws under pressure at the end and we got 21 points off turnovers. I thought that was the turning point of the game, Musselman said.
Ole Miss: The Rebels have struggled to score and it was apparent in the final seven minutes, managing only two baskets. The Rebels have shot less than 41 percent in three consecutive games and answers must be found immediately since three of the next four games are on the road before closing January at home with No. 5 Auburn.
UP NEXT
Arkansas: Hosts Vanderbilt on Wednesday. The Razorbacks host four of the remaining five games in January.
Ole Miss: Visits Florida on Tuesday. Florida is coached by Michael White, a four-year starter at point guard on three NCAA Tournament teams for the Rebels in the 1990s.
Earlier
Arkansas 76, Ole Miss 72 - FINAL
Isaiah Joe tied a career high with 34 points and the Razorbacks bounce back from Wednesday's loss at LSU with a come-from-behind win against the Rebels.
Joe scored 26 of his 34 points in the second half. He was 8 of 10 from the floor in the second half and 5 of 7 from 3-point range. He also came up with two huge steals, which led to Arkansas points late.
Mason Jones added 13 points and Jimmy Whitt had 11.
More from this game a little bit later on WholeHogSports.com.
Arkansas 74, Ole Miss 72 - 11 seconds left
Isaiah Joe has tied a career high with 34 points, and he's come up with two huge steals in the last two-plus minutes.
Breein Tyree isn't going away, though. He just added a layup to cut the Arkansas lead to two. He has 27 points.
The Razorbacks will inbound when play resumes.
Arkansas 72, Ole Miss 70 - 1:10 left
Isaiah Joe has six of the Razorbacks' last eight points, including a steal and layup, to give Arkansas a four-point lead.
Joe has a game-high 32 points. He has been brilliant and shown once again why he is a pro.
Defense in the final minute is going to win this game. We'll see which side can come up with stops.
Ole Miss 68, Arkansas 66 - 4:14 left
Isaiah Joe has singlehandedly kept the Razorbacks in this game.
He has a game-high 28 points on 7 of 12 from 3. He buried two 3s in a 30-second span to pull Arkansas within two, and after one of his triples, Adrio Bailey was shoved under the rim, drawing a whistle. He knocked down two free throws and tied the game.
The Razorbacks, though, have to continue to get defensive stops. The Rebels are 10 of 20 from the floor since halftime, and Breein Tyree has 13 points - seven at the line.
This should be a really fun finish.
Ole Miss 60, Arkansas 51 - 8:03 left
Arkansas has cut the Rebels' lead to 4-5 points on a number of occasions, but it can't string defensive stops together.
Ole Miss has scored on 12 of 19 second-half possessions, and Breein Tyree has 11 points on 3 of 7 from the floor and 5 of 5 at the line. He's got a game-high 23.
Buffen, Hinson and Shuler are now in double figures for Ole Miss with 10, 11 and 10, respectively.
The Razorbacks have their backs against the wall now. Let's see how they respond. Isaiah Joe has a team-high 20 points. He converted a four-point play a bit earlier.
Mason Jones is the only other Arkansas player in double figures with 11 on 3 of 11 shooting. He also has six assists and three steals. Jimmy Whitt has nine points on nine shots as well.
Ole Miss 51, Arkansas 45 - 11:16 left
Ole Miss opened up its lead to as many as 11 points, but Isaiah Joe found his tough at the right time for Arkansas.
He knocked down a pair of 3s and a midrange jumper through contact on the left side of the floor to get Arkansas back within four. Breein Tyree, though, answered with a layup at the other end, setting the current score.
Joe, who did not score over the final 13-plus minutes of the first half after scoring eight early points, now has 16 points on 6 of 12 shooting and 4 of 9 from 3. Three of his four triples tonight have come from the corners, areas of the floor he has struggled mightily from this season.
Tyree has a game-high 20 points. Ole Miss scored on 7 of its first 9 offensive possessions of the second half.
Ole Miss 44, Arkanas 35 - 15:14 left
The Razorbacks are doing the things you need to do to get beat on the road.
Defensive stops have been tough to come by since the break. Ole Miss has scored on 5 of 8 possessions in the second half, and Arkansas just can't stop Breein Tyree. He'll be at the line when play resumes after Jalen Harris fouled him on a long 2 from the top of the key. Tyree has a game-high 16 points.
Jimmy Whitt has four points for the Razorbacks since halftime. Adrio Bailey and Mason Jones also have scores. Arkansas has to find some sort of offensive consistency quickly or this could get out of hand.
Ole Miss 33, Arkansas 27 - Halftime
The Rebels closed the first half on a 7-0 run and take a six-point lead into halftime.
Breein Tyree scored a game-high 12 points in the first half on 4 of 9 from the floor and 2 of 2 from deep. Ole Miss is 3 of 8 from distance. Blake Hinson has seven points as well and hit 1 of 4 attempts from deep.
Isaiah Joe scored a team-high eight points for Arkansas, but he did not score over the final 13-plus minutes of the half. Mason Jones has seven points, too, and picked up a really silly foul late that sent Tyree to the line. Eric Musselman was furious, yelling at him immediately after the whistle.
The Razorbacks are 3 of 12 from 3-point range. As Musselman said Thursday, Arkansas needs someone other than Joe and Jones to knock down a perimeter shot or two.
Jeantal Cylla was good on the glass in the first half, but that's about it. He missed a layup, committed a turnover on a poor pass and was a minus-6 in 11 minutes. Reggie Chaney has not played yet.
Arkansas' 27 first-half points are a season low. The Razorbacks shot 8 of 30 before the break. Jones has all four of the team's assists and three of the five turnovers.
Arkansas 25, Ole Miss 24 - 3:32 left first half
Mason Jones has the Razorbacks' last four points since Ole Miss grabbed its first true lead of the game. He knocked down a stepback jumper from the right wing then drove to the rim and got fouled. He hit both free throws.
Arkansas is 3 of 10 from 3-point range. Eric Musselman said this week the magic number for the Razorbacks to win on the road is 10-plus 3s. Got some work to do to get there. Isaiah Joe is 2 of 5.
Breein Tyree has 10 points on 3 of 8 from the floor.
Morgan Freeman is in attendance and sitting courtside.
Ole Miss 22, Arkansas 21 - 5:10 left first half
Isaiah Joe trips and falls attempting to take an Ole Miss defender off the bounce moving left and calls for time to save possession.
The Rebels are on a 9-1 run since falling behind by seven on Mason Jones' first 3. Arkansas has not scored in nearly four minutes.
Arkansas 20, Ole Miss 18 - 7:31 left first half
Mason Jones knocked down his first 3 of the day, a tough shot from the right wing with a defender close. He has four assists and three steals today as well.
Arkansas has turned Ole Miss over six times, including a 10-second violation, but Breein Tyree is having a night game. He has a team-high eight points, scoring at all three levels. The Rebels are 2 of 5 from deep.
Jalen Harris is the lone Razorbacks player who has seen the floor and not scored. Jimmy Whitt will be at the line when play resumes.
Arkansas 17, Ole Miss 11 - 9:36 left first half
Moments after missing a dunk, Adrio Bailey redeems himself and throws one down with two hands following a pick-and-roll with Mason Jones. Jones now has four assists today.
Desi Sills has four points so far on a pair of layups. He's been solid.
Arkansas 13, Ole Miss 8 - 11:25 left first half
A little bit of a mixed back from Jeantal Cylla so far. He's gotten to the line twice thanks to a couple of aggressive efforts, but he's 1 of 4 there, and just committed a turnover that led to an Arkansas foul on the other end. His free throw gave him his first point since Nov. 22 vs. South Dakota.
Isaiah Joe leads all scorers with eight points. Aside from his two 3s, he also got a runner to fall from just above the right block. That is the next step in his game, and a positive sign for Arkansas today.
Mason Jones has three assists and three steals so far.
Arkansas 10, Ole Miss 2 - 15:32 left first half
Isaiah Joe added another left-corner 3 following the Ole Miss timeout. He's got six early points, which is a great sign for the Razorbacks.
Joe made three left-corner 3s in the first two months of the season, and he has two from there in the opening four-plus minutes today.
Jeantal Cylla is getting some early run in place of Adrio Bailey. We'll see if he appears more settled in today.
Arkansas 7, Ole Miss 2 - 16:49 left first half
The Rebels opened the game with a pair of free throws, but Arkansas has answered back with seven straight points.
Desi Sills got the Razorbacks on the board with a layup, Jimmy Whitt hit two free throws, then Isaiah Joe buried a left-corner 3 in transition. Not a bad start for Arkansas. Ole Miss calls for time.
Pregame
Arkansas' starting lineup: Isaiah Joe, Mason Jones, Jimmy Whitt, Desi Sills and Adrio Bailey.
Eric Musselman is sticking with this group to kick things off for the eighth consecutive game. It's been really good defensively this season, allowing just .83 points per possession, according to HoopLens analytics.
Jones has played extremely well over the last five games, averaging nearly 25 points while shooting 44 percent from 3-point range. He has scored in double figures in five straight for the first time in his Razorbacks career, and he has hit four 3s in each of the last three games.
We'll see if Isaiah Joe has a bounce-back night. He finished 2 of 9 from 3 in the loss at LSU and scored 13 points, his lowest output since Nov. 30.
Also interested to see how Musselman handles minutes with players behind Bailey. He said on Thursday we could see more Jeantal Cylla and/or the five-guard lineup a little bit more.
Ole Miss' starters: Devontae Shuler (6-2), Berlin Tyree (6-2), KJ Buffen (6-7), Blake Hinson (6-7) and Khadim Sy (6-10).
The Rebels enter today's game losers of back-to-back games, including a 10-point road loss at Texas A&M to open SEC play. Tyree was the lone Ole Miss player with a pulse on the offensive end, finishing with 26 points on 6 of 13 from 3-point range. Shuler also added 12 points.
Ole Miss has been a pretty average team to this point in the season. It doesn't do just a whole lot well, except defend the 3. The Rebels have held opponents to 28.8 percent beyond the arc, which ranks in the top 30, according to KenPom.
Tyree is the biggest offensive threat facing Arkansas. He takes 32.7 percent of Ole Miss' shots when he is in the lineup. Hinson, for a forward, shoots the 3 fairly well, knocking down 37.5 percent of his 48 looks on the year. Sy, per KenPom, is rebounding better than eight percent of the team's misses.
Running updates by Scottie Bordelon of WholeHogSports.com
Discussion
Have a comment on this story? Join the discussion or start a new one on the Forums.