Musselman ecstatic with Hogs' play in must-win game
Published: Saturday, January 25, 2020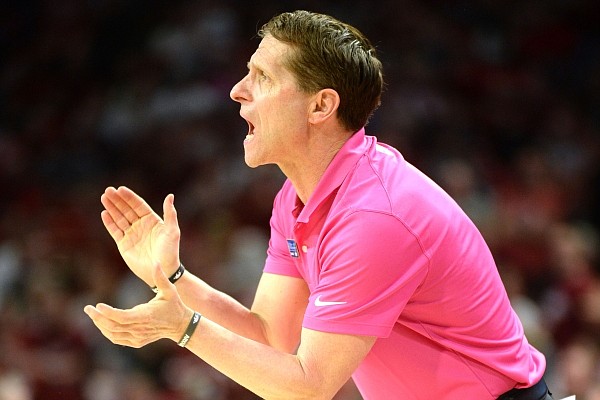 (
Andy Shupe
)
Arkansas coach Eric Musselman directs his team Saturday, Jan. 25, 2020, during the second half of the Razorbacks' 78-67 win over TCU in Bud Walton Arena.
FAYETTEVILLE — Arkansas came into Saturday's home game with TCU riding a two-game losing streak and facing a Horned Frogs team that had just convincingly beaten defending national runner-up Texas Tech.
As if that wasn't enough of a challenge, Razorbacks coach Eric Musselman learned about five hours before the game that star sophomore Isaiah Joe would not play due to an knee injury.
But playing in front of Arkansas' legendary 1970s Triplets - Sidney Moncrief, Marvin Delph, Ron Brewer - a new trio stepped up to save the day in what Musselman called a must-win game.
Jimmy Whitt and Mason Jones both had 20 points and Desi Sills added 18 off the bench as the Razorbacks shot 54 percent from the field and whipped its old Southwest Conference rival 78-67 before a sold out crowd.
"I thought it was our best game of the year on both sides of the ball," he said.
Arkansas (15-4, 3-3 in SEC play) completed its non-conference slate with a 12-1 mark, which includes road wins at Indiana and Georgia Tech, and the Saturday home win in the SEC/Big 12 Challenge.
That means Arkansas went 3-0 against Power 5 teams in non-SEC games with its lone non-conference loss being at mid-major Western Kentucky in overtime.
"I'm really happy tonight," Musselman said. "I am. I mean, normally I'm a little more subdued, not much, but it's huge. It really is. This was a game that we had to win. Had to win this game tonight. Indiana's playing well. That's going to be such a quality win. When you look at non-conference and you say we beat three of those teams, Power Five, two of them on the road, one of them home, we had not a good non-conference, we had a great non-conference."
Arkansas will host South Carolina on Wednesday at 7:30 p.m. then travel to Alabama on Saturday for a 5 p.m. tip.
"We took care of business in the non-conference," Musselman said. "Now we'll see what we do in our own conference, but as far as the non-conference play - because now that book and that chapter is closed - I thought we were awesome."
TCU head coach Jamie Dixon, a former Horned Frogs standout who was 5-3 in his playing career against Arkansas, was obviously disappointed after coming off a huge win at home against the Red Raiders.
TCU (13-6) had 19 turnovers that took away from a 34-26 victory on the boards. Arkansas was 18-of-25 from the free throw line and TCU 13-of-20.
"Give them credit," Dixon said. "They got way more free throws than we wanted to give them. That's on us. And though we out-rebounded them by a big number - eight - the turnovers. The turnovers killed us.
"I think we had, I can't even keep track of the travel calls. I think we had three carries that were called. We had two 3-second calls. So that is a first for me. But those killed us. And we've got to get that fixed and do a better job."
Sills, who did not start for the first time this year, was big early for Arkansas while knocking down two 3-pointers and had 11 points as the Razorbacks took a 33-29 lead into halftime.
He was 7-of-8 from the field, 3-of-3 from 3-point range and made 1-of-2 free throws with Jalen Harris (7 points, 6 assists) and Reggie Chaney (6 second-half points) being inserted into the starting lineup for Joe and Sills.
"We obviously changed the starting lineup," Musselman said. "Had a great walk this morning with my dog, and Swish told me to stick J5 (Harris) in there and bring Desi off the bench and start Reggie, and I listened to my dog, so it worked out well tonight."
Dixon praised Sills' performance.
"Well, (Musselman) didn't start him, so I guess it worked pretty well for him," Dixon said. "The efficiency, 18 points on 8 shots, that's a pretty good performance. Those are things that just make it hard for a team to win, for us. A lot of them came in transition whether they were made baskets or missed baskets, or missed shots I should say, and that's on us.
"We talked about it over and over again and even more when we realized that Joe wasn't playing. We talked about the attack, advancing and attacking off the dribble more. That is probably where they were more effective because he wasn't out there. We prepared for it, talked about it and obviously talked about it before the game when we realized he wasn't playing."
Kevin Samuel, a 6-11, 250-pound center, had 16 first-half points for TCU and finished the game with 24 points and 18 rebounds - well above his season averages of 10 points and 8 rebounds.
"We didn't do much of anything well as far our gameplan," Dixon said. "But we got the ball to Kevin a good amount of times and that was a key thing for us that we wanted to look to. I thought we handled their ballscreens well, ball screen defense pretty well, but you can't get beat by turnovers and free throws and then give up 54 percent (shooting from the field)."
Whitt shut down Desmond Bane, who had 27 points in TCU's 65-53 win over Texas Tech on Tuesday.
Whitt held Bane to just 8 points Saturday, two below Musselman's stated goal.
"I've been around two NBA-level defenders, (Nevada's) Cody Martin, who's obviously in the NBA now, and Jimmy Whitt," Musselman said. "Those are two NBA defenders that I've coached at the college level.
"I don't know that there's a college guard defensively that can do any more than Jimmy Whitt's doing…That guy cuts hard, and he's 6-6 and he's strong, and Jimmy just took him out of the game."
Dixon was familiar with Whitt, who began his career at Arkansas, transferred to SMU and then came back to the Razorbacks as a graduate transfer.
Whitt was 8-of-15 from the floor and 4-of-4 from the free throw line in the win.
"I made the mistake of saying that I think we did a pretty good job on him at SMU, but we didn't do a good job on him here," Dixon said. "Again, he just got going and we had a number of guys in foul trouble, and that makes it hard to guard drivers when you have a number of guys in foul trouble."
Jones scored 19 of his 20 points in the second half.
Dixon played at Barnhill Arena and had been in Bud Walton Arena once as an assistant coach at Northern Arizona back on March 12, 1997, when the Razorbacks downed the Lumberjacks 101-75 in the NIT.
He is interested in playing old Southwest Conference teams such as Arkansas, SMU, Texas A&M and Rice.
"Well, I thought I was going to Barnhill, but then they told me they had a new place," Dixon joked. "Obviously I was here for the NIT, so I have seen this thing. A lot of history in my mind, but I tell that to our players and they look at me like I'm old - too old I should say.
"I don't know that we were able to use that in an emotional pre-game talk. Thirty years is a long time is what they told me…We have played SMU, we are trying to play (Texas) A&M. We saw this coming up and we are looking at Rice. We are trying to play the old Southwest Conference teams, probably more to my urging than the other people. But it something that I think is good and means something to me.
"But we have got to play better. That is the first thing on the agenda: play better than this."
Discussion
Have a comment on this story? Join the discussion or start a new one on the Forums.