Arkansas adds 5-star kicker Vito Calvaruso to 2020 class
Published: Monday, January 27, 2020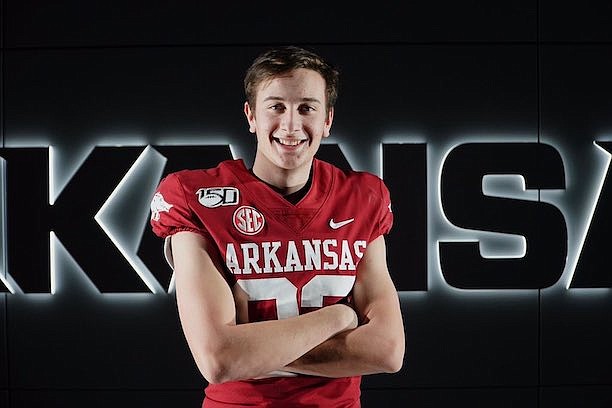 FAYETTEVILLE — Arkansas made one of the nation's best kickers an offer that he couldn't refuse.
Jefferson City, Mo., Helias Catholic five-star kicker Vito Calvaruso (6-2, 180) accepted the Razorbacks preferred walk on offer on Monday following a Saturday unofficial visit to Fayetteville.
Calvaruso, a two-time Kicking World All-American, announced his pledge via Twitter.
"Very excited and blessed to announce that I am committed to Arkansas!," Calvaruso tweeted.
Calvaruso, who visited Mississippi State on Sunday, had scholarship offers from Army and Southeastern Missouri as well as preferred walk on offers from Arkansas, Virginia Tech, Mississippi State, Iowa State and Memphis.
"Arkansas definitely picked up one of the strongest kickoff legs in the country of any high school kid," Kicking World's Brent Grablachoff said Monday night. "He is just tremendous."
Calvaruso converted 11 of 15 field goals as a senior with a long of 50 yards, connected on 42 of 43 PATs, had a 42-yard punting average with a long of 67 and also threw a 20-yard touchdown pass on a fake field goal.
He also kicked a 55-yard field goal at Kohl's Kicking Camp in July and is ranked as a five-star kicking prospect, a four-star punting prospect and the 20th-best kicker in the country in Kohl's rankings.
Kickers are ranked differently than other positions on the football field. A 5-star kicker means he is a D-1 prospect. A 4-star is a D2 prospect and a 3-star is a D3 prospect.
But it was his kickoffs which differentiated him from others as he had touch backs on 80 percent of his boots and drilled several threw the uprights.
"He is a very good field goal kicker and punter as well, but for kickoffs he is just lights out," Grablachoff said. "He won our kickoff competition at our big showcase that we had in December and he was one of 60 kids from around the country that we invited out of 1,800.
"He hit an 80-yard, 4.2 hang time kickoff, it was the last kick of the day and he needed to beat out a kid that had hit a 75-yard, 4.0 kid that was great itself. But he hit a 80-yard kick through the goal post uprights to win it."
Grablachoff notes that Calvaruso, who was 25-of-31 on field goals in his high school career and 122-of-129 on extra points, was a find of former Georgia and current Arkansas special teams coach Scott Fountain.
"I got to know Coach Fountain the last couple of months because he recruited our top 2020 kid kicker name Jared Zirkel and Vito was our number two strongest leg kicker in the class," Grablachoff said. "Jared is committed to Georgia and has an NFL kickoff leg and Vito is not too far behind."
Grablachoff believes Calvaruso has a great mental make up for a kicker.
"He is pretty low key and very reserved," Grablachoff said. "He is a great young man, very polite and respectful. He doesn't really say much and kind of lets his leg do all the talking. I have learned over the years that is a pretty good attribute for a kicker.
"He is pretty mellow and that is what I have seen out of some of my more successful kids that have gone on to college and to the NFL. They don't really get too up or too excited, but they don't really get too negative or down either."
The Razorbacks return five specialists in kicker Matthew Phillips (5-10, 180), punters Sam Loy (6-1, 195), Reid Bauer (5-11, 198) and Chad Stephens (5-11, 188) and kicker University of Texas-San Antonio transfer Jared Sackett (6-1, 180). Sackett sat out this season.
Arkansas loses senior kicker Cole Limpert.
Cabot freshman Rhett Thurman (6-1, 170) enrolled at Arkansas in January.
Thurman was 6 of 8 on field goals with a long of 38 yards, and 21 of 25 on extra points while missing five games due to injury as a senior.
He averaged 36 yards on 24 punts with a long of 59 yards and downed 7 punts inside the 20 yard line.
Chris Sailer Kicking ranks Thurman, who chose to walk on at Arkansas instead of accepting a scholarship at UCA, as a five-star prospect and the No. 61 kicker overall.
Discussion
Have a comment on this story? Join the discussion or start a new one on the Forums.