Arkansas' late fight not enough to avoid South Carolina's TKO
Published: Wednesday, January 29, 2020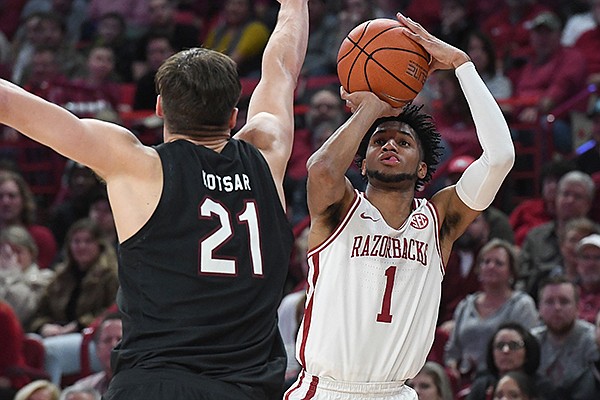 (
J.T. Wampler
)
Arkansas guard Isaiah Joe shoots over South Carolina center Maik Kotsar during a game Wednesday, Jan. 29, 2020, in Fayetteville.
During halftime of Arkansas' 78-67 home win over TCU last Saturday, a magician named Eric Jones performed for the crowd at Bud Walton Arena.
Turns out the Razorbacks might have wanted to have him on hand on Wednesday night instead when they fell to South Carolina 79-77 in front an announced crowd of 14,085.
Arkansas (15-5, 3-4 SEC) did not score for nearly the first five minutes of the game and trailed by 11 in both halves before rallying to make it a contest late.
A Houdini-like escape looked possible when Mason Jones (34 points, career-high 12 rebounds) nailed two free throws with 28 seconds left to cut it to 78-77.
Jermaine Cousinard hit 1 of 2 free throws with 26 seconds left for the Gamecocks, and Arkansas had a chance to win the game but Isaiah Joe's rushed 3-point shot from the left corner rimmed off and allowed South Carolina (12-8, 4-3) and coach Frank Martin to survive.
"Just a heck of a win," Martin said. "A lot of character - our guys and their guys. Hard game. Mason Jones was ridiculous. God, is he good. I mean, I have a lot of respect for that young man.
"For us to come into this building, one of the hardest buildings in the country to win in year after year after year because of the players, the coaching, the fans, to have the courage to figure out a way to get our fifth high-major road win of the year, I think it speaks a lot about our kids and the kind of guys that we got and the growth that we've shown as a team."
Arkansas coach Eric Musselman was dismayed by the loss as well as the fact that Hays Myers, a special assistant to the head coach, got a technical with 5:10 remaining that allowed South Carolina to add two free throws.
"Hays Meyers got the technical," Musselman said. "A staff member. Not happy at all. You lose by two at home in a game that has got extreme significance and a staff member gets a technical. The only person that needs to talk to the referees is me and me only. I don't know what else to say…extremely disappointed.
"I don't think it is what he said, I think it is because he stood up or something."
Joe had 16 points in his return after missing the TCU game due to a knee injury and Desi Sills added nine points in a loss that dropped Arkansas from what could have been a tie for fourth into 10th place in a tight SEC race.
"We have a 3-point shooter get a look to try and win the game," Musselman said. "If Mason would have caught it, we didn't have to get a three. We ran an isolation for him and he has done such a good job of drawing fouls and converting. Obviously we all go back and dissect that."
Jones had 26 of his 34 points after halftime and made 15 of 16 free throws. The rest of the players on both teams combined to go 28-of-57 from the line as 57 fouls were called and 73 free throws taken.
The Razorbacks made 26 of 40 from the line.
"This is a team thing," Jones said. "I don't even what to talk about my 15-for-16. Our team knows how to make free throws. Just probably a lack of focus today and knowing we have to get better tomorrow. The sun rises tomorrow and we've got to get better."
Jones would have liked to have taken the last shot, but it wasn't meant to because of the defense drawn up by Martin.
"He knew they were going to try to run play for me and denied me the ball and Desi kept it and he threw it to (Joe)," Jones said. "It wasn't the best shot, but it was the best shot we could get with the time running down. So you never can be mad at that.
"Desi made the right play. He gave it to (Joe). Normally Isaiah can make shots like that and it just hit on the right and the game was over. It was as simple as that."
The Razorbacks started extremely sluggish with their first points not coming until the 15:20 mark and falling down 18-7 midway through the first half.
"Our starting unit didn't have anything to start the game," Musselman said. "I didn't think we had any rhythm. It is just unfortunate. I mean we have our best rebounding game, I thought we defended the paint against a really, really physical team. It is the one night in SEC play that we have held our own on the glass and actually had more offensive rebounds than they do.
"But we have a roster where every guy that checks into the game has to play really well and has got to play good. Tonight we had some guys that did not play up to their ability and then you add in the fact the free throws. You can coach, you can game plan, but when you leave points on the board like we did from the foul line, I don't know what else to do, but have them shoot some more foul shot reps."
The Razorbacks will return to action Saturday at 5 p.m. when they travel to face Alabama (12-8, 4-3), which lost 90-76 at league-leading LSU on Wednesday night.
Discussion
Have a comment on this story? Join the discussion or start a new one on the Forums.