Arkansas bringing in recruits for visit
Published: Thursday, January 30, 2020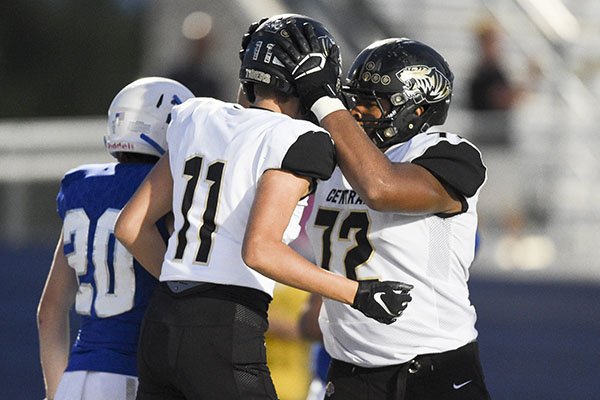 (
Charlie Kaijo
)
Little Rock Central right end Davis Hawkins (11) celebrates with tackle Makilan Thomas (72) after scoring during a game against Rogers on Friday, Sept. 13, 2019, in Rogers.
There are many factors that go into a football prospect's decision on where to attend college.
Among them are educational opportunities, relationships with the coaches, success of the program, opportunity to play early, facilities, fan base support, location and uniforms (yes, I said it). The order of importance of those differs with each recruit.
One thing remains a constant in jump-starting the process, getting the prospects on campus as early as possible.
Even as Arkansas works to finish off its 2020 recruiting class with seven official visitors this weekend, it is bringing in some 22 juniors and sophomores on official visits Saturday.
Most of the recruits are coming from Arkansas with five from Missouri, two of several states that the Razorbacks are clearly going to spend a lot of time recruiting in because of the make-up of the new staff.
While discussing some of the higher-ranked players that he inked to national letters-of-intent during the Dec. 18-20 early signing period, Pittman noted his evaluation process and some key factors in reeling in prospects.
"We really don't look at who is recruiting somebody," Pittman said. "We just either like him or we don't, and the way that you can make fewer mistakes on your program is to get them on campus and get them to camp, because then you know what you're going to get.
"In the future I think we're going to be able to get kids like that on our campus and be able to recruit them a little bit longer than what we did this time. Arkansas will sell itself, and I think when we get these guys like this we can really know exactly what we're getting."
The group has some big-time offensive linemen that could help the fortunes of the program turn around.
The two that could arrive the earliest are Wynne junior Terry Wells (6-4, 280) and Little Rock Central's Makilan Thomas (6-3, 290). Wells was named the top offensive lineman at the U.S. Army All-American combine and has offers from Arkansas and Kansas.
Joe T. Robinson sophomore offensive lineman E'Marion Harris (6-6, 310) is arguably the state's most highly-regarded prospect regardless of class. Harris will be in Fayetteville on Saturday.
Harris will be joined by five teammates in junior athletes Hunter Smith (5-11, 175) and James Jordan, junior quarterback Buddy Gatson (6-4, 180), junior defensive end Deldrick Weathers (6-4, 225) and sophomore tailback Daryl Searcy (6-0, 190) while senior linebacker Chandler McIntosh (6-2, 225) is on an official visit.
Maumelle sophomore offensive lineman Andrew Chamblee (6-7, 310), is another 2022 prospect who is also already a national recruit.
Some other top in-state juniors due in are Fort Smith Northside cornerback Dryden Norwood (6-0, 175), tight ends Erin Outley (6-4, 240) of Little Rock Parkview and Errington McCrae (6-3, 238) of Springdale Har-Ber and linebackers Cole Joyce (6-0, 216) of Bentonville, Marco Avant (6-3, 205) of Jonesboro and Jordan Hanna (6-1, 195) of Greenwood.
Coming to the UA campus will also be Little Rock Christian junior athlete Corey Platt (6-2, 195) and Little Rock Parkview sophomore tailback James Jointer (6-0, 200).
The five Missouri visitors all have Arkansas offers.
They are St. Louis University High sophomore athlete Isaac Thompson (6-1, 190), two St. Louis Trinity Catholic juniors in wide receiver/safety Tyler Hibbler (6-0, 183) and wide receiver Demetrius Cannon (6-3, 180), East St. Louis junior wide receiver Keontez Lewis (6-1, 170) and St. Louis Lutheran North cornerback Toriano Pride (5-11, 172).
Sports on 01/30/2020
Discussion
Have a comment on this story? Join the discussion or start a new one on the Forums.