College Football Notebook:
Alabama cutting costs, Texas exploring 25% capacity
Published: Wednesday, July 29, 2020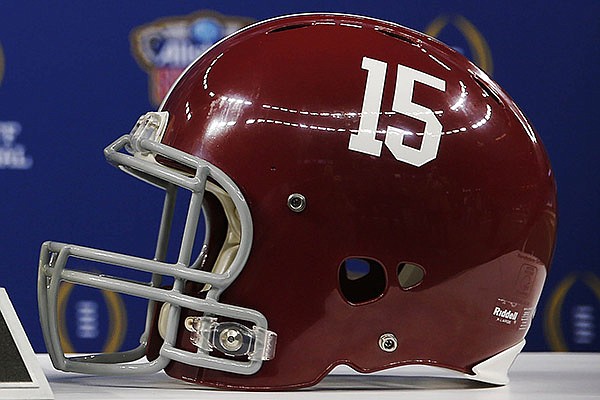 An Alabama helmet is displayed at the Mercedes-Benz Superdome in New Orleans, Tuesday, Dec. 30, 2014. (AP Photo/Brynn Anderson)
Athletic director Greg Byrne says the University of Alabama has taken cost-cutting measures for each department and sport with the coronavirus threatening fall sports.
In a letter to fans posted Wednesday on the Crimson Tide's website, Byrne says the athletic department placed a freeze on hiring for non-coaching jobs because of potential revenue shortfalls during the covid-19 pandemic.
He said Alabama also is finding ways to save on energy and facility operating costs and is reviewing other steps. The Southeastern Conference hasn't announced plans for fall sports, including football, which could ultimately mean a limited number of fans at Bryant-Denny Stadium.
"Under normal operations, a large percentage of our annual budget comes directly from ticket sales and TIDE PRIDE memberships," Byrne said, referring to Alabama's ticket priority program.
"In the event we have to adopt a modified seating model at Bryant-Denny Stadium, this number will be impacted significantly. While we don't yet know the effects on individual ticketholders, we do know that we will need your continued and generous support."
Texas looking at 25% capacity
The University of Texas is now exploring how it can host football games at 25% percent stadium capacity instead of the previously announced 50% as the return to campus and the planned start of the season rapidly approaches.
Texas officials had told season ticket holders earlier this month they were planning for 50% capacity, which would be allowed under statewide orders from Gov. Greg Abbott. That would include nearly 50,000 fans.
But Austin's health authority said Tuesday the 50% plan caught the city off guard and he questioned whether the school should host any fans at games. Texas is scheduled to host South Florida on Sept. 5 and the Big 12 has held out hope it can play a 12-game regular season.
In a campus letter Wednesday, Interim President Jay Hartzell said the chairman of the school's Board of Regents asked the school to plan for a 25% attendance, including students.
The state of Texas has seen record numbers of new coronavirus cases, hospitalizations and deaths in the month of July.
Virginia Tech cornerback opts out of season
Cornerback Caleb Farley says he will not play for Virginia Tech this season because of health concerns and will focus instead on preparing for the 2021 NFL draft.
The redshirt junior from Hickory, N.C., made the announcement in a video posted on Twitter, joining Illinois running back Ra'Von Bonner and others in choosing not to play. Bonner, who the school indicated was sitting out for personal reasons, told the Chicago Tribune that seeing teammates test positive for covid-19 during team workout this summer made him rethink the situation.
The 6-foot-2, 207-pound Farley was expected to be one of the nation's top defensive backs this season. He says he's forgoing the season "due to uncertain health conditions and regulations and all the other opt outs going on in football right now."
Farley, whose mother died in January 2018, said he "must make the decision that brings me the most peace."
Bonner's decision is supported by teammates and Illinois coach Lovie Smith. Hokies coach Justin Fuente was not immediately available to comment on Farley's decision.
Big 12 Media Days set
The Big 12 will hold its football media day online Monday with only the conference's 10 head coaches available.
The coronavirus pandemic forced all major college conferences to cancel their traditional in-person football media days and switch to virtual events. The uncertainty of when and if the season will start then prompted the virtual events to be delayed.
The Big 12 will be the first Football Bowl Subdivision conference to conduct a media day, with some of the teams in the conference scheduled to begin play on Aug. 29.
Discussion
Have a comment on this story? Join the discussion or start a new one on the Forums.