SEC Football:
RB Tim Jordan no longer on Tennessee's football roster
By: The Associated Press
Published: Thursday, June 18, 2020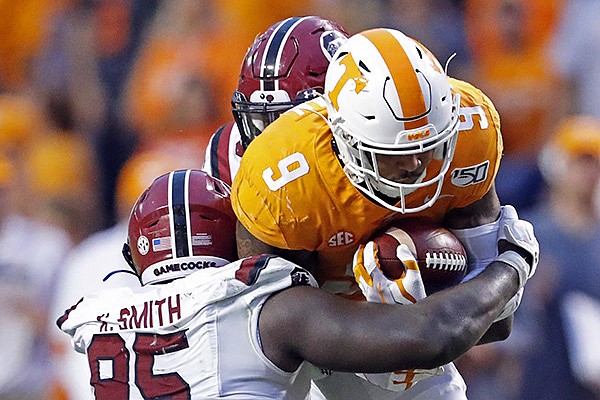 Tennessee running back Tim Jordan (9) runs for yardage as he's hit by South Carolina defensive lineman Kobe Smith (95) in the second half of an NCAA college football game Saturday, Oct. 26, 2019, in Knoxville, Tenn. (AP Photo/Wade Payne)
KNOXVILLE, Tenn. — Tennessee coach Jeremy Pruitt says running back Tim Jordan is no longer on the team after he was arrested May 30 in Florida on gun and marijuana charges.
Jordan would have been a senior for the Volunteers, and the native of Bartow, Florida, played in 12 games last season. He finished third with 428 yards rushing on 104 carries with one touchdown, and he also caught six passes for 46 yards.
Asked about Jordan's status on the Volunteers during a video conference call Thursday, Pruitt said only: "He is no longer on our team."
Jordan was released on $2,000 bail May 30 after being arrested during a traffic stop that morning in Lakeland near his hometown. Detectives reportedly saw a vehicle speeding and swerving into the bicycle lane.
He was charged with carrying a concealed firearm, possessing narcotic paraphernalia and having 20 grams or less of cannabis.
Discussion
Have a comment on this story? Join the discussion or start a new one on the Forums.