Kjerstad expects Arkansas to respond after poor weekend
Published: Monday, March 2, 2020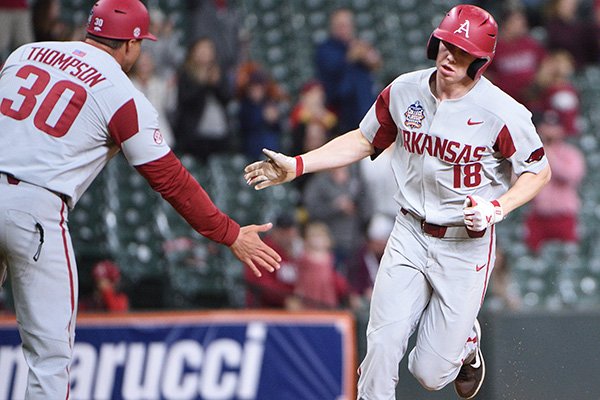 ( Chris Daigle )
Arkansas outfielder Heston Kjerstad (18) is congratulated by hitting coach Nate Thompson after hitting a home run during a game against Texas on Saturday, Feb. 29, 2020, during the Shriners Hospitals for Children College Classic at Minute Maid Park in Houston.
HOUSTON — Arkansas slugger Heston Kjerstad expected his team would have a much different outcome in Houston, but the junior knows college baseball championships aren't won in February and March.
So while an 0-3 showing at the Shriners Hospitals for Children College Classic at Minute Maid Park was not what he had in mind, he stressed the weekend had to be a lesson the Razorbacks learned from and moved on from quickly.
"It was a tough weekend," Kjerstad said. "It was three close games against all those teams. All three teams we played (had) really great defense and had timely hitting and those are things we lacked at times. We left so many runners on base when we should have drove them in.
"Maybe there were also some plays that we should have made on defense that we didn't make that would have helped us out....This has to be a good learning experience for everyone on the team. It is only a bad thing if we don't learn from it and go on through the season."
The Razorbacks lost 6-3 to Oklahoma, 8-7 to Texas and 3-2 to Baylor during the College Classic. Arkansas committed seven errors over the three games that led to seven unearned runs during the games against Oklahoma and Texas.
Arkansas (7-3) will return to action Tuesday when it is scheduled to host Illinois State (3-7) at 3 p.m. at Baum-Walker Stadium.
"Once you get hit in the mouth this weekend like we did, it kind of grows you up and shows you who you are," Kjerstad said. "We are better than this. When you are having success, it is easy to keep it rolling. How do we react when we get beat by three teams in close games.
"I am looking forward to seeing how we react. It will show who we are as players, who we are as a team and the identity we are going to have."
Kjerstad, a preseason All-American who is hitting .455 with 5 home runs and 13 RBI, played first base instead of his normal right field on Sunday night. He finished the game 2-for-3 with a double and a run scored.
It was a rough start for Kjerstad, who couldn't pick an errant throw by Arkansas catcher Casey Opitz in the game's first at-bat, and who took a fastball off his left knee in the bottom of the first inning.
"It doesn't feel the best," Kjerstad said. "It caught me right on the knee, but that is just baseball for you. It sucks when it happens. You are going to get hit a few times and you just have to walk it off. It is probably going to be sore for a few days or so, but you just have to play through it."
Kjerstad was one of Arkansas' bright spots throughout the weekend as he went 7-for-13 with 2 RBI and 3 runs scored. Two of Kjerstad's hits were for extra bases, including a home run in Saturday's game against Texas as the Razorbacks nearly rallied from an 8-0 deficit.
Arkansas fell behind again against Baylor on Sunday, trailing 3-0 before Kjerstad, Matt Goodheart and Webb strung together three hits in the eighth to cut the Bears' lead to 3-2.
The Razorbacks had several other opportunities Sunday, but stranded eight base runners, including five in scoring position. Arkansas was 1-for-11 with runners in scoring position against the Bears and 4-for-32 with runners in scoring position during the three games at the College Classic.
"I think we learned a lot of things about our team, about ourselves and how to play in these tight games," Kjerstad said. "I think that is going to help us down the line. We never gave up and that was one good thing.
"But if we don't look at the bad and learn from it, then it will be a problem. But we also have to brush it aside and not carry it with us or that is when it can become a big problem."
Kjerstad feels like Arkansas' hitters let its pitchers down in Houston.
"Our pitchers kept us in the game and we did not help them out enough in the end," Kjerstad said. "Our pitchers just gave up three runs tonight (against Baylor) and we lose? That can't happen. It was our hitting. Not enough timely hits."
Discussion
Have a comment on this story? Join the discussion or start a new one on the Forums.