Van Horn certain star trio will turn pro
Published: Wednesday, March 18, 2020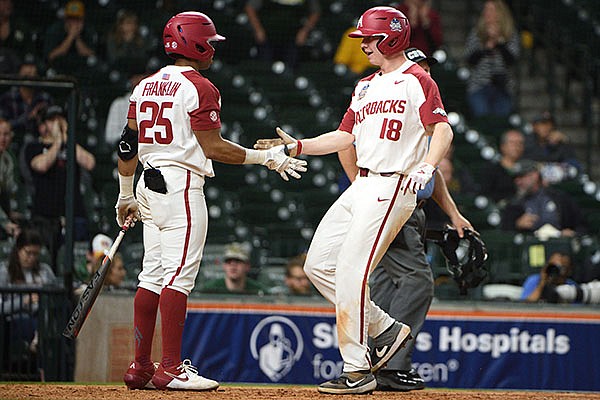 ( Chris Daigle )
Arkansas center fielder Christian Franklin (25) congratulates right fielder Heston Kjerstad as he scores during the eighth inning of a game against Baylor on Sunday, March 1, 2020, during the Shriners Hospitals for Children College Classic at Minute Maid Park in Houston.
FAYETTEVILLE — Odds are that Arkansas baseball players Heston Kjerstad, Casey Martin and Casey Opitz have taken their last swings as Razorbacks.
That's the thought of Arkansas coach Dave Van Horn, who was available via teleconference on Wednesday after the college baseball season was officially called off the day due to concerns from the coronavirus.
"Well, I haven't discussed anything with them, I just know how highly those guys are going to be sought after in the draft and the kind of money that's going to go out there to them," Van Horn said. "I don't expect three of our guys, for sure, to come back. I would think that those guys would sign a professional contract this summer, for sure.
"There are a couple of others that are iffy. I think a lot depends on where they get drafted, how much money and what status are they - are they a senior or do they get to be a junior again?"
Kjerstad and Martin have been projected as first-round picks in various mock drafts. MLB.com has Kjerstad as the 13th-best player and Martin No. 15 in its list of top-100 draft prospects.
The draft is slated for June 10-12.
Kjerstad was off to a sizzling start this season. He was batting .448 with six home runs and 20 RBI through the 16 games. He will likely end his Arkansas career with 37 home runs, 129 RBI and a batting average of .343.
"Heston Kjerstad, we won't get to see that guy swing the bat in a Razorbacks uniform again, and what a pleasure that was," Van Horn said. "I mean, that kid had six home runs and 20 RBI already and I think he might have broken the home run record when it was all over with.
"It was starting to heat up and the weather was starting to change. I think he would have hit the mid-20s to 30 homers this year, I truly do."
Opitz is regarded as one of the nation's top college catchers. Martin is still likely going to be a high draft pick even though he had his struggles for stretches the past two seasons.
"Just seeing guys like Casey Opitz catch, there's probably not a better receiver in the country," Van Horn said. "And then Casey Martin, he has really battled through some things as far as on the field, and I think he was really starting to come out of it.
"I think we were getting ready to see the best of him and I really liked the way he handled all the pressure, and his demeanor even when he wasn't having a good day compared to maybe last year when it didn't go good for him, just the growth mentally for him and the development to be able to handle the tough days.
"I think he was getting ready to take off. He had shown that a little bit the last week. It's just hard."
They are part of a team that was looking to make its third consecutive trip to the College World Series in Omaha, Neb.
"For me personally, you just didn't get to finish the book," Van Horn said. "I mean, you've got guys that possibly could have been in the record books forever here and a team that had been to Omaha two years in a row and was going to try to get there three, obviously. It's hard to get there one year in a row, and we don't get a chance to accomplish that.
"And there's other guys, too. I mean, there were some guys having some great years. (Sophomore) Christian Franklin made a huge jump, was hitting about .400 on the year and wanted him to keep developing and have that special junior year. There's a bunch of them."
Van Horn is certain there will be a draft.
"They already know who they want to take," he said. "You read all these things about the draft being pushed back - and that could happen - or you read that they need to evaluate these kids more. Really? Do they really need to evaluate them more?
"Maybe some of the middle-of-the-road guys, but they know who their first and second and third round is. What they ought to do is just cut down the draft. They don't need 40 rounds anyway. They just start plucking guys off in the 30th round, selecting names on the board and half of their scouts haven't seen those guys or know about them. They're just taking guys and sometimes they don't even try to sign them. Just do 20 rounds, say 25 rounds, take (away) 15 rounds. That's the way I see it."
Van Horn notes that he is under the impression the draft will remain on its current dates.
"I've talked to a couple individuals in professional baseball and they don't feel like, I got the impression, they want to move the draft back," Van Horn said. "Just draft the kids and get them in the organization if they're going to sign them. If they move the draft back, then it really messes with college baseball again.
"Back to the same old problem we used to have when they had all the way until Aug. 15 to sign them and they'd sign all of them on the 14th and then we're left holding a bag. We don't have time to replace kids and try to figure out what to do."
Discussion
Have a comment on this story? Join the discussion or start a new one on the Forums.