Dead period not good for Arkansas recruiting
Published: Thursday, March 19, 2020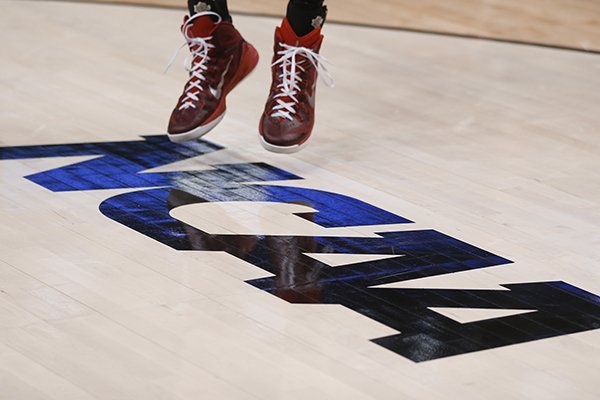 A Lafayette basketball player shoots a jump shot on the NCAA floor logo during practice for an NCAA college basketball second round game in Pittsburgh Wednesday, March 18, 2015. (AP Photo/Keith Srakocic)
There have been many Arkansas coaches who have uttered the phrase that recruiting never stops.
Well, it may not have stopped, but it sure has slowed down or at least taken a different path with the virtual shutdown of collegiate and high school sports programs due to concerns over the coronavirus pandemic.
There is currently an NCAA recruiting dead period in place until April 15 although it seems likely it will be extended as the Center for Disease Control and Prevention, otherwise known as the CDC, continues to issue guidelines regarding in-person contact during the pandemic.
What does a dead period mean? Quite simply, college programs can have no official or unofficial visits right now and no contacts and evaluations during this time.
Basically all those spring visits by recruits to Arkansas and school visits from coaches to high schools are not permissible through at least April 15.
Coaches can still make phone calls and send texts to recruits in each sport during this time.
That's the word from NCAA Division I Council Coordination Committee, the same committee that approved one season of eligibility relief for spring sports although details on that have not been finalized.
"Additional issues with NCAA rules must be addressed and appropriate governance bodies will work through those issues in the coming days and weeks," the committee said in a release.
If the NCAA decides things have calmed down by April 15, it could continue with a planned evaluation period that runs through May 31.
If not, it is very possible that the evaluation process will be placed in June, July and August, times that are current quiet or dead periods.
There is currently a late signing period of April 15 through May 20 in place for basketball.
Arkansas' men's program is set to sign a trio of commits in former North Little Rock and Montverde, Fla., Academy guard Moses Moody (6-6, 190), former Bryant and Oak Hill Academy guard Khalen "KK" Robinson (6-1, 180) and Fort Smith Northside big man Jaylin Williams (6-10, 230).
All three have taken official visits to Arkansas and have plans to arrive on campus when it is allowed as does Razorback early hoops signee and Jacksonville guard Davonte Davis (6-4, 175), part of a class that includes all Top 100 players and is ranked sixth nationally by ESPN.
It has become the norm these days for college signees to enroll in school in late May or early June, attend summer school and begin to work out with their respective programs.
It seems that it is in jeopardy now as we all wait to see how long everything takes in this new world we live in exists.
Davis, who was just over 24 hours away from playing for the Class 5A state title when it was postponed, maybe summed it up best in an interview I did with him earlier this week.
"I guess we just wait until they tell us what's next," Davis said. "It's a crazy time."
Discussion
Have a comment on this story? Join the discussion or start a new one on the Forums.