OPINION:
RICK FIRES: Northside to UA pipeline remains strong
By:
Rick Fires
Published: Sunday, May 3, 2020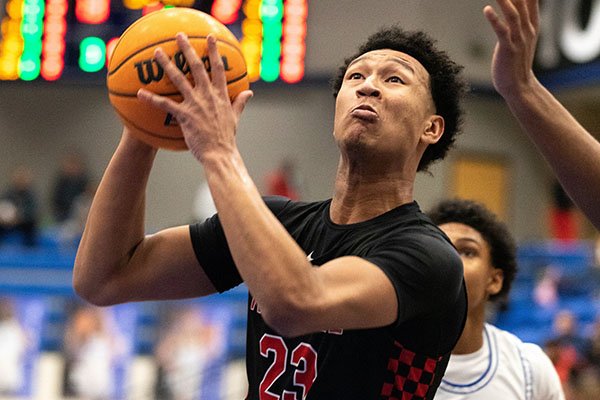 Fort Smith Northside center Jaylin Williams is shown during a game against Bryant on Friday, Feb. 7, 2020, in Bryant.
Desperate for some good news amid the despair of covid-19, I found it in our sports pages under the headline "Wolf' in UA clothing'.
That's a clever reference to Jersey Wolfenbarger, the Fort Smith Northside standout who committed last week to Arkansas women's basketball coach Mike Neighbors. Wolfenbarger is an elite prospect and the announcement from the 6-foot-4 junior comes days after 6-10 Northside senior Jaylin Williams signed with Arkansas men's coach Eric Musselman.
Keep 'em coming, Razorbacks fans plead.
Developing talented players is nothing new at Fort Smith Northside, which won boys and girls state championships in basketball in 2019. It was the 11th state championship for the boys and seventh for the girls, all since 1999.
The school formerly known as Fort Smith High long ago established a pipeline that extends up the Boston Mountains to Fayetteville, home of the Razorbacks. You can't see the pipeline. It's invisible. But it's there along Interstate-49 just as it was for years along the curvy and dangerous U.S. Highway 71.
Tommy Boyer was an early arrival and an All-Southwest Conference player who twice led the nation in free-throw percentage in the 1960s. The Arkansas basketball program took off in the 1970s with "The Triplets", Sidney Moncrief from Little Rock Hall, Marvin Delph from Conway and Ron Brewer, who led Northside to a 30-0 record in 1974. Brewer idolized Almer Lee, the flashy Northside guard who was the first black player to letter in basketball at Arkansas during the 1969-1970 season. Plenty more Grizzlies have followed and Williams will join former Northside standout Isaiah Joe in a Razorback uniform, assuming of course, Joe doesn't sign with an agent and leaves after two years for the NBA draft. He has until June 3 to decide.
I worked for six years in Fort Smith and lived the majority of that time less than two blocks from Northside High School. I still enjoy on occasion walking the narrow hallway at Mayo-Thompson Stadium and seeing pictures of football players that date back over 100 years. There is also a Hall of Fame Room inside Kaundart Grizzly Fieldhouse, where portraits of former Grizzly stars hang on the walls.
"When you're talking Northside basketball, you're talking about the best in the state," said Northside coach Eric Burnett. "The kids, they know the tradition and what's expected of them. They know it because their dads played here. Isaiah Joe knows it from his dad. Jaylin Williams knows it from his dad, as well."
The success of Moncrief, Delph, and Brewer should excite fans of the Arkansas women's program under Neighbors, who grew up in Greenwood and knows quite well the history of Razorbacks athletics. There's talk already of a second set of "The Triplets" with Wolfenbarger and Maryam Dauda of Benton-ville eventually joining Nettleton's Elauna Eaton, the Arkansas Democrat-Gazette Girls Player of the Year who signed with the Razorbacks last November. Commitments are non-binding and Wolfenbarger and Dauda still have a year to play in high school. Dauda is a 6-foot-4 post player who is being heavily pursued after averaging 16.6 points and 7.9 rebounds for a Bentonville team that went 27-1 this season.
Musselman quickly learned what Neighbors had known for years: There's an abundance of high school basketball talent in Arkansas, especially for a state that's relatively small. Williams is one of four in-state players in Musselman's recruiting class that is ranked as high as No. 5 nationally by ESPN. Neighbors' roster last season included six in-state players and more will undoubtedly follow as the program continues its upward trajectory.
When searching for talent, Arkansas coaches know Fort Smith Northside is a good place to start.
Discussion
Have a comment on this story? Join the discussion or start a new one on the Forums.