Mond, Aggies were error free
Published: Sunday, November 1, 2020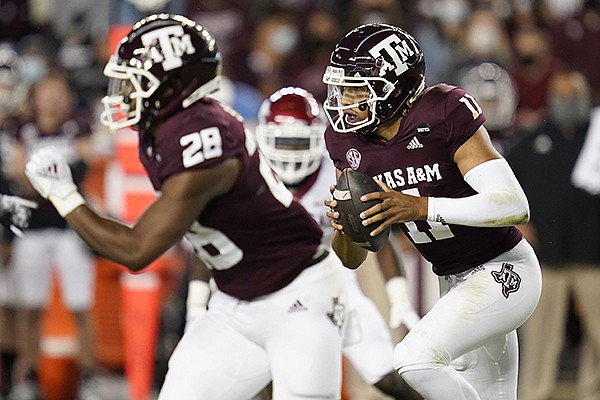 Texas A&M quarterback Kellen Mond (11) rushes against Arkansas during the first quarter of an NCAA college football game Saturday, Oct. 31, 2020, in College Station, Texas. (AP Photo/Sam Craft)
FAYETTEVILLE — Knowing they were facing the nation's most opportunistic defense, No. 8 Texas A&M was determined to not turn the ball over against Arkansas on Saturday in the Southwest Classic.
Mission accomplished as the Aggies (4-1) played turnover-free football and used a record-setting night by senior quarterback Kellen Mond to handle the Razorbacks 42-31 before an announced crowd of 27,114 at Kyle Field.
"We scored points, we didn't have turnovers, defense did what we had to do and got out of here with a victory," Texas A&M coach Jimbo Fisher said of his team's ninth consecutive win in the series.
Arkansas' defense under new coordinator Barry Odom had an NCAA-best 10 interceptions coming into the game.
More from WholeHogSports
"I was worried when we got a couple of holding penalties and got behind the sticks," Fisher said. "That is when they have been very opportunistic. But Kellen and those guys made some very big plays that were critical. I think we stayed in good, positive down and distances most of the time, so we didn't have to take crazy risks and things like that.
"I think we did a good job of getting a hat on a hat on blitzes because Barry does a great job on defense. He is hard to go against. He gave me a headache all week. He is very multiple with different personnel and does a good job. Fortunately, we came out of it with no turnovers."
Mond was 21 of 26 passing for 260 yards and three touchdowns, and his team piled up 182 yards rushing against the Razorbacks (2-3).
"It is a good feeling and I think that is the goal for the offense, not to turn the ball over," Mond said. "Arkansas did a really good job in past games of turning the ball over, but I think we used the film and are really just able to trust our eyes and find holes in the zone and make plays when they played man.
"The receivers did a really good job tonight."
Mond became Texas A&M's all-time yardage leader during his game. His 10,015 yards surpassed Johnny Manziel's previous mark of 9,989 yards, which was accomplished in just two seasons.
"It's a tremendous feeling and I have worked so hard each and every year and continued to grind," Mond said. "I've understood through the years that I have had a lot of growth to make, but I think that is part of everyone's growth, being able to look yourself in the mirror and continue to grow.
"I have had so many phenomenal coaches and players that I have played with, so a lot of that thanks goes to those people."
After Arkansas took a 7-0 lead, Texas A&M scored on six straight possessions.
"The competitive nature of our team was very good," Fisher said. "Our competitive nature to keep matching and keep playing no matter what the circumstance, play the next play, play the situation, was great. It was a big Southwest Classic win. That game is always a dogfight when two rivals go at it like that."
Fisher was very happy with his offense and how his defense played on third downs.
"We were 7 of 11 on third downs on offense," Fisher said. "Man, we were converting. The only time we punted to them was in the fourth quarter. And our defense was (8) out of 11 getting off the field. Those were critical things."
Isaiah Spiller rushed 21 times for 82 yards and a touchdown, tight end Jalen Wydermyer added 6 catches for a career-high 92 yards and a pair of touchdowns, and Ainias Smith added 6 catches for 67 yards and 3 rushes for 31 yards.
"I felt really good just trusting my eyes tonight, being able to read defenses and get us out of good plays and getting us into better ones," Mond said. "All those guys made some great plays."
Saturday was the first on-campus meeting between the teams since a 2013 game in Fayetteville.
The teams had played the last six games at AT&T Stadium in Arlington, Texas, where the game is scheduled to return in 2021.
It was Texas A&M's third straight win since a loss at No. 2 Alabama on Oct. 3, but Fisher was not happy about his team having nine penalties for 100 yards.
"Yeah, we didn't win 80-0," Fisher said. "I'm not joking about that. I'm always frustrated if we don't score every time and we don't stop them every time. An SEC win is always going to be a big win for us, but we're never going to be satisfied."
Fisher was asked if he believes his team is deserving of a top-10 national ranking.
"I don't know what a top-10 team looks like," Fisher said. "We're far from a polished group. I'm just happy we're playing as well as we're playing."
Texas A&M linebacker Buddy Johnson, who had a team-high 12 tackles and one of four sacks, said his team is not thinking about being in the College Football Playoff just yet.
"We try to not get carried with the playoffs," Johnson said. "We're playing with that pride, that grit and that toughness. The effort we play with, that's what it's about."
Discussion
Have a comment on this story? Join the discussion or start a new one on the Forums.