Best web comments of the week
Published: Saturday, November 21, 2020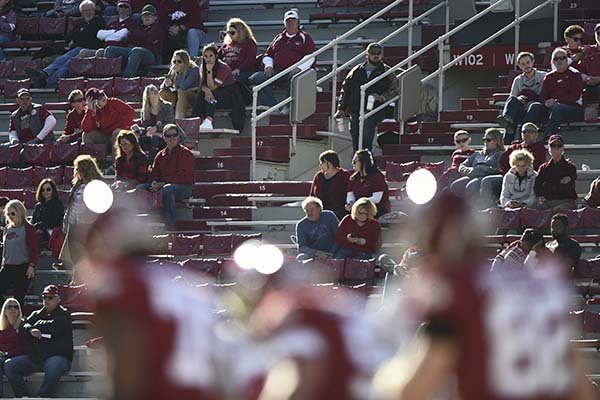 (
Charlie Kaijo
)
Fans watch during a football game between Arkansas and Western Kentucky on Saturday, Nov. 9, 2019, in Fayetteville.
Selected comments from the message boards at WholeHogSports.com:
Some fans weren't discouraged despite Arkansas' 63-35 loss to Florida last week
harleyhawgidson: We played a great offensive team who played error-free football. We were probably out-manned at 80% of the positions. We didn't play near perfect and they didn't play poorly, and it would have taken both of those things to happen for us to win. We put up 450 yards on their defense even though they had the ball almost twice as much as we did. We put up 208 yards rushing… This team is so much better than we were the last three seasons.
youdaman: I'm upset with the defense because we didn't compete. It was just too easy. (Florida QB Kyle Trask) only had to make about two or three hard throws. The rest were pitch and …
bluegrassrazorback: I'm grateful they didn't stop playing and I look forward to the day Arkansas can pay Florida back.
coloradahog: It was obvious to me that the reason it looked so easy was their o-line protected (and) the QB was spot on. But mostly their receivers are faster and better athletes than our d-backs.
suigeneris: Some of the Gator TDs were to wide-open receivers against blown coverage, but at least two were perfect throws on perfect routes against good coverage. That combination will win every time. At least we were in position and trying to make a play on the ball. That's an improvement over a year ago.
DawgHOG: I agree and they made every possible catch. The QB was on because we couldn't hit him and his receivers were on. Franks played OK but he missed Burks on an easy TD on that 4th down early. To be fair Woods might have scored as well. … Lack of a pass rush has to be improved.
bikehog23: I thought the effort was there. Some of the defenders had great games, despite the outcome. Our weaknesses were exposed, but that is what happens when you play a team that has the talent of Florida and a coaching staff that knows how to prepare. Trask was just so accurate that I don't think anyone could have beaten them with him throwing like that last night.
neastarkie: Had we played this Florida team last year, it would have been 63-0 at the half. He's the best QB we've faced and had a line that protected him (and) big, fast receivers that can catch. Too many people forget where we've been and just how much better we are than the last two years.
jimbeau77: No reason to be discouraged, that's for sure. Florida was much superior and blew us out. Probably (it will) be another one when we play 'Bama. Just remember getting blown out was common the last two-plus years with players that weren't coached and laid down. But this year the players are still fighting to the last whistle and the blow-outs aren't so common.
coloradohog: There is a big difference in being blown out by Florida who may very well be a national champion, and being blown out by Western Kentucky…
On a serious topic, fans complain about the "front-facing hog" logo
SwineFusion: I hate FFH almost as much as I hated Popcorn Hog. But kids seem to love it. I think the previous administration just let the Nike people run amok. They put lots of schools in anthracite, not just us (EOE-K for one). And our soccer team still wears gray occasionally.
LogJam: I do not like the new font either. They should have left it alone. I just hope we keep the current style football uniforms forever.
stewdaddy33: I don't like the FFH either but the font is a great design.
neastarkie: Our running hog is one of the most recognizable logos in sports. There just aren't any other Razorbacks. There are three Tigers in the SEC alone.
tjd63: I appear to be in the extreme minority here, but I actually like the front facing hog. Do I want it on the helmets? No, but I see schools across the country have more than one logo they use for their athletic teams. … Just a way to sell more merchandise, while keeping the copyrights, so the school can collect the royalties.
Fans wonder about which LSU team will show up Saturday
daytonabeachhog: LSU QB Myles Brennan has passed for 1,112 yards (11 TDs) in just four games. Prior to their game against Auburn they were averaging nearly 40 points a game. They have six receivers averaging nearly 14 yards per catch. Prior to the Auburn game (with their backup QB) you had to outscore LSU to beat them you didn't stop them. (LSU defensive coordinator) Bo Pelini had the #1 sack defense in the SEC prior to the covid break! LSU's only weakness is their pass defense.
MattJones: Brennan probably isn't going to play again this year. He was injured in the Missouri game and didn't play against South Carolina. TJ Finley played well against South Carolina but did not play well against Auburn. Auburn has a good defense; South Carolina does not. I tend to think Arkansas' defense is more on the level of Auburn's than South Carolina's. I haven't seen anything from Finley or the other freshman QB that makes me think they will have a lot of success against Arkansas. Maybe they've improved in their three weeks off, but I think LSU's QB position is a big liability, and coupled with the defensive problems is the reason Arkansas is favored.
eaglehog5: They are paper tigers this year. I think we are going to whup they you-know-whats!
daboar: LSU has a gaggle of great offensive players. My view is this is a game about who scores last.
SwineFusion: They scored 11 points on Auburn. And eight of those were in garbage time.
rebuildingsince89: Extra prep time didn't do Tennessee any good. I'm not sure it's that much of an advantage.
Score predictions for Saturday's game against LSU
jhawg: I have not watched an LSU game this year, so this is even a bigger guess than usual. Arkansas 31, LSU 28. We play as a team and give a nice effort every week. LSU does not do this, usually, when things are not going well.
neastarkie: I'm afraid to predict. Superstition goes against everything I know to be true. It's totally bogus. But try as I might, I can't help but think I jinx the team when I do certain things. This year, I'm afraid if I pick them, it'll mean we lose. So going with silly superstition over intellect, I'll say, LSU 31-24.
stillgreghog: Hogs 31, Kittens 21. If you had told me a few months ago I would be picking us to beat LSU, I would have (said) you were crazy.
jimbeau77: Just our luck. LSU finally puts it all together and plays lights out. It's close to the end but thanks to late LSU turnover we squeak it out. Hogs 28, Tiggers 27.
harleyhawgidson: If we play up to our talent and they play up to their talent, we lose. However, it is LSU. So, Hogs, 38 – 28.
suigeneris: Sam makes Hogs believe, and this week that's half the battle. UA 28, LSU 20.
DawgHOG: I always worry! I am banking on the offense looking like it jelled against Florida, 38-28. But I hate that everybody is picking us. I'm sure the SEC analysts will all pick LSU. I hope they do.
lilhawg: LSU will study our games with A&M and Florida and develop a game plan accordingly. But I don't think they match up with those teams this year in the o-line or on D. Certainly not at QB. Hogs win, 31-24.
holdenhogfield: I'm afraid Coach Ed Orgeron has had a week off to correct things, and he's a great motivator. So I think the Tiggers will give good effort. However, our offense is waking up. And the Tiggers have a true frosh QB. And our advantage in defensive coordinators is huge. Hogs 38, Tiggers 24
generalhog: 77-0 Razorbacks!!!
georgiahawg: I said a couple of weeks ago this offense will score twice in 40's before the season is over. Time is running out on that prediction, but we pick up one of those against LSU. Ark. 41, LSU 34.
coloradohog: Really impossible to predict what we will get out of LSU. They have had three weeks to prepare. Never had to face that. They have a lot of talent (far more than us), and the players love Coach O. They may even look at this as trying to save him. Therefore, I think we will get their best effort. I believe it hurt us for them not to play 'Bama last week. I look for a close, back and forth game. Hogs 31, Kittens 27.
hogsrus: Hogs 34, Coach Ed Mumbles Team 27.
eaglehog5: Hogs. 31, Paper Tigers 21.
Discussion
Have a comment on this story? Join the discussion or start a new one on the Forums.