How we see it: Arkansas-LSU predictions
Published: Saturday, November 21, 2020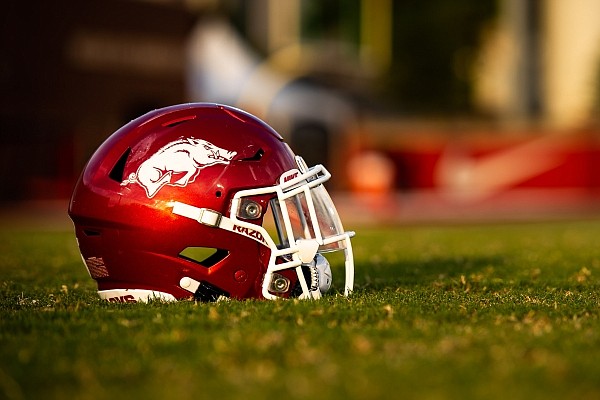 ( Walt Beazley, Arkansas Razorbacks )
An Arkansas Razorbacks football helmet sits on the field during a preseason practice on Sept. 15, 2020 in Fayetteville.
Clay Henry, Hawgs Illustrated
This is a beat-up Arkansas team running short on depth, but the Hogs still have the fight. That's the main ingredient in holding off LSU. The Tigers got a covid-19-induced bye, but don't have enough defense to slow Feleipe Franks. Arkansas, 31-18
Matt Jones, Whole Hog Sports
Arkansas' defense can bounce back against an LSU offense that is expected to start a freshman QB, and the Tigers have the SEC's worst defense. This game has historically meant more to the Razorbacks' players, and one has to wonder how motivated a 2-3 LSU team is a year after going 15-0. Arkansas, 38-27
Dudley E. Dawson, Hawgs Illustrated
Last season at this time, there is no way I would have thought I would be offering up this prediction about the defending national champion against what was then a downtrodden program. But it's 2020 and up is down so. Arkansas, 28-21
Scottie Bordelon, Whole Hog Sports
I don't see a Kellen Mond or Kyle Trask-type quarterback on the LSU sideline, so advantage Arkansas. Feleipe Franks continues his impressive play and tosses a couple more deep-ball scores. The Razorbacks also become the fifth consecutive team to run for 150-plus yards on LSU this season. Arkansas, 27-17
Seth Campbell, Whole Hog Sports
The Hogs haven't had The Boot in Fayetteville since a 31-14 shellacking of LSU in Baton Rouge in 2015. This is the year the Hogs get it back. The defense regroups by getting three turnovers after a below-average showing against Florida, and Treylon Burks leads the Razorbacks' receivers with over 100 yards against the LSU defense. Arkansas, 28-24
Bart Bohlman, The Hog Pod
It turns out that losing passing game coordinator Joe Brady, Heisman winner Joe Burrow and defensive coordinator Dave Aranda was a bad mix for LSU. The Tigers are woeful defensively and haven't been able to score enough to make up for it. Without a proven threat at QB and one of the league's worst rushing attacks, LSU will see a four-game winning streak vs. the Hogs come to an end. Arkansas, 35-30
Tye Richardson, The Morning Rush
Kyle Trask isn't suiting up for the Tigers. No Myles Brennan either? No problem. Arkansas, 38-21
Tommy Craft, The Morning Rush
LSU hasn't played in 3 weeks, and they haven't looked real interested in playing the 5 weeks before that. This game is between the two most changed football programs compared to last year in Power 5 football. Arkansas, 38-24
Discussion
Have a comment on this story? Join the discussion or start a new one on the Forums.