Arkansas limits North Texas star Hamlet in win
Published: Saturday, November 28, 2020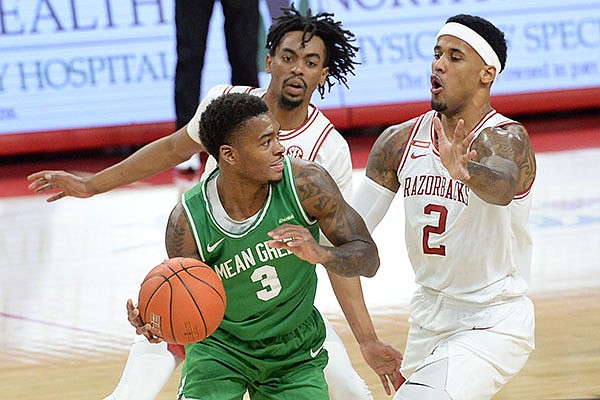 (
Andy Shupe
)
North Texas' Javion Hamlet (3) is double teamed by Arkansas' Vance Jackson (2) and Jalen Tate during a game Saturday, Nov. 28, 2020, in Fayetteville.
FAYETTEVILLE — Arkansas basketball coach Eric Musselman knew his team's first two games of the regular season would bring opponents with contrasting styles.
Mississippi Valley State's quick-shot offense resulted in the Razorbacks running away with a 142-62 rout of the Delta Devils.
North Texas brought a much slower pace to Bud Walton Arena on Saturday, but Arkansas adjusted and downed the Mean Green 69-54.
"I just think you have got to win different ways," Musselman said. "The bottom line is that Mississippi Valley State shoots real quick, in the first 12 seconds of the shot clock, and North Texas is one of the slowest teams.
"When (Arkansas director of basketball operations Anthony) Ruta put this schedule together, we wanted to play contrasting styles of play. Now we have played against a deliberate, experienced team and a team that likes to get up and down. It is important that we play our brand of basketball (no matter what) that other team's tempo is. I thought we did that tonight."
Justin Smith had 18 points, JD Notae added 16 of the bench, Desi Sills 14 and Moses Moody 11, but the stat line of the night belonged to 7-3 forward Connor Vanover.

Vanover, had 6 points, 6 blocks and 16 rebounds against North Texas, three days after scoring a team-high 23 points in the season opener.
"Connor was great," Musselman said. "He altered shots – six blocked shots, 16 rebounds, 14 defensive rebounds. I thought North Texas did a good job of crowding Connor, but he didn't force it.
"It's important for all the guys on our roster to understand that Connor contributed in so many ways, but he only had six points, he only took four shots, but he did a great job impacting the win. It's not always scoring the basketball. It is a lot of little things that go into it."
Arkansas' defense limited North Texas star Javion Hamlet, the Conference USA Player of the Year last season, to five points.
Hamlet, who had 13 points and 11 assists in his team's 116-62 win over Mississippi Valley State on Thanksgiving, was just 1 of 4 from the field and 3 of 4 from the free throw line.
"We kind of assign a star to someone on the other team or a heartbeat or cut the snake's head off, so to speak," Musselman said. "Hamlet is a guy that we wanted to keep off the foul line and we did a pretty good job. He only had four free throws attempted, which is under his average, and we wanted him to have to give the ball up in the backcourt, not in the frontcourt."
Musselman praised Northern Kentucky gradate transfer Jalen Tate for taking Hamlet out of the game.
"I thought we did a great job of limiting his touches," Musselman said. "He is the Conference USA Player of the Year returnee in their conference and we hold him to 1 of 4. That is what Jalen Tate does. He was a great defender at Northern Kentucky and with his length at that point guard position, I thought his defense on Hamlet was phenomenal."
Arkansas' plan was to make Hamlet give the ball up in the backcourt.
"They play at one of the slowest paces in the country," Musselman said. "They are very deliberate, so what we did was we shadowed — it's kind of an NBA defense when teams are looking to play at a little bit more pace — where we go trap their point guard in the backcourt and try to get him to throw the ball back to the inbounder and then we banana cut back.

"Some teams have tried to put guards back there, but we are still able to run it. We didn't run it much last year because we didn't have a shot-blocking rim protector, so Connor is a big key to our shadow because he just stands back and is our goalie."
Smith also was key in the defensive attack Arkansas chose to employ.
"(Vanover) and Justin were phenomenal in that shadow because Connor's role is to be a goalie and Justin's role is to kind of pick and choose when he soft traps in the back court," Musselman said.
"They are playing with numbers once they give the ball to Justin's man and Connor is kind of guarding two people on the backline of the defense for us as our goalie."
The play of Vanover and Smith led to a shortened rotation on the night with New Mexico grad transfer Vance Jackson playing just eight minutes, freshman guard KK Robinson five and freshmen Jaylin Williams and Davonte Davis not seeing any action.
"I don't know who you would take out tonight," Musselman said. "I thought that Justin Smith was absolutely incredible in our shadow defense. When he came out, I thought our shadow got picked apart. He's strong and long and understands spacing on that backdoor trap. And then Connor was so good and we kind of rotated those three guards.
"KK has certainly done great job for us and Jaylin Williams has been one of our best practice players. He talks and he has great energy. But the game sometimes dictates. We made a change in our starting lineup after a big win the other night, so there are just decisions that you have got to make."
Arkansas is scheduled to return to action Wednesday when it hosts Texas-Arlington at 8 p.m.

"We are still trying to figure out who we are and, obviously, we are still a work in progress," Musselman said. "You talk about a North Texas team that starts four seniors and they all understand their roles. I think our roles are kind of fluctuating game by game."
Discussion
Have a comment on this story? Join the discussion or start a new one on the Forums.