Best web comments of the week
Published: Saturday, October 17, 2020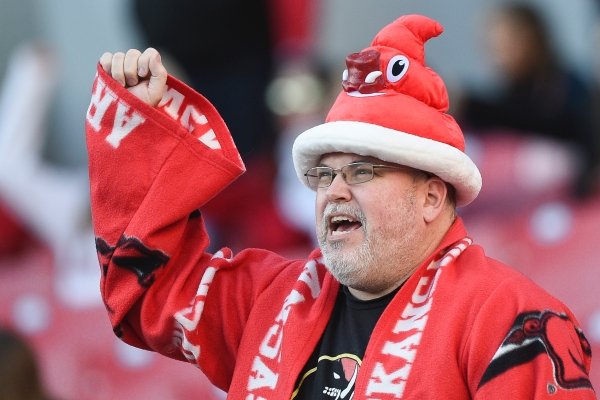 Selected comments from the message boards at WholeHogSports.com:
Razorback fans discuss the botched call at the end of the 30-28 loss to Auburn last week
LDhog: Refs are human and screw up. I'm sure that crew wishes they could have a do over. Nevertheless they need a couple of weeks off to think about early whistles. There is no excuse for a quick whistle unless protecting a player that is in harm's way. None.
armyhog: Throw the replay out the door! It makes no sense to review a play and still get it wrong.
dfarris: Has to be presented to the league office along with several other horrible calls and non-calls during the game with a formal protest of the outcome of this game.
goldsurfer: Was a bad call to be generous … We still should have won the game, had our chances. Thrilled to see us playing hard, actually making plays on both sides of the ball. We got ourselves a ball coach.
jimbeau77: Can't hardly wait for the next rare play that confuses the SEC experts.
ClayHenry: I do not think what they did in this situation was fair or just and because they found an interpretation to justify it does not pacify me. It was bad officiating. Period. They found a way to erase bad officiating and it's unjust. Wrong. Terrible.
keithguthrie: Did not the officials actually make two mistakes on that last play? One with possession, the other with how their stoppage of the clock worked to Auburn's favor. Know this is over, but seems the best conference in the nation if they wanted good officiating could have it. Should there not be some consequences for egregious mistakes by officiating, not to mention the incompetence of the process in place to correct those mistakes?
bakedhog19741: There were about six different mistakes on that play. I'm pretty sure any of them not being mistakes would have resulted in an Arkansas win.
bellhog: It will be interesting to see if (the Auburn game officials) are assigned any other Arkansas games this year!
armyhog: I just wonder if they picked their seeing eye dogs up after the game!
bluegrassrazorback: The best thing our Razorbacks and Coach Sam Pittman and staff can do after … Auburn is just beat Ole Miss. If you lose it gets the SEC off the hook.
Baumbastic_Hawg: We have to hope that this team can put (the Auburn game) behind them, just as they would put a good win behind them.
coloradohog: Auburn is over. Nothing can be done about it. Those officials can be fired, and drawn and quartered (not a bad idea), but nothing will change. Arkansas will still be 1-2. Time to move on.
Looking ahead to defending Ole Miss' prolific offense
bluegrassrazorback: Do we see a team collapse under the ole Miss offensive onslaught? Can our offense keep pace with Ole Miss scoring? Does our offense return to a triple option like Quinn Grovey vs. Houstion in '89, keeping a high-powered offense off the field? Does our defense find away? I haven't been this excited about Razorback Football since 2009
batonrougehog: I do not see any signs that this team will ever "collapse" under any onslaught. However there is no way that any team can be fired up for every game. Also, we are not very deep, and many starters are overworked and injured. There will be a game (or games) this year where we will just not be able to play with the intensity that all of us have observed and admired so far. I don't know if this will be the game, but when (if?) it happens, hopefully all of us will remain as excited as we are at this point.
bushog: I think it's a lot to expect this roster to handle the talent some SEC teams have over us. But man our coaches are getting some major effort we have not seen in a few years and it's exciting. I think we do all we can but that's a major offense with some solid weapons coming to town. After Alabama, this one may scare me the most at this point. It's just so fun to go into games again believing we have a shot.
eaglehog5: The Ole Swiss Miss defense, reckon we can hang half a hundred on 'em? Would that be enough?
generalhog: With our limited depth, I'm very worried about their hurry up offense. If they pick us apart like they did Alabama, then we could be worn out by the end of the first quarter.
sweetchildofswine: I'm thinking the Ole Miss players and coaches won't get over this loss quickly. It was (Rebel coach Lane) Kiffin's personal Super Bowl.And they're coming to play li'l ole Arkansas on the road. I think we punch them in the mouth and our offense rolls. Defense does enough. Hogs win.
On Arkansas' struggles with special teams
pigarepretty: What is the logic for not having a backup quarterback hold for extra points and field goals?
ClayHenry: Written about and discussed this summer, but the specialists spend an entire day/practice together. Quarterbacks are with the offense most of the day. Punter gets more time and generally has good hands. It is the NFL system and generally works well. It works better with meeting time since the coaches want quarterbacks in the QB meeting and not special teams meeting.
bushhog: We are all proud of how our coaches are getting our current roster to play. And we know the bad call that cost the game. But how many procedure penalties did we have on special teams? And can we not have our best blockers in on a goal line punt? Take away that special teams blocked punt for TD and we win that game — regardless of the bad call at the end.
holdenhogfield: Yeah, that was pretty bad. 'Chad-Morris like,' if you will. And that's the biggest coaching insult I know to give.
dfarris: Totally agree. Without the special teams mistakes we would have won the game and the bad officiating throughout the game would have been overcome.
Predictions for today's game against Mississippi
swinebeforepearls: Good guys 47, Bad guys 38.
generalhog: Arkansas 52, Ole Miss 49.
SWHog: I want to believe in this coaching staff and our players. 48-45, Hogs in a game that will come down to the last possession.
georgiahawg: I seem to be on the wrong end on who wins lately. I predicted MS State to beat us by 11. Picked Arkansas to beat Auburn by 3. Ark. 34, Ole Miss 37. Think we see enough defense to keep them less than 40. Question is can we score over 40?
jhawg: I hate Ole Miss, but wanted Kiffin to come here when we all thought he was coming until that Saturday morning. Kiffin is a narcissist so he does fit in much better at Ole Miss and the down home style of Sam Pittman probably fits in Fayetteville better for the Hogs I always try to pick who I really think will win, not who I will root for. Ole Miss 41, Arkansas 31.
neastarkie: have no idea what to expect. I know we're a much better team than I thought we'd be – and I thought we'd be improved. Still, I don't know yet how good our opposition has been. (Well, I know how good UGA is, but they beat us easily in the 2nd half.) Ole Miss looks to be as good or better than we are. They beat a pretty good UK team and hung tough with 'Bama until the very end. They lost to a good UF team although they played them pretty close. … I think we might pull it off, though. Hogs 45, Webels 42.
jimbeau77: After a toe-to-toe shootout loss to 'Bama. Ole Miss may be drained a little. Or thinking AR won't be that competitive. AR 38, OM 35.
cody: As bad as I hate to say it, I think we are too beat up and OM is too balanced. We still struggle to win all phases of the game and make some bad calls on offense to hang with a team who scores like OM does. This one will hurt. 45-31, Old Missy.
coloradohog: I just don't see how this defense can stop Ole Miss. 'Bama could not do it. Our lack of depth will really show as well. No way the offense can hang with them. I expect a big let down from Ole Miss and a little one from us. Ole Miss 48, AR 34.
LDhog: Hawgs 42, Rebs 24. Barry Odom takes another step towards the Broyles Award.
stillgreghog: Picking the Hogs for the first time this year. I think our defense will do a better job than most think. Hogs 31, Ole Miss 21.
hogdr: We were robbed for sure last weekend, and the entire country saw it and agrees based on what I've read and heard since Saturday. They also see that we have a real team this year that will stand toe to toe with the best teams in the SEC. I expect a shootout this week with Ole Miss. ARK 38, Ole Miss 35.
razorwill: Hate to do it but we are beat up. Defense especially. Dorian Gerald hurt more than he plays. All the defensive backs not heard from, both linebackers banged up. Ole Miss with best offense I've seen in a while. CSP said their offense same as ours. Ours hasn't looked anything like what I saw against 'Bama. Hate Ole Miss and Auburn. Got robbed of one win. Ole Miss 38, Arkansas 31.
ricemab54: Hogs will win a SEC game in Fayetteville. Hogs 38, Brown Bears (or who knows what they are this week) 28.
holdenhogfield: Our D is legit. Let's hope they get healthy. Offense seems to be waking up. O-line changes or players and coaches getting their timing down? (Special teams) need a big step up. Seem to be correctable mistakes? Defense and special teams tackled poorly last week, compared to the last two weeks. I think that Odom will fix that. And I despise Kiffin. So maybe I discredit him. Who cares. I'll say hogs 45, Mrs. Rebel Bear Colonels 21. Fun locker room for the Hogs again.
suigeneris: Ole Miss has scored at least 35 on everybody. I figure they will again. Our offense plays well, but can't quite keep up. Rebs 42, Hogs 38.
eaglehog5: We are good enough to beat the defenseless rebellious ones at home, but there is no room for error. Got to really tighten up the special teams and lose the cutesy. If we trot out another backup QB inside the 5 or try to execute a triple reverse with Wrong Way Hammonds that results in a 20-yard loss that kills a promising drive, I think I might shoot my TV. Assuming we get these things right, I'll go with Hogs 49, Ole' Missed Tackle 42.
gohawgsgo: 48-38 Hogs! Defense gets a few turnovers. Offense continues upward trend!
Discussion
Have a comment on this story? Join the discussion or start a new one on the Forums.