How we see it: Arkansas-Ole Miss predictions
By:
WholeHogSports
Published: Saturday, October 17, 2020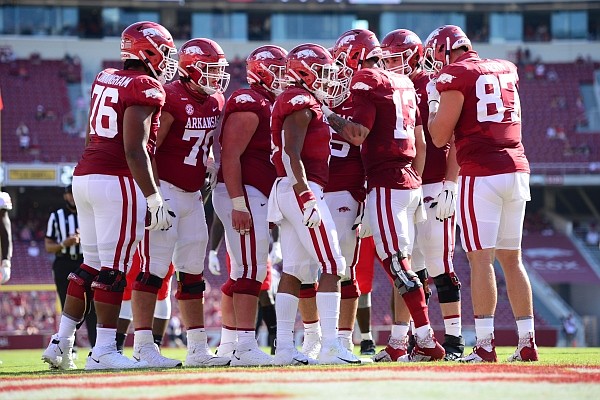 Photo by Walt Beazley, Arkansas Razorbacks
Arkansas players huddle prior to a play against Georgia on Sept. 26, 2020 in Fayetteville.
Clay Henry, Hawgs Illustrated
Winning on the road is tough in the SEC. Never has that been emphasized like this trip to Auburn. Arkansas won the game, but the SEC office sent the Razorbacks to their plane wondering how it didn't show up on the final scoreboard. Arkansas has to avoid letting that call beat them twice in a row. The mental agony must be flushed before the Ole Miss offense makes it to Fayetteville. It is the biggest challenge yet for Sam Pittman. He can get it done. Arkansas, 34-31
Matt Jones, Whole Hog Sports
Ole Miss is scoring 42 points and giving up 52 points per game. This game should hinge on how often the Razorbacks can keep the Rebels out of the end zone. It's tempting to pick Ole Miss based on differences in offense, but this pick is based on one team showing it can make some stops on defense and one showing it cannot. Arkansas, 48-40
Dudley E. Dawson, Hawgs Illustrated
This game might be the most entertaining one played in Reynolds Razorback Stadium this season. Lane Kiffin's Rebels are a little bit more down the road in the rebuild than Sam Pittman's injured-riddled Razorbacks, but both head coaches have things going in the right direction. Ole Miss, 42-28
Scottie Bordelon, Whole Hog Sports
If Treylon Burks is able to play, I think it's possible we see a big-time showing from Arkansas' offense against a sad Ole Miss defense. It is allowing more than 50 points per game this season. Feleipe Franks has found something of a rhythm the last couple of weeks and that is encouraging. He has a productive day through the air, and the Razorbacks' defense does just enough at home to grab SEC win No. 2. Arkansas, 38-34
Seth Campbell, WholeHog Sports
Arkansas' defense has performed exceptionally well this year, but they will be tested like no other against Ole Miss. I think the defense comes up with a big stop in the fourth quarter and the Hogs pull it out. Arkansas, 42-35
Tye Richardson, The Morning Rush
Heartbreaking loss to Gus and Chad. SEC office has a lot of explaining to do. Time to respond at home. Arkansas, 38-31
Bart Pohlman, The Hog Pod
Lane Kiffin has the Ole Miss offense humming. But as good as they are on offense, they're that bad on defense. Arkansas has been playing well as of late and will be motivated and angry after having a win taken away against Auburn. The Hogs do enough to get the win. Arkansas, 31-30
Tommy Craft, The Morning Rush
If Lane Kiffin's offense can score 48 points on Alabama, it makes me believe that Ole Miss will be the best offensive team the Hogs have played this season. Can they keep up or will the Arkansas defense slow Ole Miss? Arkansas, 33-30
Discussion
Have a comment on this story? Join the discussion or start a new one on the Forums.