At less than full speed, Burks delivers best game of career
By:
Scottie Bordelon
Published: Saturday, October 17, 2020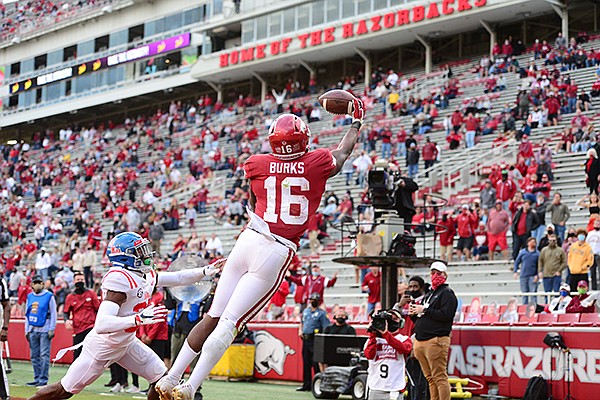 Photo by Gunnar Rathbun, University of Arkansas Razorback Athletics
Arkansas receiver Treylon Burks (16) catches a touchdown pass during the fourth quarter of a game against Ole Miss on Saturday, Oct. 17, 2020, in Fayetteville.
FAYETTEVILLE — Treylon Burks made a catch worthy of Sundays when it mattered most Saturday.
Facing third-and-1 at the Ole Miss 7, Arkansas quarterback Feleipe Franks tossed a fade ball in to the corner of the end zone in a spot only Burks could get it. And he did.
Arkansas 33, Ole Miss 21
Burks left his feet, extended his right arm, snagged Franks' pass with only his right hand and tapped his right foot down mere inches from the sideline. The touchdown gave Arkansas a 26-14 lead with 7:36 remaining and essentially sealed a 33-21 victory over the Rebels — the Razorbacks' first SEC home win since 2016.
Burks knew it would stand. Following a brief review, it did.
"The catch, it didn't surprise me," said Burks, a Warren native. "I do it in practice. It's just something I work on and something I want to get better at.
"I had to sit out last week against Auburn. I just came back confident and I knew my teammates had confidence in me, so I just went in and played for them and the Arkansas Razorback nation."
Asked where the touchdown ranks among the many he has scored throughout his successful career, Burks said he isn't into that kind of thing.
"Who knows," he said. "I'm just glad we scored and we got a win."
One week after traveling but not being healthy enough to play in the controversial 30-28 loss to the Tigers because of a first-half knee injury suffered at Mississippi State the week before, Burks set career highs in receptions (11) and receiving yards (137).
Just days ago, though, Arkansas coach Sam Pittman wasn't sure the star sophomore was going to be available against the Rebels. Burks practiced throughout the week, but his status as of Thursday was a bit up in the air.
"Y'all saw him, I mean, he probably played about 80%," Pittman said. "He's a great football player. But he wasn't healthy today. I mean, he was healthy enough to play, but he wasn't his regular self.
"He's just a leader. I love him. He's a very physical guy, he made some big plays out there. You could see the rust on him a little bit, too, from not being healthy the last couple of weeks. But he's a competitor. He loves Arkansas.
"He made some really key plays today."
Burks was the first Razorbacks player to catch 10 or more passes and finish with 100 or more receiving yards in an SEC game since Cobi Hamilton in October 2012. Hamilton also did it against Ole Miss.
Five of Burks' 11 catches went for a first down, and his third went for 55 yards. The catch and run down the Arkansas sideline set up running back Rakeem Boyd's 1-yard score to put Arkansas ahead 7-0.
"He's a heck of a player, but at the end of the day, man, he's continually getting better week in and week out," Franks said. "He works super hard. When he got hurt, he worked super hard in the training room to get his body back to be available for our team. I thought Treylon did a great job.
"He's always working hard and trying to be quarterback friendly and able to get the ball, then at the same time get the ball and get yards after catch."
Burks' impact on an offense that sputtered at times against the Rebels extended beyond the passing game. He was also credited with 46 rushing yards on four carries, most of which came on run-pass options from Franks.
Running back Trelon Smith led the team with 54 yards on 15 carries.
The plan moving forward with Burks is to get the ball in his hands more often.
"We need to get him the ball as much as we can," Pittman said. "I anticipate his touches going up."
That will likely suit Burks just fine, but he would gladly accept a reception-less game if it meant the Razorbacks came out on the right side of the scoreboard again.
His performance, coupled with a six-interception and two-touchdown day from the defense, led Arkansas to a 2-2 record entering the team's bye week. As a home-state kid, Burks is thrilled to have a helping hand in guiding the Razorbacks to another win.
"We're starting to believe in each other," Burks said. "I just like the fact that we're playing as a team. We're not playing selfish. We're one unit, [the] one goal is to win. It's showing on Saturdays, so that's what I'm proud of.
"I just give all the glory to God and my teammates for pushing me to be the person that I am. I just go out there and play for them."
Discussion
Have a comment on this story? Join the discussion or start a new one on the Forums.