With Pool out, Morgan steps up in big way
By:
Seth Campbell
Published: Saturday, October 17, 2020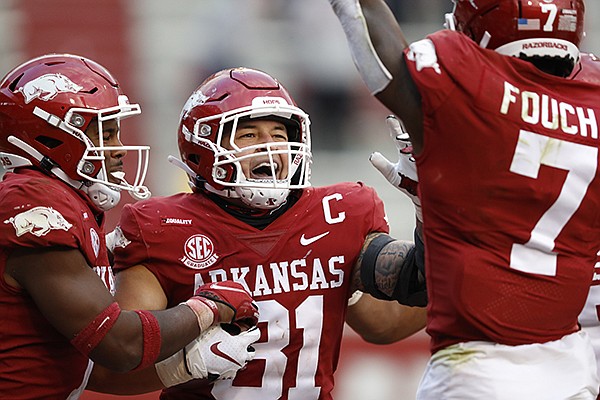 Photo by Arkansas Razorbacks
Arkansas linebacker Grant Morgan (31) celebrates after returning an interception for a touchdown during a game against Ole Miss on Saturday, Oct. 17, 2020, in Fayetteville.
FAYETTEVILLE — Without his counterpart at linebacker, Grant Morgan was called upon to stop an Ole Miss team that scored 48 points and put up 647 yards in its previous game against Alabama. 
Morgan needed only one healthy arm to answer the call. With a brace on his left arm that would barely let him move his elbow, Morgan led the team with 19 tackles, a sack, and an interception that he returned for a touchdown as the Razorbacks defeated Ole Miss 33-21 on Saturday.
Arkansas 33, Ole Miss 21
Morgan won the Crip Hall Award that is presented to Arkansas' most outstanding senior on Homecoming.
It was going to take more than an injured arm to keep him out of the game. 
"It's going to have to take a lot. I love playing football. I love being a Razorback," Morgan said. "Football is a painful game, so if there is no pain in it, then nothing is getting done. So it's going to have to take a lot. It's going to have to come falling off."
Morgan's toughness also earned him praise from Razorback quarterback Feleipe Franks. 
 "I think it's a sign of resilience to play through injury," Franks said. "He could easily say he couldn't go. To go out there and go and have the game he had, it showed resilience, not only with him but our defense and our team. I thought it was a really good job by him."
Bumper Pool, who was tied for first in the SEC in tackles (36) and tied for second nationally in tackles per game (12.0) going into the Ole Miss game, didn't participate in Arkansas' game against the Rebels, but the Arkansas defense wasn't deterred. 
Arkansas forced Ole Miss quarterback Matt Corral to throw six interceptions. The Razorbacks also recovered a fumble and forced two turnovers on downs. 
"We really just spied the quarterback," Morgan said. "We went (with) a good amount of zone just because they haven't faced a lot of zone this year. We kind of simplified our defense because they go fast....We got lined up and just played football and just read his eyes."
With the Hogs hanging on to a 26-21 lead and just more than three minutes to play, Morgan dropped into coverage and caught the first interception of his Razorback career. He returned it 23 yards for a touchdown and gave Arkansas a two-score lead. 
Morgan's garnered praise from Arkansas coach Sam Pittman. 
"You saw him holding that elbow on a play late in the fourth quarter, and it doesn't stop him from picking a pass and running it back for a touchdown," Pittman said. "He is a tough kid, he is Arkansas. That's what he is."
Morgan's road hasn't been easy. The former walk-on from Greenwood had to earn his spot in the playing rotation.
"That's a big honor for him to say that just because I know how hard I've worked for this," Morgan said. "I know how hard I've been able to push for things that a lot of people doubted me to do. They said I wouldn't be an SEC linebacker. They said when I got my shot I wouldn't be able to be here and doing the things I did.
"It's not a chip on my shoulder, it's definitely a log on my shoulder. I've been carrying it and I'm going to keep it there just because I'm going to be able to continue to keep going and just try to push for perfection every single chance I get."
Morgan knows not to take the win for granted. The Razorbacks had not won an SEC game at home since Morgan started playing for the Hogs in 2017. 
"Anytime to be able to get a win, especially over the past couple of years (with) how we've been struggling, it's big for our team," he said. "It's big for the players. We've been down in the dumps the last couple of years and being able to fight through those things and now we're tougher together."
Discussion
Have a comment on this story? Join the discussion or start a new one on the Forums.