Lane train derailed in Fayetteville
Published: Saturday, October 17, 2020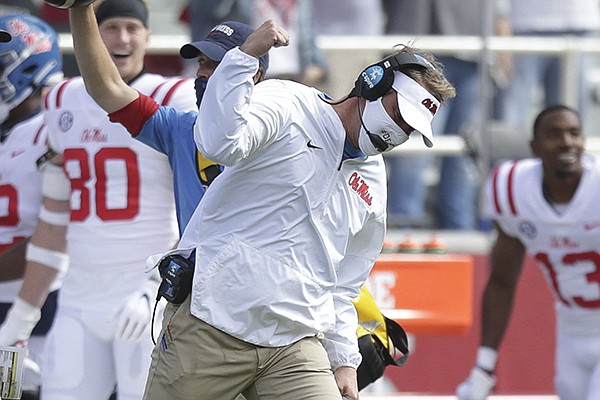 (
Charlie Kaijo
)
Ole Miss coach Lane Kiffin reacts to a play during a game against Arkansas on Saturday, Oct. 17, 2020, in Fayetteville.
FAYETTEVILLE — Ole Miss coach Lane Kiffin and quarterback Matt Corral both showed up for their Zoom press conferences Saturday with puzzled looks on their faces.
That was the result of the defensive game plan put together by Arkansas defensive coordinator Barry Odom and first-year head coach Sam Pittman that forced seven turnovers.
Arkansas 33, Ole Miss 21
Arkansas (2-2) intercepted six Corral passes and stymied one of the nation's best offenses in a 33-21 victory. The Razorbacks returned two interceptions for touchdowns: 35 yards by Jalen Catalon in the second quarter and 23 yards by Grant Morgan to cap the scoring late in the fourth quarter.
"They have done a great job," Kiffin said. "I told Sam before the game that I don't know that there is been a better job done in the country of what a defense looked like last year to this year in how they play. It is the same players, for the most part, but Barry has just done a great job.
"I saw then the first half against Georgia, saw them the whole game against Mississippi State and now against us. (Odom) does a great job, keeps the ball in front of them and limits explosive plays, which has been what we relied on a lot. It was a great game plan."
Corral completed 20 of 38 passes for 200 yards, but was picked three times by walk-on defensive back Hudson Clark and once apiece by Morgan, Catalon and Greg Brooks.
Catalon's pick-six gave Arkansas a 17-0 lead. Morgan's capped a day during which he had 19 tackles, a sack and three tackles for lost yardage.
"Most of them, especially the later ones, he was just staring them down," Kiffin said of Corral's interceptions. "They are going to happen ever once in a while. The first one, he (Clark) jumped and made that interception, but the other ones were him just staring them down.
"The second-to-last one, three guys could have picked it. He just was staring guys down and not getting back to the (running) back. These guys did a great job and that is what they did against Mississippi State. They do a great job and are coached extremely well."
Corral shouldered the blame while also crediting Arkansas defense, which rushed three and dropped eight into coverage.
"It was a unique look that they had," Corral said. "They never had a load box once so their run numbers were good, but we still struggled getting the run game going so we tried to throw it. I knew they would drop eight, but there are no excuses for that performance.
"When you have a performance like that, you are supposed to lose the game and that's what happened. When you drop eight, the windows are smaller. Arkansas did a good job of tracing the ball back whenever the ball was out.
"Having all 11 sets of eyes on you like that, they are going to read it. When I am just looking at one defender, that (middle linebacker) is flowing with them into the window, if it is not a perfectly thrown ball, it is going to get intercepted.
"It was also not just a flat defender, but a middle field safety that is playing over there as well, too, and I just messed up."
Kiffin went to Corral after the game to discuss the performance and about moving forward.
"He said that he had my back and that is all a quarterback in my position today can ever ask for," Corral said.
Corral entered the game with more than 1,000 passing yards and 10 touchdowns, and just one interception in his first three games.
"We have already talked and I just said that this game can be really humbling," Kiffin said. "You have got to be really careful reading all your stuff (press) during the week about how great you are and all this because this league will bring your right back down.
"Also once you start playing really well, people, they study you. Today they read his eyes, played all zone. He was staring guys down and that is where the interceptions came."
Kiffin said it can't be chalked up to just having a bad game.
"You better figure it out, especially in this conference because we have got really good coaches," Kiffin said. "So they are going to copy it and so once somebody figures out how to stop you, you better figure out the answers to that because the next week you are going to see the same thing.
"Obviously the output was very different than it was every other game so people are going to copy it."
Arkansas jumped out to a 20-0 lead in the first half while holding Ole Miss without points when the Rebels had moved to within first-and-goal.
"Obviously we started slow and the theme of the day was opposite of what the season had been," Kiffin said. "Offensive struggles and the inability to run the ball in the first half and obviously the turnovers and two goal-to-goal situations and not getting any points out of that was tough.
"There were so many missed opportunities that I can think of when it became a one-possession, one-score game in the fourth quarter. Had we not screwed all of that up early, we are up by three or four scores.
"You can't turn the ball over and expect to win."
Ole Miss defensive end Ryder Anderson, who was originally committed to Arkansas in June 2016, led his team with 13 tackles and a sack.
The much-maligned Ole Miss defense had given up 63 points to Alabama in a loss last weekend, and previously allowed 51 to Florida and 42 to Kentucky in an overtime game.
It held Arkansas under 150 yards in the second half.
"We just collectively as a unit decided we wanted to come out and play better defense," Anderson said. "We were tired of the disrespect we had been receiving and we had a great week of practice and preparation.
"But at the end of the day, we didn't get enough stops and we didn't get enough turnovers to win the game."
Kiffin was pleased with the defense.
"I was happy to see our defense play a lot better, play with energy and make turnovers, have good emotion and execution," Kiffin said. "That was good. At least it wasn't us losing a game by another big score. My message to the team was it shows if we play really good offense like we have prior to this and really good defense like we did today, we could be a really good team.
"That will be the goal, to develop and put it all together."
Discussion
Have a comment on this story? Join the discussion or start a new one on the Forums.