State of the Hogs: Heroes aplenty in Arkansas' big win
Published: Saturday, October 17, 2020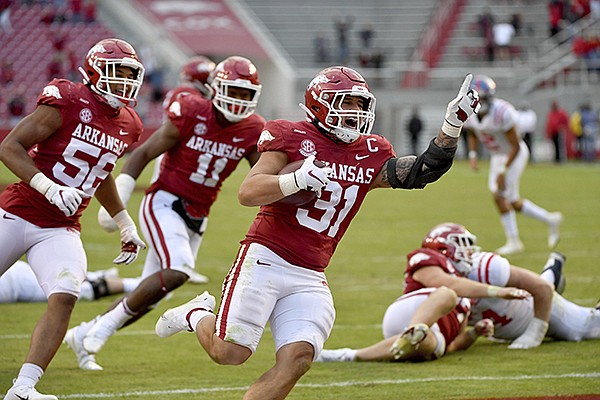 Arkansas linebacker Grant Morgan (31) celebrates as he returns an interception for a touchdown against Ole Miss during the second half of an NCAA college football game Saturday, Oct. 17, 2020, in Fayetteville. (AP Photo/Michael Woods)
FAYETTEVILLE — Picking the hero is easy most of the time. Not after Arkansas slammed the door on a valiant Ole Miss comeback for a 33-21 victory Saturday at Reynolds Razorback Stadium.
A star of the game award could go to:
• Treylon Burks for an other-worldly one-hand catch for a touchdown with 7:36 left, the first points of the second half for the slumping Razorbacks.
• Or, maybe you'd prefer it go to senior linebacker Grant Morgan. The former walk-on from Greenwood gutted through a series of arm/hand injuries with 19 tackles, three for losses, one sack and two pass breakups. All of that was before an interception he returned for the clinching touchdown.
• Or, it could be cornerback Hudson Clark, the walk-on redshirt freshman with three pass interceptions, including the sixth of Matt Corral on the Rebels' final drive. The Ole Miss quarterback had thrown only one in his first 96 passes this season.
• Or, it could be that the entire defensive staff earned the award, for pulling together a collection of defenders badly abused over the past two seasons and adding a few walk-ons. Coordinator Barry Odom (safeties), Sam Carter (cornerbacks), Rion Rhoades (linebackers) and Derrick LeBlanc (line) installed another terrific game plan to stymie another prolific SEC offense.
Arkansas 33, Ole Miss 21
That's what first-year Arkansas coach Sam Pittman prefers to highlight, but the truth is that it's his staff, his players and his vision that has the Razorbacks 2-2 ahead of the bye week.
Pittman delivered a grand quote afterward when it was his chance to talk about the marvelous fight his team displayed for the fourth straight week. Admitting he fought off tears when hugged by his wife Jamie, Pittman deflected credit.
"I didn't do nothing," he said. "I just stood out there and watched. I didn't do nothing. Clark got the three picks. Morgan got one and took it back."
As far as his ability to get the Hogs turned around, he said, "It's selling. It sounds corny, but it's getting them to believe in a common goal. You have seen them. It's one guy one week, another guy the next week."
Then, as he addressed anyone who wanted the Hogs to bail from the SEC during a 20-game league losing streak, Pittman delivered the best summary for the future.
"We damn sure belong in the SEC," he said. "We do."
Pittman belongs, too. He has out-schemed two other first-year coaches in the league, Ole Miss' Lane Kiffin and Mississippi State's Mike Leach. He could beat a third next month, Missouri's Eli Drinkwitz.
Pittman is proud of the way his team has fought through four games. He responded with a question when prompted.
"I say damn too much, but why wouldn't I be (proud)?" Pittman said. "We can find some things to get better at, but I'm proud of our staff, proud of our state and proud of the fans who were here.
"The fans get to go celebrate and stick their chests out and this is what they needed to be done for a long time."
Not only that, but the Hogs deserve to be 3-1 and mentioned in the SEC West race. And, they haven't been firing on all cylinders.
"We can be a lot better than what we have played now," Pittman said. "That's especially with the way we've run the football."
They've got a chance to heal some injured players — some who are playing hurt, some sidelined — during the week off before a trip to Texas A&M on Halloween. What we know now is that Pittman will take a real team to College Station, one that doesn't flinch in the clutch.
When the defense gave up a 57-yard fake punt on fourth-and-10 to allow the Rebels to creep to within 26-21 with 5:30 remaining, the Hogs upped their game. They didn't allow another first down and intercepted two of Carroll's last four passes.
Asked if that was an indication of his team's poise, Pittman said, "We are into Week 4 and our team hasn't unraveled ever. The defense made another big stop."
Clark got the last one, jumping to high point the interception above the Rebel wide receiver. He was mobbed by the defense and led off the field by safety Jalen Catalon displaying a symbolic three-finger salute to the new starting corner.
It was the kind of play no one has seen a Razorback defensive back make in years, but is now common place as Odom and Carter coach the secondary. They seem to think every pass belongs to the defense.
It was Clark who got the game's first interception of Corral, an ill-advised throw across the field into the teeth of a 35 mph breeze. Catalon got the second, a pick-six that made it 17-0 with 10:40 left in the second quarter.
Arkansas led 20-0 at halftime.
Catalon, a redshirt freshman who plays like a coach, recovered a fumbled snap on a fourth-down play at the UA 1-yard line on the first Ole Miss possession. The Hogs held from less than 1 foot from their goal line on the first drive of the second half. Greg Brooks and Xavier Kelly stuffed Snoop Conner for lost yardage.
Brooks broke under a slant pass for a third-quarter interception that erased one of two Feleipe Franks turnovers, a lost fumble at the UA 17-yard line. It was like most of the other five picks, a case of reading the eyes of the Ole Miss quarterback.
"We spied the quarterback and got in our zones," Morgan said. "(Odom) simplified the defense because they go so fast. We lined up and read his eyes. Our coaches knew their tendencies."
Clark said the same thing. He said his interceptions were the result of reads from tendencies.
"We were in zone most of the time," Clark said. "We had a few blitzes, but with how fast they go, it was just easier to sit back in zone and read the quarterback."
It's becoming obvious that the Hogs know how to play pass defense. They held Mississippi State quarterback K.J. Costello to 212 yards the week after he threw for an SEC-record 623 yards against LSU.
Corral averaged 380.7 yards in his first three games, but completed just 20 of 38 for 200 yards against the Hogs. Pittman was asked if he was surprised by the six interceptions.
"We planned on getting seven when the game started," he joked. "But I'll take six.
"Hudson getting three is incredible. It was coaching and the players reading eyes."
The defense scored two touchdowns, but there were some flurries of offense, mostly centered around some creative throws from Franks to Burks, who had 11 receptions for 137 yards and four rushes for 46 yards.
Burks had missed most of the last two games because of a knee injury. He wasn't as fluid as normal against Ole Miss, but finished plays by turning up field to power through defensive backs.
"You could see the rust from not playing (or practicing)," Pittman said. "He is far from being healthy. But he's a leader and very physical.
"He's playing at about 80%. He's a great player."
The Burks touchdown catch reminded of some of the great NFL one-hand grabs that are legend. He's made plenty like it in practice, so no one seemed surprised when he went high into the air for the stab in the corner of the end zone and getting a toe down.
"Treylon, what a great catch," Pittman said. "That was a great drive."
Indeed, the Hogs came up with their first hint of some offense in almost two quarters after Ole Miss cut the lead to 20-14 with 12:06 left.
Franks guided them 70 yards in 11 plays. They converted a third-and-2 with a 3-yard run by Rakeem Boyd and the final seven yards on third-and-1.
The Hogs led 26-14 with 7:36 left, but Ole Miss made it interesting again when up back MoMo Sanogo converted the fake punt from his 27-yard line in an all-or-nothing decision. Kiffin went for it on fourth down nine times, converting five. The Rebels were just 4 of 16 on third down.
Ultimately, that led to only three touchdowns and 442 yards. The Rebels entered the game averaging 41.7 points and 573 total yards.
It's the kind of defense that will gain attention across the SEC, if not the nation. Morgan and Clark, the two defenders on the Zoom call with media, said it's about setting "the standard" for an Odom defense.
"Coach Odom said last night (about setting the standard) that people watched what we did against Mississippi State and they should mimic what we do on the field," Clark said.
"We want to set the standards for what other teams do," Morgan said. "We want them to say, we play like Arkansas. We know it's an offensive-minded league where people want to score 60. We say to heck with that."
The Hogs did it without inside linebacker Bumper Pool, out with rib injuries. He made 36 tackles in the first three games, but took on a role to help prep walk-on Jackson Woodard, a true freshman elevated from the scout team. Woodard played a few snaps in the third quarter with Morgan in the injury tent.
Woodard might develop into a star soon. Morgan made that prediction.
"He is not surprising," Morgan said. "He's a playmaker. He had one of the best weeks (of the linebackers)."
Morgan heaped praise on Clark, too.
"The kid has more confidence than anyone in our (defensive) room," Morgan said. "I'm not surprised. I see a little bit of myself. Up (in the air), he's better than me."
Clark's three interceptions tied him for second on the UA interception chart and led the bright and quick social media team to change his bio sketch on the website. Under his 2020 summary, soon after the game it read: Declared Fayetteville a NO FLY ZONE.
Communications director Kyle Parkinson gave credit to the social media team. Taylor McGillis is the Associate Athletics Director for Marketing and Brand Development. Rachael Harris is the Assistant Director of Digital Strategy.
"They thought I was going to be mad at them," Parkinson said.
No one is mad at anyone around Arkansas football these days. It's fun again and there are heroes everywhere.
Discussion
Have a comment on this story? Join the discussion or start a new one on the Forums.