Instant Replay:
Hogs match last year's total in single game
By:
Bob Holt
Published: Sunday, October 18, 2020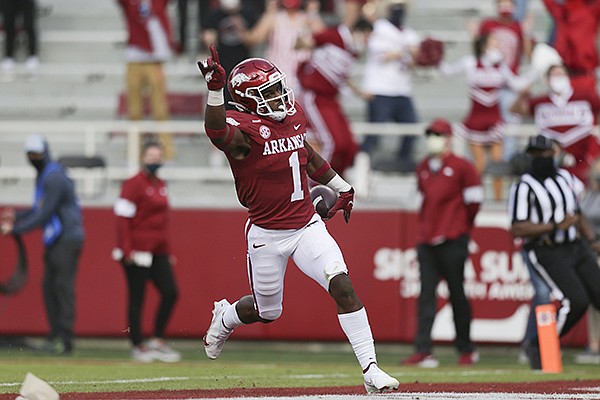 Arkansas safety Jalen Catalon returns an interception for a touchdown during a game against Ole Miss on Saturday, Oct. 17, 2020, in Fayetteville.
FAYETTEVILLE — The Arkansas Razorbacks had as many interceptions Saturday against Ole Miss as they had in 12 games all of last season.
Rebels quarterback Matt Corral had thrown just one interception in 88 passes the first three games — in the opener against Florida — but the Razorbacks picked him off six times as the University of Arkansas beat Ole Miss 33-21.
Arkansas 33, Ole Miss 21
During last season's 2-10 season that included an 0-8 SEC mark, the University of Arkansas combined for six interceptions.
The six interceptions Saturday tied for the most the Razorbacks have had against an SEC team since joining the conference in 1992. They also had six in a 52-6 victory over Mississippi State in 2003.
Cornerback Hudson Clark led the Razorbacks with three interceptions. Safety Jalen Catalon, nickel back Greg Brooks and linebacker Grant Morgan each had one apiece.
"That's coaching, that's playing, that's being in position, that's reading eyes," Arkansas Coach Sam Pittman said of the interceptions. "That kid Corral had one interception going into today. We picked him six times, so that's coaching and that's players learning and obviously being able to get it done as well."
Arkansas is the second SEC team in as many weeks to have six interceptions. Kentucky also did it in a 24-2 victory over Mississippi State the previous Saturday.
The Arkansas school record for interceptions is nine against SMU in 1970. The Razorbacks had eight against SMU in 1951, and seven against Texas Tech in 1966 and Rice in 1986.
For starters
True freshman cornerback Khari Johnson made his first start for Arkansas with senior Jerry Jacobs, who was injured at Auburn last week, playing off the bench.
Johnson became the 17th first-time starter for the Razorbacks this season.
Junior linebacker Hayden Henry made his first start in two years while filling in for the injured Bumper Pool, who didn't dress out. Henry's only previous start was against Texas A&M in 2018.
Senior Ty Clary, who started the previous two years at center, made his first start of the season. Clary started at guard for Beaux Limmer, who played off the bench.
Sophomore receiver Treylon Burks and senior running back Rakeem Boyd returned to the starting lineup after missing the Auburn game because of injuries they suffered two weeks ago at Mississippi State.
Senior receiver De'Vion Warren, who started last week in place of Burks, stayed in the lineup with sophomore Trey Knox not starting.
As the Razorbacks did at Mississippi State, they went with a three-man defensive front and started senior Jonathan Marshall at nose guard, and sophomore Zach Williams and redshirt freshman Eric Gregory at the ends.
Arkansas started five defensive backs, with junior safety Myles Mason making his first start of the season and second of his career. He started last season's finale against Missouri.
Picks 6
Arkansas safety Jalen Catalon and linebacker Drew Morgan each had interception returns for touchdowns.
Catalon's 35-yard return gave Arkansas a 17-0 lead with 10:40 left in the second quarter. Morgan's 23-yard return with 3:07 left put the Razorbacks ahead 33-21.
Arkansas has three interception returns for touchdowns this season, including Greg Brooks' 69-yarder at Mississippi State.
It's the first time the Razorbacks have had three interception returns for touchdowns in a season since 2016 when Ryan Pulley against Texas State, Henre Toliver against Alcorn State and Santos Ramirez against Florida did it.
Punter change
Reid Bauer took over for George Caratan as the Razorbacks' primary punter and had a good day. Bauer averaged 46.9 yards on seven punts, including a long of 62 that bounced into the end zone for a touchback.
Two of Bauer's punts were downed or fair caught inside the Ole Miss 20. He had two touchbacks.
Coming into the game, Bauer had punted twice the first three games — once for 38 yards at Mississippi State and once for 31 yards at Auburn.
Upon further review
A third-down pass by Arkansas quarterback Feleipe Franks first was ruled an interception by Ole Miss safety Jaylon Jones. After being reviewed by the replay booth, it was ruled an incomplete pass.
Pregame roster
Tailback Rakeem Boyd, receiver Treylon Burks, cornerback Jerry Jacobs, offensive tackle Noah Gatlin, tight end Hudson Henry and safety Myles Slusher all dressed out Saturday after missing all or parts of last week's game.
Linebackers Bumper Pool and Levi Draper, who had surgery last week, and cornerback Montaric Brown were not spotted on the sideline.
Among those not dressed out were receiver Koilan Jackson, and defensive backs Micahh Smith and Malik Chavis.
Defensive end Dorian Gerald and linebacker Deon Edwards wore their jerseys but did not have pads on.
Numbers and notes
Arkansas had the following jersey number changes: Khari Johnson in No. 4 (was 19), Reid Bauer in No. 30 (was 28), Nick Turner in No. 36 (was 3), Cameron Vail in No. 29 (was 44), Jake Yurachek in No. 44 (was 35).
Series note
Arkansas now holds a 37-27-1 edge in the series against Ole Miss, according to the Razorbacks' math, while the Rebels contend their deficit is 36-28-1.
The one-game difference in records stems from Arkansas' contention it won the 1914 game 1-0 in Little Rock because Ole Miss used an ineligible player. The Rebels count that game as a 13-7 victory, which was the final score on the field.
Arkansas improved to 12-2 against Ole Miss in Fayetteville and 17-12 in SEC games between the teams.
Crip Hall
Linebacker Grant Morgan was the winner of the Crip Hall Award, which is given annually to the most outstanding senior in the homecoming game.
Morgan led the Razorbacks with a career-high 19 tackles and had a 23-yard interception return for a touchdown.
Been a while
Arkansas won its first SEC home game in 1,443 days.
The Razorbacks beat an SEC team at home with a 31-10 victory over No. 11 Florida on Nov. 5, 2016. They had lost 12 consecutive home SEC games — 10 in Fayetteville and two in Little Rock — prior to beating Ole Miss on Saturday.
Flag bearers
Arkansas senior tight end Blake Kern and sophomore linebacker Jake Yurachek carried the Arkansas and United States flags, respectively, when the Razorbacks ran onto the field.
Yurachek is the son of Arkansas Athletic Director Hunter Yurachek.
Musical fun
The Reynolds Razorback Stadium sound system played "Baby Shark" at the end of the game, a nice dig at the Land Sharks nickname for Ole Miss' defense.
Arkansas Democrat-Gazette staff writer Tom Murphy contributed to this report.
Discussion
Have a comment on this story? Join the discussion or start a new one on the Forums.