'They've heard of him now': With 3 picks, walk-on Clark no longer a secret
By:
Bob Holt
Published: Sunday, October 18, 2020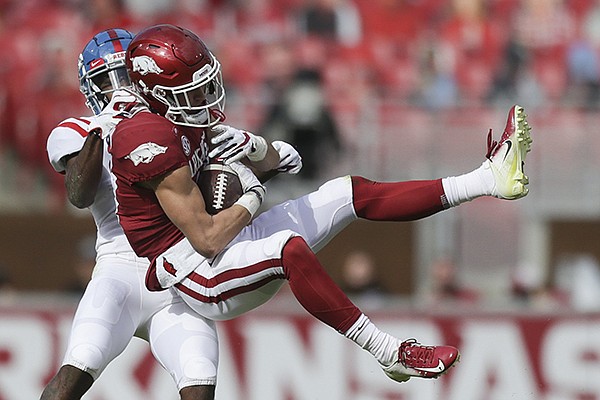 Arkansas defensive back Hudson Clark intercepts a pass intended for Ole Miss receiver Elijah Moore during a game Saturday, Oct. 17, 2020, in Fayetteville.
FAYETTEVILLE — A lot of University of Arkansas football fans might not have heard of Hudson Clark before this season.
"Well, they've heard of him now," Razorbacks Coach Sam Pittman said after Arkansas' 33-21 victory over Ole Miss on Saturday. "Three times at least."
Arkansas 33, Ole Miss 21
Three times is how many Clark — a redshirt freshman walk-on from Dallas — intercepted Ole Miss quarterback Matt Corral.
Corral completed 67 of 88 passes for 1,080 yards and 9 touchdowns with just 1 interception in the first three games, but Clark became one of his top targets Saturday. His three interceptions would have tied for second among receptions for the Rebels.
"Hudson Clark getting three interceptions," Pittman said. "That's incredible."
Clark, 6-2 and 176 pounds, made his second career start in place of injured junior Montaric Brown. The Razorbacks lost another returning starter at cornerback when Jarques McClellion decided to opt out this season because of the coronavirus pandemic.
When Brown was injured at Mississippi State two weeks ago, Clark found himself thrust into the game and helped the Razorbacks win 21-14. He had seven tackles last week in a 30-28 loss at Auburn.
Clark had nine interceptions as a senior at Highland Park High School, but he said the only other time he'd had three interceptions was in a freshman game.
"I was pretty far back on the depth chart," Clark said after Saturday's game when asked whether he ever expected to be in a starting role. "But the coaches stressed to me and my teammates to come out every week and give our best."
Arkansas senior linebacker Grant Morgan, a team captain, said he's not surprised by Clark's play.
"Ol' Hud, I tell you right now three weeks ago we knew about him," said Morgan, who had 19 tackles and an interception return for a touchdown. "We knew what he could do. We knew he was capable of this.
"The kid has more confidence than anybody in the [defensive] room. To be thrown out there like he was at Mississippi State and do as well as he's done these past two weeks, we're not surprised by it because we see it every day.
"I see a little bit of myself in him, but I tell you right now, he's better than me."
Clark's three interceptions tied for the second most by a Razorback behind Wear Schoonover, who had five against Texas A&M in 1929.
Michael Grant had been the last Razorback with three interceptions, against Louisiana-Monroe in 2006. The only Razorback before Clark to have three interceptions against an SEC team was Louis Campbell, who did it against Tennessee in the 1971 Liberty Bowl.
"I've always gone into games trying to do my job, whatever I can," Clark said. "And so it's kind of just a big trust thing.
"All my teammates trust me. The coaches trust me. And I trust them."
Clark referred to his teammates as his brothers.
"I'd do anything for them," he said. "They've been encouraging me all week."
Clark said sophomore nickel back Greg Brooks, in his second season as a starter, encouraged him over the summer.
"Greg came up to me and was like, 'You're going to play. You're going to make some plays,' " Clark said. "They've had my back throughout the whole season."
Clark credited Arkansas defensive coordinator Barry Odom and cornerbacks coach Sam Carter with coming up with the zone schemes that helped the Razorbacks intercept six passes Saturday.
"It was just a lot of preparation throughout the week," Clark said. "Coach Carter, Coach Odom, they put out a great game plan and we just benefited off of it."
Clark's parents are Arkansas graduates, and he passed on some scholarship offers from Division II schools to walk-on with a chance to play for the Razorbacks.
"It's just a huge dream I had growing up," Clark said. "It's just been amazing to see that be a reality for me."
Interceptions Record
Hudson Clark became the seventh Razorback to have at least three interceptions in a game when he picked off Ole Miss quarterback Matt Corral three times on Saturday. Here is the list:
Wear Schoonover 5 vs. Texas A&M 1929
Hudson Clark 3 vs. Ole Miss 2020
Michael Grant 3 vs. Louisiana-Monroe 2006
Louis Campbell 3 vs. Tennessee 1971 (Liberty Bowl)
David Hogue 3 vs. SMU 1970
Billy Moore 3 vs. SMU 1961
Kay Eakin 3 vs. SMU 1937
Discussion
Have a comment on this story? Join the discussion or start a new one on the Forums.