Future Razorback Holllngsworth finally gets season underway
Published: Sunday, September 6, 2020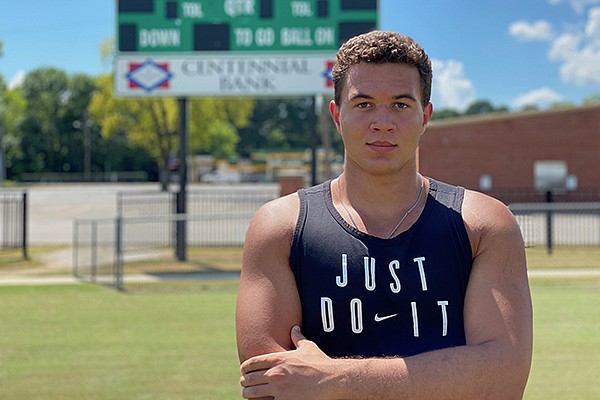 (
Seth Campbell
)
Greenland defensive end JJ Hollingsworth was the first player to commit to Arkansas' football recruiting class of 2022.
GREENLAND — It would be understandable if Arkansas junior defensive end pledge and Greenland star JJ Hollingworth was a bit frustrated after his game Friday night.
After having an open date as high school gridiron action got underway the previous week, Hollingsworth (6-4, 240 pounds) and his teammates had to wait two more hours for their season opener because of a weather delay.
Throw in the fact that three offensive linemen and the deep snapper failed to show up and it resulted in 46-28 loss to visiting Elkins in a game that ended after 11 p.m.
"I think the wait just kind of threw us off little bit," Hollingsworth said. "We had been dressed and ready to play at 6 or 6:30 and had to wait over two hours. But overall I thought we got out there and really didn't do as bad as some people thought we were going to do.
"I mean we had three linemen that didn't show up Friday and that really hurt us as a team. We also had a couple of guys just not practice this week and also a couple of injuries and all of that just took a toll on our team."
It was not start that he had envisioned, but comes after a big spring and summer for Hollingworth, who had 33 tackles, two stops for loss and one sack as a sophomore for the Pirates.
Hollingworth, one of nine in-state juniors the Razorbacks have offered, also received offers from Kansas and Akron and interest from several other schools.
"That was pretty crazy," Hollingsworth said. "I wasn't expecting that much attention so soon. It was a surprise getting calls from big-time head coaches like (Arkansas head coach) Sam Pittman and (Kansas head coach) Les Miles. It's insane to get to talk to coaches that have not only coached college players, but NFL ones, too."
Hollingsworth became the first of three 2022 Razorback commits when he pledged to Arkansas on July 24, 13 days after getting the offer from his dream school.
"They are just great people to begin with," Hollingsworth said of the Arkansas coaches. "I can just really see what they want to do there and it has always been a dream of mind since I was little so it was too good to pass up."
Hollingsworth plays both on the offensive line and at defensive end, but makes no secret about his favorite position.
"I feel like defensive end is the best position on the field," Hollingsworth said. "You get to go against somebody every play. I think it is kind of looked over at times unless you are like (NFL players) Aaron Donald or JJ Watt. I think it is overlooked because they don't get interceptions or what, but I think some times that player can be the deciding factor in a game like making a big sack on fourth down to get the ball back to the offense."
Hollingsworth, whose parents attended the University of Arkansas, wants to be a role model for young kids in Greenland.
"I feel like it will open up a lot for kids in the future," Hollingsworth said. "Nobody has really looked over here at us too much in the past, but I feel like they will now."
Hollingsworth played the entire season-opening game, even becoming the team's new deep snapper by default.
"I felt like I did the best that I could do," Hollingsworth said. "I stuck to my job most of the game. I feel like I could've done more for my team. But there's just a little bit of everything we all need to work on. I need to get in better shape because I ended up playing the entire game."
Greenland will travel to Danville this week.
"I feel like if we were in better shape we would have played better, but that is kind of how it goes the first game," Hollingsworth said. "You usually have some guys cramp up and you really see what your weak points are.
"I think we will play much better next week."
Discussion
Have a comment on this story? Join the discussion or start a new one on the Forums.