Arkansas baseball:
Bates sparks squad to scrimmage win
Published: Saturday, September 19, 2020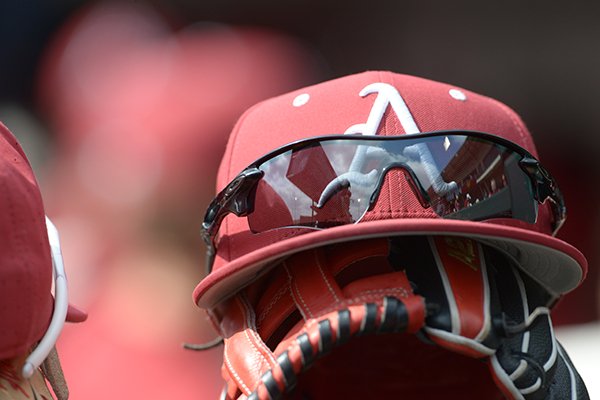 (
J.T. Wampler
)
An Arkansas baseball hat sits atop a glove during a game between the Razorbacks and Kent State on Sunday, March 11, 2018, in Fayetteville.
FAYETTEVILLE — If Friday's eight-inning scrimmage at Baum-Walker Stadium is any indication, Arkansas' baseball team may have found dynamite in a smaller package for the second straight year.
Former Hot Springs Lakeside standout and freshman second baseman Ethan Bates (5-11, 170) homered while going 3-for-4, scoring three runs and driving in one in leading the Black team to a 5-3 win over the Red squad.
Fellow freshman and designated hitter Jackson Cobb (2-for-2) accounted for five of the Black team's 10 hits while batting in their team's bottom two spots in the order.
Jalen Battles, Matt Goodheart, Christian Franklin, Bryce Matthews and Cayden Wallace all added singles for the winners.
Red had six hits. Zac White, Robert Moore, Brady Slavens, Cason Tollett, Jacob Nesbit and Michael Brooks each had one, and Nesbit and Brooks' were doubles.
The scrimmage, which was closed to the public, finished up the second week of fall practice for the Razorbacks, who have 45 days to get their work in.
Starting lineups
Red
CF Zac White
SS Robert Moore
3B Brady Slavens
C Cason Tollett
1B Cullen Smith
RF Zack Gregory
DH Jacob Nesbit
DH Dylan Leach
LF Clayton Gray
2B Michael Brooks
Black
SS Jalen Battles
1B Matt Goodheart
CF Christian Franklin
LF Braydon Webb
RF Bryce Matthews
3B Cayden Wallace
DH Casey Opitz
C Charlie Welch
2B Ethan Bates
DH Jackson Cobb
Observations
• Bates is battling for a middle infielder spot with Moore, Battles and Brooks. He squares the ball up like he did Friday and he'll force his way into the lineup. His homer was a line drive that went off the batter's eye in center field.
• Robert Moore (5-9, 170), last season's freshman dynamo and second baseman, started at shortstop and is simply a stud. Looked great in the field and his bat looked live. He also stole a couple of bases.
• Left-handed swinging outfielder Bryce Matthews looked the part at the plate. He had one hit and nearly hit a pair of home runs.
• Not surprisingly, returning catcher Casey Opitz - who was a DH on Friday - looked in control of everything and appeared to be a leader that has the ear of everyone. Catchers Cason Tollett and Charlie Welch both looked solid behind the plate.
That being said, the two teams did combine to steal six bases (Moore 2, Cobb 2, White, Franklin) and were caught only once when Tollett gunned down Battles.
• Center fielder Christian Franklin had the defensive play of the day while diving headlong to snatch a liner that was heading into the left-center field gap.
• I was very impressed with sophomore lefty pitcher Caden Monke, who started for the Black team and pitched four scoreless innings. He allowed two hits and fanned three and didn't really have many of his pitches squared up by opposing hitters.
• Monke was followed to the mound by lanky freshman right hander Jackson Wiggins (6-6, 215) who went 2 1/3 innings, allowing two runs - one earned - on three hits, struck out two and walked a batter.
• Wiggins' stuff was electric at times. He looked impressive in his 12-batter stint although he gave up two runs, one of which was unearned.
• Evan Taylor closed things out, getting a double play against his first batter. He got the save for the Black team by pitching 1 2/3 innings of one-hit, one-run, one-walk baseball.
• Houston graduate transfer pitcher Lael Lockhart started for the Red team, and the lefthander allowed a run on two hits, fanned three and walked two while facing 12 batters.
• Evan Gray and Kevin Kopps followed with each going 1 2/3 innings. Jacob Burton threw one inning and gave up a pair of runs while Elijah Trest finished things off with 1 2/3 inning of work.
Discussion
Have a comment on this story? Join the discussion or start a new one on the Forums.