Green looks to turn around Union's slow start
Published: Sunday, September 20, 2020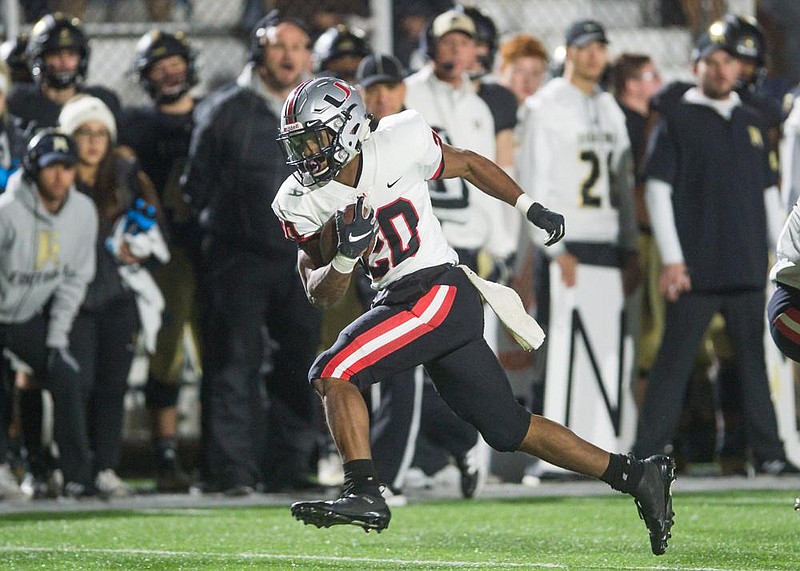 Tulsa Union running back AJ Green, who is committed to play at Arkansas, is rated as a 4-star recruit by ESPN. (Tulsa World/Brett Rojo)
FAYETTEVILLE — Tulsa Union's football program has long been an Oklahoma high school powerhouse with nine state titles, but this season has been an oddity so far.
The Redskins, who had an open date Friday, are 0-3 against a tough schedule despite having one of the state's best players in Arkansas four-star tailback pledge AJ Green (5-11, 175).
Sledding gets no easier next Friday as defending Class 6A-I champ and top-ranked Owasso (3-0) hosts Union, which had to deal with the death of junior linebacker Juan Cruz in a car accident in early August.
"Just keep working," Green said of what his team can do to turn things around. "Owasso will present a big challenge to us. They're a solid team and the whole state knows it. We will be ready to take on this challenge, though."
Green, a four-star prospect per 247 Sports, chose Arkansas over LSU, Oklahoma, Oklahoma State, Texas, Michigan, Tennessee, Baylor, South Carolina, Texas Tech, Tulsa and other programs.
"It was about my chances of being able to play early and the bond I created with the (Arkansas) coaches," Green said.
He rushed for 939 yards and nine touchdowns last season despite battling injuries. That included 192 yards and two touchdowns on 17 carries in the season finale, a first-round playoff loss to Broken Arrow.
He has rushed for 237 yards this season in losses to 6A-II top-ranked Bixby (34-0), 6A-I No. 2 team Broken Arrow (14-7) and arch-rival 6A-I Jenks (28-0), which is ranked third.
"I would say my vision and my speed and the power I run with," Green said of his strengths. "The main things I'm working on is taking on the linebackers with blocks, which I've improved a lot on actually, but still room for improvement."
He has a big fan in Union head coach Kirk Fridrich, whose team is still ranked No. 5 in Class 6A-I despite the slow start.
"AJ is an awesome leader and a great player," Fridrich told The Oklahoman. "He leads by example. You never have to wonder whether he's going to be there on time and ready to work. You always root for guys like that. I see it from him every day."
Green is one of six Razorback commitments from the state and is ranked No. 3 on The Oklahoman's Top 30 prospects for 2021.
"I know all of the others and it'll just be great because we'll all know each other when we get up there," Green said.
That group is eager to show the state of Oklahoma has better talent than what it is giving credit for when compared to Texas, Florida and other states.
"There's not many people that actually hit the Oklahoma area (recruiting) hard, and if more coaches did they would see that Oklahoma is a football state. Oklahoma is a sports state," Green said.
Arkansas head coach Sam Pittman, an Oklahoma native, has made recruiting the state a priority.
Green said Pittman sold the group a vision for the future.
"We just know that every team has talent and with hard work we can compete with anyone and we all want the best. He feels we're the best fit for the team," Green said. "I'll just be doing whatever I can to help out the team, honestly."
Discussion
Have a comment on this story? Join the discussion or start a new one on the Forums.