Hanna helping power Greenwood's continued excellence
Published: Tuesday, September 29, 2020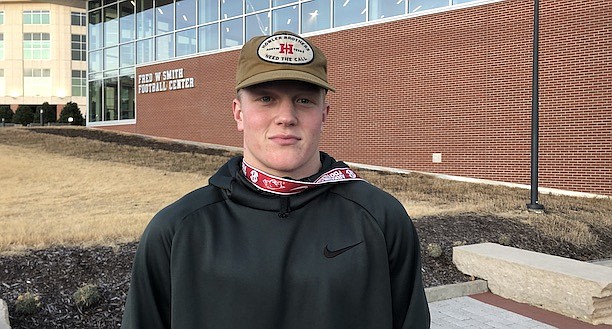 FAYETTEVILLE — Greenwood will begin its quest to win another Class 6A-West title this weekend at Mountain Home, but it has already proven it could compete on the 7A level this season.
The Bulldogs (4-0) have downed Class 7A foes Fort Smith Southside (42-3), Springdale Har-Ber (33-0) and Bentonville West (35-28) while also topping Choctaw, Okla., 23-12.

Senior linebacker Jordan Hanna (6-2, 214), a Division I prospect with Razorbacks interest whose older brother Morgan Hanna (6-4, 221) is a second-year freshman defensive end at Arkansas, had eight tackles in the win over West on Friday.
"I think we are playing really well, according to our game plan," noted Hanna, who had 16 tackles and three sacks against Choctaw. "We are practicing well and I think it has just kind of shown on Friday night. I can't give all the credit to the players. The coaches are putting in good game plans and are working their butts off on the weekend for us."
It has been a great start for former offensive coordinator and new head coach Chris Young, who took over for Rick Jones, who accepted a job on Missouri's staff after going 185-26 in 16 years with eight state titles and 12 conference championships at Greenwood.
"We have a lot of new coaches in our locker room now, but it has been an easier transition than I thought would be because those guys were there for such a long time and had built really good relationships with all those players," Hanna said. "That was the toughest thing, building the relationships with the new coaches.
"But it ended up coming easily. They are all good guys and work hard. We appreciate it."
Greenwood was supposed to open conference play last Friday against Little Rock Parkview (3-0), but the Patriots had to cancel because of covid-19 concerns. The Bulldogs quickly picked up the contest with Bentonville West, whose game with Fayetteville was also called off because of concerns over the coronavirus.
Greenwood put up over 500 yards of total offense and its first-team defense allowed just 14 points.
"Normally, we probably wouldn't take an opponent like Bentonville West on a Tuesday, but we want to get as many games for our kids as we can," Young told reporters after the win. "If we have the opportunity to play, we're going to play.
"Certainly, at Greenwood we're not afraid to play anybody, and we're not worried about what classification they're in. We just want to play, so it was a good game for us to pick up and a really good performance for our kids. It was a dominating performance, but there are some areas we need to clean up."
Hanna is coming off a junior season in which he had 118 tackles and nine sacks among his 16 tackles for lost yardage. He also forced a fumble and recovered another.
Hanna moved from defensive end to linebacker this season.
"I have really enjoyed moving to linebacker because it makes me a little bit more versatile in our scheme," Hanna said. "I get to stand up a little bit and I didn't get to do that much last year. That is keeping football fresh for me. I'm getting to learn new things and getting a better understanding of how defenses work because of it.
"I think last year that I kind of had a bit of tunnel vision with just defensive line. I was just learning anything I could about defensive line and not seeing the whole thing."
Hanna has offers from Southern Miss, Arkansas Tech, Austin Peay, Central Missouri State, Northeastern State and Pittsburg State. He is receiving interest from Arkansas, Colorado, Louisiana Tech and others.
"Recruiting for me has been kind of slow the last few months because of covid and whatnot, but as of right now I still have the same offers that I have had for the last few months," Hanna said.
Hanna, who plans to attend a school on scholarship and not be a walk-on, said his older brother has enjoyed his time at Arkansas under new head coach Sam Pittman and his staff.
Pittman is attempting to turn around a program that has lost 20 consecutive SEC games and won only 8 of its last 37 contests overall after falling 37-10 to visiting Georgia on Saturday.
Morgan Hanna chose a preferred walk-on spot at Arkansas over those from Alabama and TCU, and offers from Arkansas Tech, Ouachita Baptist and Henderson State.
"He likes them a lot and he appreciates having a lot of people there now that are leading him in the right direction and the team in the right direction," Jordan Hanna said. "He basically kind of put it that he is embracing the suck up there as they work on turning things around. He's having fun."
Discussion
Have a comment on this story? Join the discussion or start a new one on the Forums.