Blocker looks forward to future at Sunrise Academy
Published: Sunday, April 4, 2021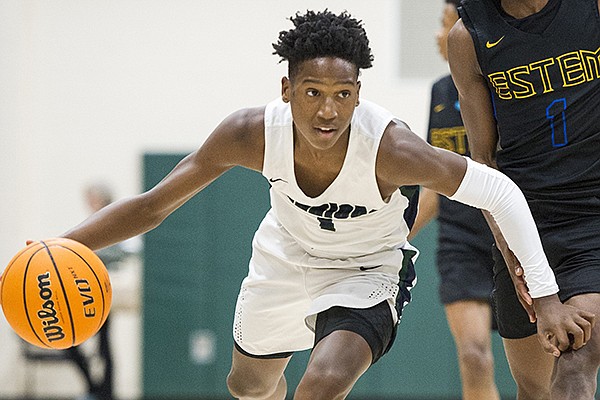 (
Jeff Gammons
)
Little Rock Christian guard Layden Blocker (1) dribbles down the court during a game against E-Stem at the Wildcat Classic Championship game in Little Rock on Saturday, Dec. 28, 2019.
Arkansas basketball recruiting target Layden Blocker has visions of one day playing in the Final Four and winning a national championship.
To help him achieve his goal of being the best player he can be in college, Blocker (6-2, 170 pounds) will be transferring from Little Rock Christian to prep powerhouse Sunrise Academy in Bellaire, Kan., to play his last two seasons of high school basketball.
Top-ranked Montverde (Fla.) Academy (24-1) downed No. 3 Sunrise Academy 69-59 Saturday in the GEICO National Tournament Championship game in Fort Meyers, Fla.
"Sunrise will be a great experience," Blocker said. "I believe it will prepare me for the next level. Playing with with and against top players in the country will be good for my development. I feel I will grow as a person and be better on both ends of the court offensively and defensively.
"The level of competition that you have to play in games and even in practice, and going against them every night and every day really helps you as a player."
Blocker, who averaged 20 points, 5 rebounds, 3 assists and 2 steals this season, will be expected to take over for current 5-star Sunrise point guard and Tennessee signee Kennedy Chandler.
Sunrise coach Luke Barnwell saw his team move into the finals as Chandler had 25 points in a 70-63 win over Bradenton (Fla.) IMG Academy on Friday.
"Sunrise was the right choice for me because the school aspect is similar to Little Rock Christian," Blocker said. "The work is going to be challenging and the school is Christ centered. Sunrise was also the right choice for me basketball related...Coach Luke and the coaching staff there are doing a great job developing talent preparing players for next level and life."
Blocker, who sports a 4.05 grade point average, has offers from Arkansas, Auburn, Ole Miss, Mississippi State, St. John's, Virginia Tech, TCU, Oral Roberts, Tulane, Central Arkansas and Southern Miss.
He is also getting interest from Tech Tech, Baylor, Missouri and Texas A&M.
"It would be a great achievement to play for national championship," Blocker said. "I hope to play for a team in college that will compete for and win a national championship."
Blocker, who had 34 points, including 26 in the second half of his team's season finale, was excited about the season Arkansas (25-7) had with freshmen Moses Moody, Davonte Davis and Jaylin Williams all playing big roles in the Razorbacks run to the Elite Eight.
"I think the Razorbacks had a great season this year," Blocker said. "Three freshmen, Devo, Moses, and J-Will really helped them this year, whether it be defense, rebounding, making shots or making plays. I know those guys. The program is on the right track."
It was no easy decision to make the move to Sunrise, but Blocker consulted with his father, Lenard, and mother, Shrepe, who offered up their wisdom.
"Opportunities started to present themselves and my wife and I discussed options with Layden," Lenard Blocker said. "Gave him the pros and cons of each. We asked him about his goals and aspirations and what he thought would be the best path to achieve his goals and realize his dreams.
"Coach Luke and other coaches in the program did a great job building a relationship over time and was clear on how Layden would be used in his system. We allowed Layden to make his own decision and told him we would support his decision. It's bittersweet. We're all sacrificing."
Blocker will be playing for Bradley Beal Elite in AAU competition this spring and summer.
He is with his team this weekend at NY2LA warmup in Pleasant Prairie, Wis., this weekend.
"I'm focusing on getting stronger, faster and more explosive," Blocker said. "If I get stronger and get in shape I will become more durable and efficient. I'm excited about competing with my teammates."
Discussion
Have a comment on this story? Join the discussion or start a new one on the Forums.