Arkansas pitcher signee having dominant season with 5 no-hitters
Published: Tuesday, April 20, 2021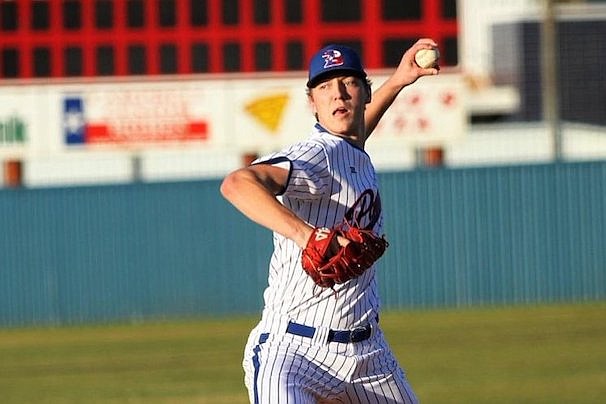 Arkansas could have the services next season of one of the nation's best high school pitchers, but the Razorbacks will have to fend off the 2021 Major League Baseball Draft.
Left hander Hagen Smith of Bullard, Texas, is a top 50 high school player, according to Baseball America, who has pitched 5 no-hitters, struck out 110 batters in 48 innings and given up just 1 run on 5 hits this season.
Smith (6-3, 210 pounds), whose fastball has touched 97 mph, has fanned 19, 18, 18, 14, 13, 13 and 11 batters in his 7 starts, and also pitched in relief once for Bullard (16-2, 11-0 in 4A Region II 16 District action).
He threw his fifth no-hitter, fanned 18 and walked 3 Tuesday in an 11-0 victory over Henderson that clinched the district title.
"I feel pretty good right now about how things are going," Smith said. "My fastball is working really good and my command has gotten a lot better on both my fastball and my off-speed.
"I think it is a little surprising. I didn't think I would be this good so far, but it has been very cool."
Bullard coach Robert Ellis has been impressed with how Smith has gone about his business, even reacting to a little bit of adversity.
"When he gave up his first hit in district play, he fanned the next 13 batters," Ellis said. "He has been cruising along all season and it was kind of fun to see how he responded to some adversity in what was a pretty intense game and a playoff-type atmosphere. He not only struck out the next 13, but 17 of the next 18.
"He commands the curveball and the fastball and that's what makes him so good at the high school level, and what will help him so much at the next level. He has a great changeup, but nobody ever gets on his fastball, so he is not having to back off of his fastball."
Despite his sizzling fastball, Ellis believes a different pitch is Smith's main weapon, and another is developing.
"For me right now, the changeup is his plus-plus pitch against advanced hitters," Ellis said. "He is developing a slider. He throws it really well in the bullpen. He's not completely comfortable using it in a game yet. That is an area of growth for him. I think the slider is going to be more of his pitch arsenal than his curveball."
All this success is coming despite Smith having Tommy John surgery in Sept. 2019 that caused him to miss both the 2020 high school and summer baseball seasons.
"I feel very fortunate to be feeling great and being able to have this type of success," Smith said. "It's something that I just continue to work at every day."
Smith visited Arkansas and found a lot of things to love. He committed on Oct. 19, 2019, over Oklahoma State, Texas, Texas A&M and others.
"Fayetteville is awesome and I loved everything about it," Smith said. "The fans are crazy, the facilities and the baseball are just top of the line."
That includes Razorbacks coach Dave Van Horn and pitching coach Matt Hobbs, who have led Arkansas to a unanimous No. 1 ranking this season.
"They are awesome. I love them," Smith said. "I think they are playing great and I try to watch them on TV as much as I can. I haven't gotten to go up there yet this season, but I'm definitely going to try to."
Smith is planning to room at Arkansas with fellow Razorbacks signee and Haughton, La., second baseman Peyton Stovall (6-0, 185), who has 12 home runs this season and is considered one of nation's best high school position players.
"He played with one my high school teammates' summer team and I got to know him," Smith said. "I talk to him quite a bit and he is a pretty cool dude."
Baseball America has Smith ranked the 32nd-best high school prospect, but Smith prefers to stay in the present when it comes to the MLB Draft.
"I really have no expectations on the draft," Smith said. "It will happen and then I'll go with what I think it best."
Ellis, whose son Duke Ellis played center field for Texas from 2018-20, thinks Smith is in an enviable situation.
"I think he is in a win-win situation with any decision that he would make," Ellis said. "He is a phenomenal kid on the field and off the field — an exceptional teammate and fits into what Arkansas is about. The fans are great there and I am very familiar with them since my son played at Texas as a center fielder."
"When we played Arkansas, I loved that fan base and he is going to really love it."
Ellis thinks Smith has the proper mindset about his future.
"He hasn't been drafted yet, so there is really no decision to make yet. He is going to Arkansas," Ellis said. "I think he is going to get better every day and that is kind of his thing. He is a daily goal type guy, very goal-oriented, very detailed with his routine. His goal is to be a better pitcher, a better player and a better person each day.
"I don't think he ever really gets out of that zone. That is what makes him so special to me."
Ellis stresses that Smith has thrown against some of the best high school baseball programs in Texas, including Kilgore, Spring Hill, Lindale and China Springs.
"Those are some of the perennial schools playing for state titles in Texas," Ellis said. "Those are the teams that he throws against, which makes the numbers that he puts up speak volumes for what type of pitcher he is."
Discussion
Have a comment on this story? Join the discussion or start a new one on the Forums.