Arkansas baseball signee Stovall shows power
Published: Monday, April 26, 2021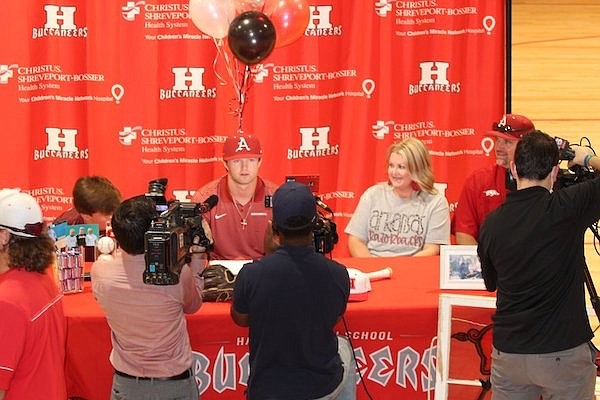 Arkansas baseball signee Peyton Stovall of Haughton, La., is having a terrific senior season and Major League Baseball teams and scouts are taking notice.
Stovall, a shortstop/second baseman, is hitting .505 (81 for 118) with 12 home runs, 40 RBI, 47 runs and has a .661 on-base percentage.
"It is looking like a beach ball right now and kind of been a hot start, but I am trying not to do too much," Stovall said. "If there are runners on and in scoring position, I am just doing my best to get them home in order for us to win."
Along with his summer baseball season, those numbers have elevated him to being No. 27 on MLB Pipeline's top 150 prospects for the 2021 draft, released on April 21.
"I have always wanted to play college baseball," Stovall said. "It's been a dream of mine. I've always wanted to play major league baseball, too, and have it as a career one day.
"But right now, I am just focused on my high school career and just letting everything fall into place. I am a big believer that everything happen for a reason. So when we get to that time, we'll get to that time.
"I love to see the way Arkansas is playing as the No. 1 team in the country and I can see myself playing there and it being fun. It will be a tough decision. When the time comes, I'll be ready for it."
Other players on the top 150 prospect list are current Razorback outfielder Christian Franklin (43) and several Arkansas signees, including shortstop Max Muncy (44) of Thousand Oaks, Calif.; Texarkana outfielder Braylon Bishop (70); left-handed pitcher Hagen Smith (96) of Bullard, Texas; and shortstop Drake Vanardo (144) of IMG Academy in Bradenton, Fla.
Stovall has plans to room at Arkansas with Smith (7-0, .018 ERA), who has thrown 5 no-hitters, fanned 110 batters in 48 innings and allowed 1 run on 5 hits this season.
"I kind of got to know Hagen going into my junior year while playing on the summer circuit," Stovall said. "One of his high school teammates plays summer baseball with me and that's how we met. We text, we snap chat and we have made a plan that we are going to room together. If that is the case, that would be awesome.
"Hagen is having a great season and I am so excited and happy for him."
Stovall (6-0, 195 pounds) committed to Arkansas coach Dave Van Horn during an unofficial visit to the Fayetteville campus in the fall of 2019.
"It was awesome when I went up there," Stovall said. "It was unbelievable. Being around Coach Van Horn and the atmosphere was unreal. As soon I got out of the car, there were some football guys' families tailgating and they knew we were on an official visit and started chanting, 'We want you here.' That was awesome to see and just know how the fans are.
"When that happened, I got a great vibe from it. The state of Arkansas and the city of Fayetteville are just beautiful compared to the other places I visited.
"So I walked into Coach Van Horn's office, talked to him and committed right then. It was awesome. We just had a great connection."
Haughton is 23-5 this season and headed into the postseason beginning this week.
"We have been trying to win as many games as we can and I've just tried my best to put my team in as good a situation as I can to help us win and make a deep run in the playoffs," Stovall said.
"That's something we haven't done in a while around here. We have got to the second round recently since moving to Class 5A, which is the highest classification in Louisiana, but that is what we are trying to do now and think we have a really good chance to go deep."
Discussion
Have a comment on this story? Join the discussion or start a new one on the Forums.