Mulkey's switch to LSU has Dauda's situation up in the air
Published: Monday, April 26, 2021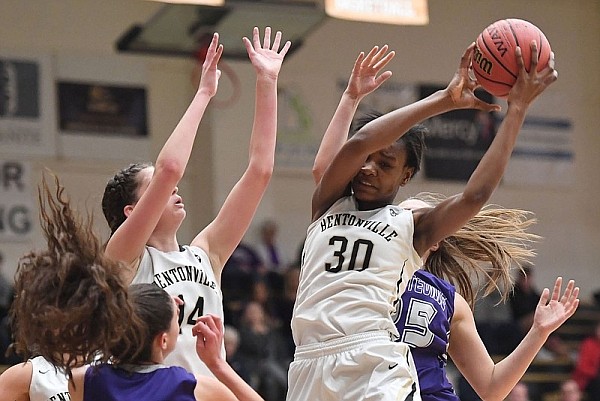 NWA Democrat-Gazette/J.T. WAMPLER Bentonville's Maryam Dauda comes down with a rebound against Fayetteville Tuesday Jan. 15, 2019 at Tiger Stadium in Bentonville. Fayetteville won 41-40.
The news of Baylor's Kim Mulkey leaving to take over the LSU women's basketball job could have consequences for Arkansas.
Bentonville five-star center Maryam Dauda (6-4), one of two McDonald's All-Americans in the state this past season, signed with Mulkey and Baylor in the early signing period.
She averaged 17 points, 8.1 rebounds and 2.6 blocks per game while shooting 61.5% from the field and 41.5 percent from 3-point range in her senior season. Dauda is the nation's top center and 13th-best player overall nationally, according to ESPN.
Arkansas fans are no doubt hoping she will join Fort Smith Northside star, McDonald's All-American and Arkansas signee Jersey Wolfenbarger, former Fayetteville star and Oregon State transfer Sasha Goforth and current Razorbacks guard Elauna Eaton of Nettleton as former Arkansas high school stars playing for Mike Neighbors.
Bentonville coach Tom Halbmaier is curious himself.
"As of right now, I have not heard anything from her, but she is a virtual student, so I don't see her a lot anymore," Halbmaier said. "She's also rehabbing her knee.
"But if I guessing, my guess is they are probably going to wait and see who they hire at Baylor. Knowing Maryam, she is a very smart kid and she will take her time and just see how things play out and make the best decision for her and her family."
Halbmaier said it was an easy job to coach Dauda, who helped lead his team to a Class 6A co-state championship in 2020.
"Maryam had the mindset that when she was on the floor, she was just going to outwork everybody even if she was as talented or more talented than anybody she played against," he said. "She is always appreciative of where she was at, always appreciative of her teammates.
"She has this uncanny ability to encourage yet motivate players that are playing with her. If they are playing with her, they want to play well for her."
Dauda, who began playing basketball in the sixth grade when she moved from Nigeria, chose Baylor over Arkansas, UCLA, Missouri and numerous other schools.
"Every Big 12 school was interested in Maryam and over 75% of the SEC schools were interested," Halbmaier said. "Well, not interested but wanted Maryam."
Missouri State offered her in the eighth grade.
Halbmaier hated that Dauda suffered a knee injury late in her senior season.
"It was tough," he said. "She was very disappointed when she went down. The team was very disappointed, not so much about the season, but because they were truly and genuinely disappointed that Maryam went down."
Halbmaier said Dauda was selfless.
"Scoring record, blocks record, rebounding record, she had all that, but she couldn't care less about all that stuff," Halbmaier said. "She was a once-in-a-lifetime type of player."
Discussion
Have a comment on this story? Join the discussion or start a new one on the Forums.