Hollingsworth ready for Greenland's Midnight Madness
Published: Sunday, August 1, 2021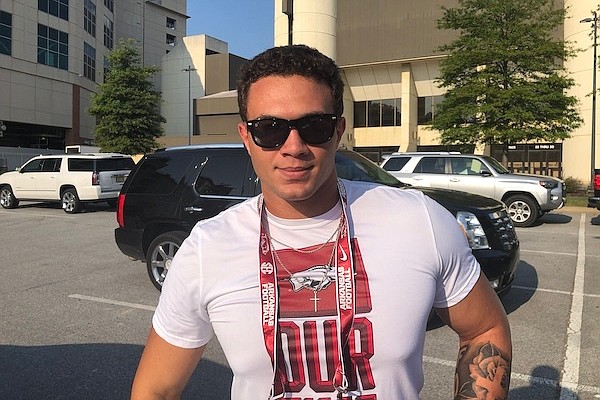 Arkansas defensive end pledge JJ Hollingsworth (6-5, 250) and his Greenland teammates will get their 2021 preseason practice underway the first minute it is allowed.
"I'm pretty excited for it," Hollingsworth said. "Senior year, everybody's just going to go out and give it their all. That's kind of where we are at with that. We start practice Sunday night at midnight, so that will be pretty interesting."
Hollingsworth, scheduled to be an early graduate and enroll at Arkansas in January, was one of several Razorback commitments and targets on hand in Fayetteville on Saturday for a recruiting picnic.
The Razorbacks added their 17th pledge of the 2022 class when Duncanville, Texas, linebacker Jordan Crook (6-0, 225) went public with his commit during the picnic.
"It was a pretty good day," Hollingsworth said. "Jordan committed and it was a pretty special day for us. Just getting the opportunity to come out and see everybody and get on campus another time before the football season starts. It's pretty fun."
Arkansas coaches used the picnic inside Reynolds Razorback Stadium as a time to visit with the recruits and for the prospects to get to know each other better.
"It was everybody just bonding and having a good time," Hollingsworth said. "It wasn't really stressful. We were recruiting a little bit on some of the guys that aren't committed. They just got everybody together and hung out was all it really was."
Hollingsworth, the first member of Arkansas' 2022 class to commit when he pledged June 24, 2020, had 66 tackles last season with 45 of them being solo stops, 14 for lost yardage and 8 sacks to go along with 1 forced fumble.
Greenland, picked third behind Charleston and Cedarville in the 1-3A conference race, per Hooten's Arkansas Football, was 9-3 last season.
Hollingsworth, who start at guard on offense, is one of seven returning starters on both sides of the ball.
Greenland opens its season Sept. 3 at Elkins.
"Just to get better and do my best," Hollingsworth said of his biggest goal for the season. "Hopefully get as far as we can in the playoffs and get ready for everything that's coming to us."
Discussion
Have a comment on this story? Join the discussion or start a new one on the Forums.