Arkansas LB pledge Powell to play at Fayetteville High this season
Published: Sunday, August 8, 2021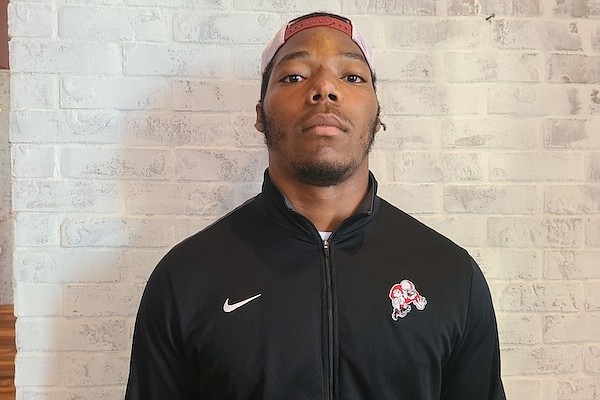 Arkansas linebacker commit Mani Powell and his mom, Shaunta Michael, enjoyed his official visit to Fayetteville so much they decided to make it their home a year earlier than expected.
Powell, who previously starred at Canton (Ohio) McKinley, will begin practice Monday with Fayetteville High School after arriving in Arkansas a few days ago.
"I have been getting my stuff together and getting enrolled in school, getting my physical and stuff like that," Powell said.
The 6-3, 225-pound, 3-star prospect and his mom found Fayetteville a welcoming place during his official visit on June 11-13.
"The visit is what sparked me and my mom's interest in moving to Fayetteville," Powell said. "We met a lot of nice people. We liked it and didn't see any flaws in Fayetteville."
Powell, who chose Arkansas over Michigan, Ole Miss, Missouri, Kentucky, West Virginia and others, had previously decided he would not play at McKinley after its head coach, Marcus Wattley, and six assistants were fired.
Powell had 81 tackles, 14 stops for lost yardage, 4 sacks, 2 forced fumbles and 7 quarterback pressures as a junior.
"There was a lot of stuff going on at my other school with my coaches," said Powell, who also had four members of his team shot in the past year. "I felt deeply about it. So after the visit to Fayetteville, we talked about it and decided to make this move."
Powell, whose father died when he was 7 years old, joins a pair of other Division I pledges at Fayetteville in linebacker Kaiden Turner (Indiana) and wide receiver Isaiah Sategna (Oregon).
The Purple 'Dogs travel to Greenwood for a scrimmage Aug. 17 and host Conway in their season opener Aug. 27. Fayetteville is coached by former Arkansas quarterback Casey Dick.
"It seems like we have a well put together team," Powell said. "They seem like a great team of people. That's always great to see in a team and it seems like they have a lot of playing chemistry so I am looking forward to the regular season."
Discussion
Have a comment on this story? Join the discussion or start a new one on the Forums.