Kennedy strengthening Arkansas' O-line depth
Published: Tuesday, August 17, 2021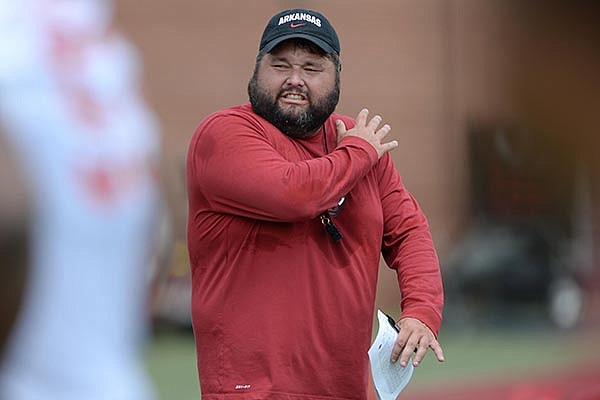 (
Andy Shupe
)
Arkansas assistant coach Cody Kennedy speaks to the offensive line Friday, Aug. 6, 2021, during practice in Fayetteville.
FAYETTEVILLE — Arkansas offensive line coach Cody Kennedy has a few numbers in mind about how many players he wants ready to roll for the scheduled Sept. 4 season opener against Rice.
"As far as O-line rotation, I think you have got to get the best five out there to start, but everybody in the country is looking for 10," Kennedy said. "There is not a program in the country that is just overrun with great offensive linemen. That's why recruiting is huge.
More from WholeHogSports
"As far as personal philosophy, I think you have got to have guys that you trust on that second wave, about eight guys that if something happens — and in a game you can't control the variables — but if something happens I don't want my heart rate to go up because somebody's hurt."
Kennedy, who was first named the program's tight ends coach before replacing the departed Brad Davis as offensive line coach this summer, is taking measures in practice to plan for that.
"We are working every day with what we call combo lines in practice," Kennedy said, "where we are mixing guys where if X, Y, Z goes down, who is going in?
"He may play right tackle right now, but he may move to left guard (next). It really helps the kids with confidence, too, because if you get (into) the season and there are some circumstances that come up, the kids aren't doubting themselves.
"They have been in that situation in practice, so you have got to have eight, but everybody in the country would take 10 to 12."
The first-team offensive line has senior Myron Cunningham and Dalton Wagner at tackle, Beaux Limmer at right guard, Luke Jones and Brady Latham battling at left guard, and right guard Ty Clary filling in for the injured Ricky Stromberg at center.
"We have got a lot of starts in the room, a lot of maturity, a lot of guys that have seen the ups and the trends of this program," Kennedy said. "They have heard from a lot of different coaches, so it is just speaking their language and working on that, building our calls and different things up front.
"It is easier when you have those guys who have experienced change before. That experience just breeds confidence. They are able to see those situations arise almost before they do it."
Kennedy noted that Charlotte transfer Ty'Kieast Crawford has improved since arriving in the spring and is working behind Wagner at right tackle.
"It is a lot of fun coaching them. I've got a great room and I wake up every day blessed to be here and blessed to be coaching them," Kennedy said.
Wagner said it has been fun being coached by Kennedy, who worked with Arkansas coach Sam Pittman at Georgia.
"He is a doing a great job and came in and fit in right away," Wagner said. "All the guys have respect for him."
Wagner and Clary both see better play from the offensive line this preseason over last year.
"I feel like the offensive line will be excellent this year — more violent and physical and will execute better," Wagner said.
"That has been the theme of this camp — violence and execution," Clary said. "We need to perform on a consistent basis violently. Coach Kennedy has harped on that and he wants to make sure we get it done.
"The competitive depth that we have established right now is unmatched since I have been here."
Discussion
Have a comment on this story? Join the discussion or start a new one on the Forums.