Arkansas pledge Kutas gets season-opening win in OT
Published: Tuesday, August 24, 2021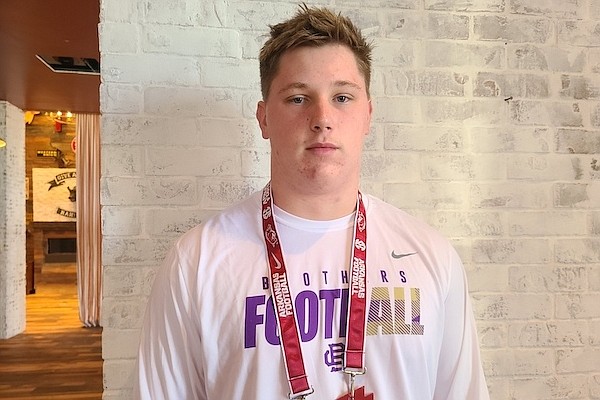 Arkansas offensive line pledge Patrick Kutas (6-5, 284) and Memphis Christian Brothers ended their season opener in style.
Kutas helped set the pocket for quarterback Ashton Strother, who faked a handoff to Ohio State tailback commit Dalton Hayden and lofted a throwback pass to Whit Collard for the win.
That was the final play as Christian Brothers – ranked fourth by the Commercial Appeal in AAA Division II – downed ninth-ranked Class 6A Division I Germantown 20-14 in overtime.
"We played a really talented Germantown team on Saturday in what was the only game in the city, so it was on a big stage," Christian Brothers head coach Thomas McDaniel said. "We have got some stuff we beed to improve on, but the effort was there."
Kutas was making his debut as a starting offensive lineman after spending his first two years on the other side of the ball.
"He is doing a nice job transitioning from the defensive line to the offensive line for us," McDaniel said. "He played extremely hard Friday night and played with great effort. There is some stuff he has got to get better at, but he had had zero experience on the offensive line for us."
Kutas chose Arkansas over Oregon, Illinois and Arizona State. Tennessee, Texas A&M, Mississippi State, Florida State, Memphis, Louisville and other programs also offered him.
"He felt great when he went on his visit and wanted the decision behind him and I think he made the right one for him," McDaniel said.
Some schools were recruiting Kutas for the defensive line, some for the offensive line and a few for both.
The fact that Arkansas coach Sam Pittman is a renown offensive line coached played a role in his decision.
"I am going to tell you that I think he is talented enough to play defensive line in the SEC, but he thinks his ceiling is higher on the offensive line, and I don't necessarily disagree," McDaniel said. "I think the fact that he wants to be there is a huge part – and Arkansas was open to either side – but the fact that Coach Pittman is an offensive line coach at heart was intriguing to him."
McDaniel has one Christian Brothers alum at Arkansas in offensive lineman Ryan Winkel.
Christian Brothers played two preseason scrimmages, but had a third called off. McDaniel thought his team was a bit behind because of that.
"It was about what you would expect," McDaniel said. "We've had a bunch of injuries and our third scrimmage got canceled due to covid, so we kind of missed our preseason jamboree."
Christian Brothers will host Sheffield on Friday.
"They are athletic," McDaniel said. "They are not going to be as big or as athletic as the last team we played last week, but it gives us the opportunity to work on us for a few days and get back to fundamentals."
Discussion
Have a comment on this story? Join the discussion or start a new one on the Forums.