Arkansas pledge Washington clutch in season-opening win
Published: Friday, August 27, 2021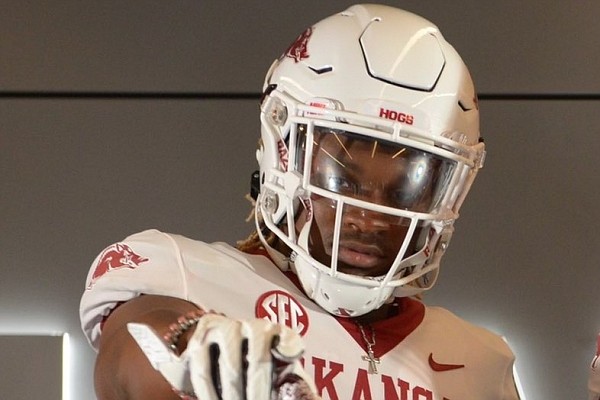 An Arkansas football program currently lacking tight end depth has a talented player set to arrive in January 2022, and three others are lined up for the future.
That would be Leesberg (Ga.) Lee County star and Razorbacks tight end pledge Tyrus Washington (6-4, 230), who came up with two clutch plays late to rally his team to a 25-22 win last week over Carver-Columbus in the Hamp Smith Classic in Albany, Ga.
Washington caught a touchdown pass from sophomore quarterback Christopher Martin then hauled in a 2-point conversion on a trick play for a 23-22 lead. It turned into the game-winning points in his team's season opener.
"He had a good game for us and led us with six receptions for 60 yards and also did a great job blocking," Lee County coach Dean Fabrizio said. "He is a complete player for us and obviously came up with a couple of big plays when we needed him the most."
Washington, a three-star prospect, per 247 Sports composite rankings, chose Arkansas over Gus Malzahn's UCF program as well as Georgia Tech, Tennessee, Nebraska, Ole Miss, South Carolina, Vanderbilt, Louisville, Kansas State, Boston College and other schools.
"He has been a three-year starter in our program and there are very few of those, so that should tell you a lot," Fabrizio said. "He lines up wide, he lines up as a regular tight end and even lines up some at fullback, so that gives us a lot of different things that we can do with him. He has tremendous ability and is a great matchup problem for the other team.
"There are not a lot of guys with the versatility that he is going to bring to Arkansas."
Fabrizio was not surprised to see Washington commit to Arkansas seeing as how the Razorbacks have staff with Georgia ties in Sam Pittman and special teams coordinator Scott Fountain.
"Coach Pittman is just an excellent football coach and it sounds like they are doing good things there," Fabrizio said. "I also have known Coach Fountain for over 20 years at various schools, so I am very familiar with them. Tyrus likes what he saw there."
Washington joins Clarendon's Dax Courtney (6-6, 212) as 2022 tight ends committed to Arkansas.
New tight ends coach Dowell Loggains has also landed commitments from a pair of four-star tight ends in Ashdown's Shamar Easter (6-5, 225) and Jaden Hamm (6-6, 225) of Eudora, Kan.
Fabrizio is 106-40 at Lee County since taking over after an 0-10 season in 2008 and his teams were 52-6 over the last four years entering this season while winning state championships in 2017 and 2018.
Lee County, which was 12-2 last season and has six seniors who have committed to Division I schools, host Atlanta's Maynard Jackson High School on Friday.
"We always have high expectations here and have a tough schedule to navigate," Fabrizio said. "We started off with a Carver team that is expected to compete for a state title in their classification of AAAA, and even though we were minus-2 in turnovers, we were able to get out with a win.
"We will just expect to get better as the season goes on and make a run at the state title again."
Discussion
Have a comment on this story? Join the discussion or start a new one on the Forums.