SEC Basketball Roundup: Multiple upsets highlight Wednesday action
By: The Associated Press
Published: Wednesday, December 1, 2021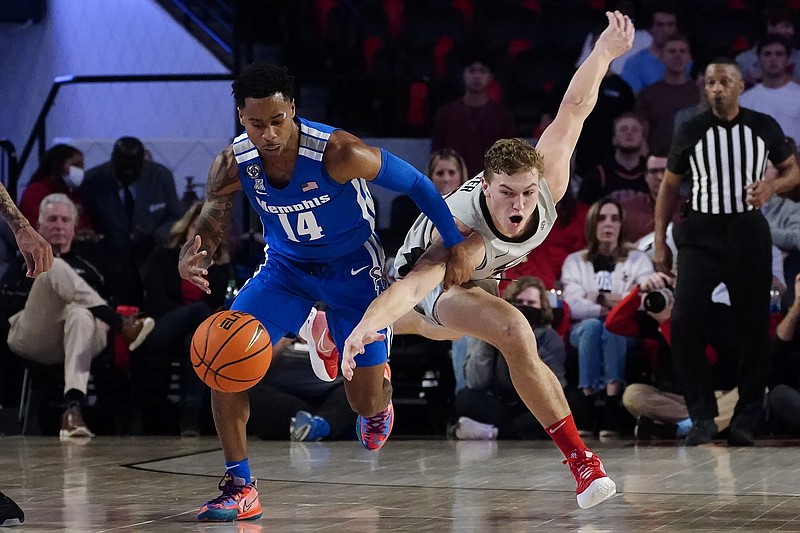 Memphis guard Tyler Harris (14) and Georgia forward Jaxon Etter (11) chase a loose ball during the first half of an NCAA college basketball game Wednesday, Dec. 1, 2021, in Athens, Ga. (AP Photo/John Bazemore)
NORMAN, Okla. — As Oklahoma football fans tried to recover from Lincoln Riley's sudden decision to leave for USC earlier in the week, the basketball team stepped in and gave them something to cheer about.
Tanner Groves scored 20 points to lead Oklahoma to a 74-67 victory over No. 14 Florida on Wednesday night.
Jalen Hill scored a career-high 18 points and Umoja Gibson added 15 for Oklahoma (7-1), which earned its biggest win yet under new coach Porter Moser. He picked up his 300th career coaching win after previous stops at Arkansas-Little Rock, Illinois State and Loyola Chicago.
It was much larger than a typical crowd for a non-conference game, and it was energetic and engaged from the beginning — something that Moser has pushed for since he arrived. He was pleased to see his vision become real.
"I think it was just for us, for our guys, for the fans, for the basketball fans here, for the Sooners," Moser said. "To get the people in this arena — come on in. This thing could be electric."
Phlandrous Fleming Jr. scored 17 points and Colin Castleton added 14 points, 11 rebounds and four blocks for Florida (6-1), which shot 42% and made just 4 of 24 3-pointers. The Gators finished with seven assists and 16 turnovers.
"I think that OU was just better than us," Florida coach Mike White said. "And I think they executed better. They were a little bit more sound defensively. They swarm to the ball. We had we had some careless turnovers. The crowd definitely was a factor, of course. Credit the environment here, but I'd like to give more credit to their staff and players. I thought they were good."
The Sooners led 9-0 before the Gators scored on a free throw nearly four minutes into the game. The Gators committed five turnovers before making a shot.
"You know, the first five minutes, I thought our guys believed," Moser said. "They were ready defensively. It set the tone. What great teams do is they punch back, which Florida did. But it seemed like every time, we bounced back. And the crowd helped us bounce back. I think they got behind every good play. They did not relax."
Florida chipped away throughout the half and took the lead for the first time on three free throws by Tyree Appleby just over a minute before the break. Oklahoma recovered and led 37-36 at halftime.
A 3-pointer by Groves pushed the lead to seven with just under 6 minutes remaining, and Hill followed with a thunderous right-handed jam that gave the Sooners a 65-56 lead and prompted a Florida timeout.
Florida rallied, and a 3-pointer by Appleby cut Oklahoma's lead to 69-67 with about 2 minutes remaining. But Hill scored, was fouled and made the free throw to push the Sooners' lead back to five, and Oklahoma remained in control from there.
Moser said he believes the win will help players buy into his plan even more.
"I just think it keeps solidifying us about getting better, that our hard work is — things are adding up," he said.
Georgia shocks Memphis
ATHENS, Ga. — A Memphis team that moved into the top 10 after opening the season with five wins suddenly is facing a mini-crisis following back-to-back losses.
Jabri Abdur-Rahim's 3-pointer with less than 2 minutes remaining gave Georgia the lead, and the Bulldogs snapped their four-game losing streak by beating No. 18 Memphis 82-79 on Wednesday night.
"At the end of the day, it shouldn't have got to that," Memphis center Jalen Duren said of the late-game developments.
"This was a team we were supposed to beat, I think we're good enough to beat. We just didn't take care of business."
The 3-pointer by Abdur-Rahim, who scored 15 points, gave the Bulldogs a 78-77 lead over the Tigers, who led most of the second half. Kario Oquendo, who scored a game-high 24 points, followed with a steal and jam that extended the lead to three points.
"It was a different type of energy tonight," Oquendo said. "Nobody wanted to lose again. ... I feel this is the hardest we've played all season. We've just got to piggyback off that and keep going."
Following a missed free throw by Landers Nolley II of Memphis, Georgia's Jailyn Ingram made one of two free throws for an 81-77 lead. A jam by Nolley, who led the Tigers with 17 points, cut the lead to two points.
Following Christian Wright's free throw, which pushed Georgia's lead to three points, Memphis was left with 4.5 seconds to set up a possible tying 3-pointer. Emoni Bates' heave from just past midcourt bounced off the rim.
Memphis (5-2) was trying to recover from Friday's 78-59 loss to Iowa State that caused the Tigers to drop from No. 9 in the AP Top 25.
"We've got to get back to work," Duren said, adding the message from coach Penny Hardaway was, 'We've got to stay locked in. It's a long season.'"
Georgia (3-5) took its second surprising win over a ranked Memphis team in less than two years. The Bulldogs beat then-No. 9 Memphis 65-62 on Jan. 4, 2020.
Abdur-Rahim has scored a combined 35 points in the last two games after struggling with his shot early in the season. He was held to a combined 25 points in Georgia's first six games.
"We always had confidence in Jabri," Oquendo said. "Once he saw a couple of shots go in, we knew he was going to keep it going. .. He's a great player."
Alex Lomax had 14 points for Memphis.
The Bulldogs took a big lead at 28-21. The Tigers' defensive pressure eventually turned the momentum, and Memphis led 34-32 at halftime.
Georgia committed 13 turnovers, including 11 in the first half.
Fouls were an issue for Memphis. Duren and DeAndre Williams fouled out. Georgia outscored the Tigers 27-14 at the free-throw line.
Coastal Carolina routs Gamecocks
CONWAY, S.C. — Essam Mostafa had 23 points and 13 rebounds and Coastal Carolina pulled away in the second half to upset South Carolina 80-56 on Wednesday night.
It was Coastal Carolina's first win against a Power 5 opponent since beating Utah early in the 2019-20 season.
The Chanticleers had a one-point halftime lead and opened the second on a 24-4 run and cruised from there. Mostafa scored 12 points during the stretch.
Mostafa, a sophomore center from Cairo, Egypt, was 6 of 13 from the field and 11-of-16 shooting at the free-throw line. He entered averaging 18.5 points and 10.5 rebounds while shooting 50% from the field. It was his third double-double of the season.
South Carolina pulled to 64-52 with 8:21 remaining. Mustafa's layup and consecutive dunks from Vince Cole and Wilfried Likayi pushed the Chanticleer's lead to 18 with 4:42 to play.
Rudi Williams added 19 points and six assists for the Chanticleers (3-2). Cole finished with 16 points.
Erik Stevenson scored 12 points and Jacobi Wright had 12 for the Gamecocks (5-2), which ended a four-game win streak while playing in Conway for the first time. The Gamecocks shot 19% (6 of 32) from the floor and had nine turnovers in the second half.
South Carolina forward Josh Gray was ejected with 1.6 seconds remaining in the game for shoving a CCU player.
Coast Carolina beat the Gamecocks for the second time — the first an 88-74 victory in Columbia in 1993.
Auburn beats UCF in return home
AUBURN, Ala. — Walker Kessler and freshman Jabari Smith had big games on offense and Auburn turned up the defensive intensity in the second half.
Kessler had 17 points, a career-high 14 rebounds and six blocks, Smith scored 20 points, and the 21st-ranked Tigers beat UCF 85-68 on Wednesday night.
Auburn (6-1), which won two of three last week at the Battle 4 Atlantis in the Bahamas, held UCF (4-2) without a field goal for nearly nine minutes to take control in the second half.
The Tigers led by three points at halftime, and coach Bruce Pearl told his team it was getting outhustled.
"Coach's biggest point was they were playing harder than us, playing with more energy than us," Smith said. "He came into the locker room fired up. That fired us up, and I feel like we came out in the second half with a lot more energy."
Smith had seven rebounds, four assists and three steals while making three 3-pointers and 5 of 6 free throws. K.D. Johnson added 11 points for Auburn.
Darius Perry led UCF with 18 points but also committed eight turnovers. Cheikh Mbacke Diong had 10 of his 11 points in the first half while C.J. Walker had 10 points and seven rebounds.
Leading scorer Darius Green Jr. was held to eight points, half his season average. Brandon Mahan was 1-of-10 shooting for five points after Pearl challenged his team to contain Perry, Green and Mahan. In this case, two out of three wasn't bad.
He said the Tigers' "guards took the challenge seriously."
"I just thought we wore them down defensively," Pearl said. "Our depth was a factor."
Kessler, a 7-foot-1 North Carolina transfer, did just about everything except make one of his three 3-point attempts. He had two steals.
Kessler laughingly attributed his performance to "just being tall and playing hard."
It goes well beyond that, Smith said.
"He's just being Walker," the freshman said. "This really doesn't surprise me. It's just really what we expect of him."
UCF missed 11 consecutive shots during a 1-of-15 stretch that saw the game get away.
Auburn led 39-36 at the half and didn't build its lead to double digits until midway through the second half, when Wendell Green Jr. buried a 3-pointer from well beyond the arc to beat the shot clock.
Johnson hit two free throws and then stole the ball and took it in for a reverse dunk to give Auburn a 64-49 lead with 8:41 left.
UCF didn't manage to cut into it much from there.
"Our team played a really solid first half," Knights coach Johnny Dawkins said. "Whenever you're on the road and playing in a game of this magnitude, it's tough.
"We got some good looks tonight and knocked down some shots. Our guys got into our offense really well. I thought our press was very effective in the first half."
Other Scores
LSU 66, Ohio 51
Thursday's Games
Missouri at Liberty, 6 p.m., ESPN+
Lamar at Mississippi State, 7 p.m., ESPN+/SEC Network+
Discussion
Have a comment on this story? Join the discussion or start a new one on the Forums.