Future Razorback OL Harris has busy weekend
Published: Friday, December 3, 2021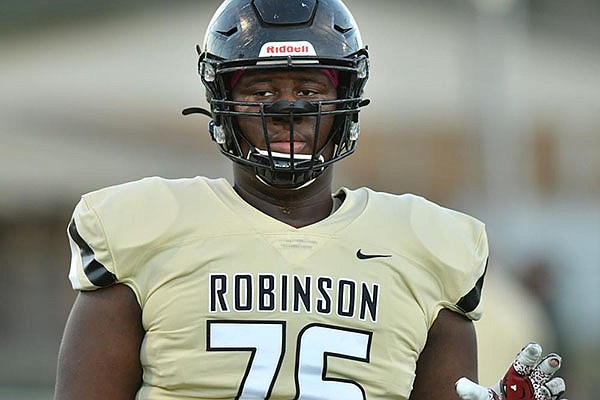 ( Jimmy Jones, Special to the Democrat-Gazette )
Offensive lineman E'Marion Harris of Joe T. Robinson High School is shown during a game against Ashdown on Friday, Oct. 30, 2020, in Little Rock.
Joe T. Robinson High School assistant football coach Brian Maupin knows his time coaching Arkansas offensive line pledge E'Marion Harris is coming to a close.
Maupin just hopes it last two more weeks as the Senators (12-1) travel to Warren (11-1) on Friday for a chance to play in the Class 4A state championship game the following weekend.
The two teams have combined to win 23 consecutive games. Both lost their first game of the season and have not lost since.
"This is what you sign up for when you coach football in this state — a semifinal in late November, early December at Warren," Maupin said. "It's kind of the combination of between metro and small-town ball, lot of implications, a lot of talent on the field, a lot of tradition.
"I feel like our team is playing at a really high level right now and we are kind of hitting our stride at the right moment. We replaced nine starters on defense and a lot on offense, too.
"I feel like we are starting to get in our groove and that's the beauty of a 15-game season. It's almost like a senior year and a half."
Harris (6-7, 370 pounds), an ESPN 4-star prospect and the son of former Arkansas standout Eliott Harris, is one of those seniors and has started at left tackle since his first game as a ninth grader.
"It's unbelievable really and you kind of take it for granted," Maupin said. "I feel like I have coached him my whole career. I taught him in elementary school and I really don't know what coaching without E'Marion around is like.
"I don't know if there is a kid in the state that has played more snaps than he has for us. I think he is up to 56 games that he has started for us in a four-year career."
Maupin is as big a fan of Harris off the field as he is of him on it.
"It is just such a blessing," Maupin said. "He is awesome. He is so low maintenance and so reliable. He rarely comes off the field and plays both sides of the line for us. He has been starting since he was a 13-year-old freshman against Springdale High School.
"For as long as I can remember, left tackle has not been a problem at Robinson. He's been a stud and great human being out there."
Harris, who will take his official visit to Arkansas on Saturday through Monday, chose the Razorbacks over Alabama, Georgia, Oklahoma, Ole Miss, Tennessee, Texas A&M, Missouri, Miami and others when he committed May 9.
"I can't say enough about the kid," Maupin said. "He has grown as a man, as a player, as a human being so much during his time in the program and I just can't wait to see how he dominates at the next level."
He hopes his last game coaching Harris is not in Warren, the same place he last coached a game without Harris.
"I don't think it is really going to hit me until I coach a game without him," Maupin said. "I think the last time I coached without him was actually the overtime game with Warren. That's the last time I coached a game when he was not strapped up at left tackle for us. That is pretty mind blowing to come full circle. He is going to be playing Warren for a chance to end his career with a state championship game."
Warren has been one of the state's top program's with Bo Hembree as its head coach.
"Talent everywhere and Coach Bo does a great job done there," Maupin said. "I don't know they feed those kids down there in elementary school, but for such a small town there is an unbelievable amount of talent in the community.
"And Coach is going to test you, he is going to use all of he field and make you defend sideline to sideline. His kids fly around on defense."
Robinson has won 12 consecutive games after a loss to Pulaski Academy. Warren comes in riding an 11-game winning streak after dropping its opener to White Hall.
Pulaski Academy and White Hall will meet in the Class 5A state championship game Friday night.
"It is going to be a great game," Maupin said of Robinson-Warren. "I feel extremely confident, like our chances, am excited to play ball and couldn't ask for a better environment. I am looking forward to seeing all these kids showcase their ability. This is what Friday nights are all about."
Discussion
Have a comment on this story? Join the discussion or start a new one on the Forums.