Arkansas' St. John enters then exits transfer portal
Published: December 20, 2021 at 7:44 p.m. - Updated: December 21, 2021 at 5:04 p.m.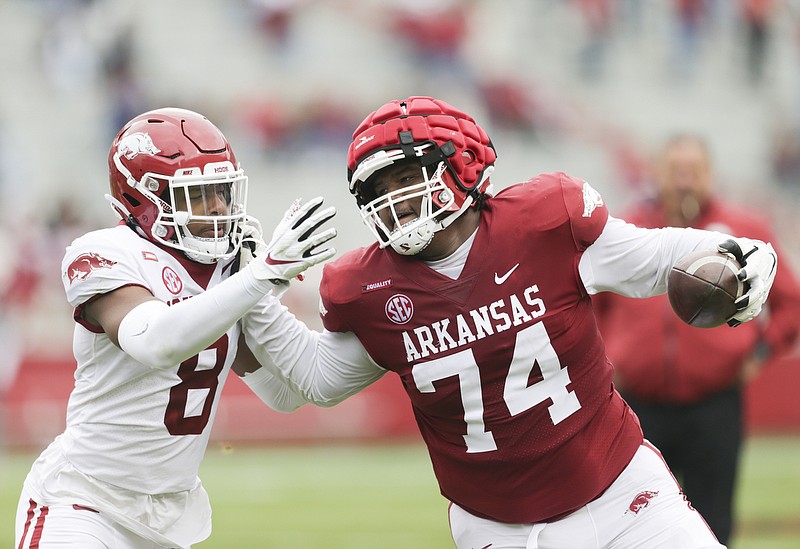 Arkansas offensive lineman Jalen St. John (74) pushes off wide receiver Mike Woods (8) as he carries the ball, Saturday, April 17, 2021 during the fourth quarter of the Red-White spring football game at Razorback Stadium in Fayetteville. Check out nwaonline.com/210418Daily/ for today's photo gallery. .(NWA Democrat-Gazette/Charlie Kaijo)
Arkansas redshirt freshman offensive lineman Jalen St. John on Monday became the eighth Razorback to enter the NCAA transfer portal since November. He abruptly changed his mind Tuesday.
St. John (6-5, 330) did so after giving it more thought and having conversations with his family and Arkansas coach Sam Pittman. He announced his decision in a post to his Twitter account.
"Being here for these past two years has been full of ups and downs," he wrote. "As you may have seen yesterday, I entered my name in the transfer portal, but after having deep thought and conversations with my family, Coach Pitt and my heart, I have to take my name out of the portal and stay where I belong. This is home!!"
St. John, a 4-star prospect, per ESPN, from St. Louis (Mo.) Trinity Catholic, played 21 snaps in two games this season after redshirting in 2020.
He chose Arkansas over Auburn, Ole Miss, Missouri, Tennessee, Memphis, Nebraska, Florida State, Iowa State and other programs.
Tailback Josh Oglesby, defensive tackles Solomon Wright and Andy Boykin, linebacker J.T. Towers, kicker Vito Calvaruso, wide receiver Darin Turner and safety Jermaine Hamilton-Jordan have entered the portal. None were starters.
Arkansas will be able to add up to 28 players in its 2022 class if the players do indeed transfer and are no longer Razorbacks, according to a new NCAA rule.
"We have an opportunity to get six more scholarships, but you'd have to lose six kids to the portal," Pittman said. "I don't know if it'll happen or not, but it seems like it's headed that direction number-wise."
Discussion
Have a comment on this story? Join the discussion or start a new one on the Forums.