Elon's Schrage impressed with Arkansas
Published: Tuesday, December 21, 2021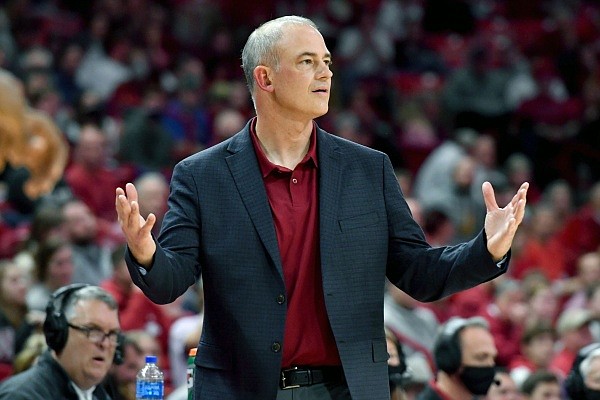 Elon coach Mike Schrage reacts to a call against Arkansas during the second half of an NCAA college basketball game Tuesday, Dec. 21, 2021, in Fayetteville, Ark. (AP Photo/Michael Woods)
FAYETTEVILLE — Elon coach Mike Schrage's third trip to Fayetteville this year was his least favorite.
That is what the former Bobby Knight and Mike Krzyzewswki staff member said after an 81-55 loss to Arkansas on Tuesday at Bud Walton Arena.
"I have family in this area," Schrage said. "I have three nephews that went to Arkansas. I was here twice in June, once for graduation and once for a wedding.
"I have a lot of respect (for Arkansas) and I think it is unique in the SEC. Football is big, but basketball is just as big in Arkansas and Kentucky. Not that it isn't other places, but they love their basketball here. It is the only game in the state for the most part and I have got a lot for respect for it."
Elon (3-10) led 26-21 with 6:11 left in the opening half before Arkansas (10-2) went on a 17-0 run leading up to intermission.
Using a boxing analogy, Schrage saw it as a knockout punch.
"I thought we did really well in the first two rounds, which is what we call the first two segments that are really important to us," Schrage said. "We were really good, but they changed up the defense on us, they started switching more and got us stagnant, and that was where we really stalled out offensively. That is to their credit."

Schrage, who said he had visited Bud Walton Arena as an opposing assistant coach, knew he was going to get a riled up bunch of Razorbacks after they had lost back-to-back games to Oklahoma (88-66) in Tulsa and Hofstra (89-81) in North Little Rock.
"We knew we were going to get their best punch," Schrage said. "This is a proud program and I have a lot of respect for Coach (Eric) Musselman and what he has built here. I know the history of (former Razorback national champion head coach) Nolan Richardson and all those guys.
"You lose two in a row to two really good teams, so we knew they would come out ready."

Chris Lykes had a team-high 21 points on 12 of 12 free throws while Arkansas-Little Rock transfer Kamani Johnson (15 points, 7 rebounds, 3 blocks, 9 of 13 free throws), Texas A&M transfer Jackson Robinson (14 points), and Wichita State transfer Trey Wade (7 points, 5 rebounds, 3 blocks) — three players who had not logged significant minutes this season — all contributed.
Robinson, who was 5 of his first 18 on three-pointers this season, knocked down 3 of 4 in the loss to Hofstra and 3 of 6 against Elon.
"The shooter, Jaxson Robinson, we had a lot of respect for because our staff even commented on how he was shooting it in pregame warmups," Schrage said. "We expected he was going to come off the bench. We gave him way too many looks.
"Johnson, I know him from Atlanta a little bit and obviously (his brother) Dakari (Johnson) and that whole relationship."
At one point, Arkansas scored 47 of the game's 59 points to go up 68-38 with 7:08 remaining.
"They have got a lot of depth, they have got a lot of size and they are doing a great job with their size, length and athleticism," Schrage said. "They are doing a great job with it."
Schrage had been a student assistant under Knight at his alma mater Indiana and was on staffs at Ole Miss, Butler, Ohio State, Duke and Stanford before taking over at Elon in North Carolina.
"Great atmosphere," Schrage said of Tuesday's game. "I had the fortune to be here back in the day. I have great respect for Arkansas basketball."
Elon has played a tough schedule to get ready for its Colonial Athletic Association conference slate.
The Phoenix have losses at Duke, North Carolina and Florida, and against West Virginia and Ole Miss on a neutral floor.
"That's what we have told our guys and told them to keep their confidence up," Schrage said. "It is like putting ankles weights on and weighted vest. You saw Hofstra the other night. Our conference is a monster.
"It will be the best in my three years here. It is making us stronger as long as we have the right attitude with it."
Discussion
Have a comment on this story? Join the discussion or start a new one on the Forums.