Commentary:
ASU matchup good news for state of Arkansas
Published: Sunday, February 7, 2021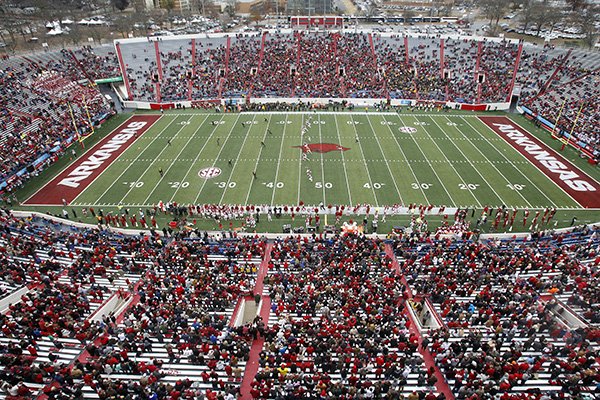 What's in it for us?
What's in it for us?
What's in it for us?
What's in it for us?
For years — no, for decades — that's all I heard from University of Arkansas fans when anyone suggested the Razorbacks play Arkansas State in football. Conversely, I very much disliked and refused to wear those goofy "How long will they run?" shirts directed at the Hogs when I was a student at ASU in the mid-1980s.
So, it was big news when the University of Arkansas announced last week the Razorbacks will play Arkansas State in football at War Memorial Stadium in 2025. This game will confirm what many of us had understood for years.
Missouri is not Arkansas' rival. LSU is not Arkansas' rival. Texas, for sure, is no longer a rival except, perhaps, to those who refuse to let go of the Southwest Conference and the 1960s. Arkansas State is Arkansas' rival and that's been clear in the two times the teams met in men's and women's basketball.
That first football game in Little Rock on Sept. 6, 2025 is a guaranteed sellout providing, of course, covid-19 has largely been purged from the earth.
You need a trophy? OK. Then, I suggest taking a blowtorch and lopping off the state of Louisiana and leaving the state of Arkansas on the shiny "Golden Boot" trophy that went to the winner after the Hogs and LSU played. I know a welder who can get that done in a matter of minutes. Simple.
I had almost given up clamoring for Arkansas and Arkansas State to play in football until the Razorbacks started playing seemingly every team in the Sun Belt Conference except ASU. That's blatantly shoving it in your face — like watching the girl you asked to the prom show up after the dance to your house, ring the doorbell, and make out with her date in front of you.
Much of the credit for finally making the Arkansas-Arkansas State game possible goes to an outsider, Hunter Yurachek, the Razorbacks' athletic director who in less than three years shattered the decades-long sports policy against playing in-state schools. Yurachek envisions more of a regional footprint for Arkansas football with games against schools like Memphis and Tulsa instead of Florida A&M and Portland State. He added Arkansas-Pine Bluff to the Razorbacks' schedule for this fall and in 2024 and moved home games with Missouri from Little Rock to the UA campus in Fayetteville where it belongs.
Can't have the so-called Battle Line rivalry if home games in Arkansas are nowhere near the Missouri state line, right?
I think so.
Arkansas State is a quality opponent for the Razorbacks, who've scheduled a slew of non-conference lightweights for years who did little to prepare the Hogs for the rigors of SEC play. Arkansas State is a top program in the Sun Belt Conference, which barely missed going 5-0 during the 2020-21 bowl season after Coastal Carolina lost to Liberty in overtime.
I remember the intensity at Barnhill in 1987 when Arkansas beat Arkansas State 67-64 in overtime in a men's NIT game. And I remember some Arkansas fans complaining on the radio that ASU celebrated too much after winning 98-84 in a women's NIT game at Jonesboro in 2005.
I've known for a long time Arkansas players and coaches had no issue with playing A-State and a former quarterback for the Razorbacks I talked with last week welcomed the news about the game.
"It'll be a great opportunity for the state when you take the top colleges, put them together, and let them play a game," said Fayetteville coach Casey Dick, who played at Arkansas from 2005-2008. "That's going to be a great atmosphere in Little Rock, kind of in the middle as far as distance for both teams, and I'm sure it'll draw a lot of attention to the game."
Oh, boy, this is going to be fun.
So, what's in it for us?
There's plenty in it for us, especially if you're like me and want what's best for the state of Arkansas.
Discussion
Have a comment on this story? Join the discussion or start a new one on the Forums.