Arkansas adds to Kentucky's season of frustration
Published: Tuesday, February 9, 2021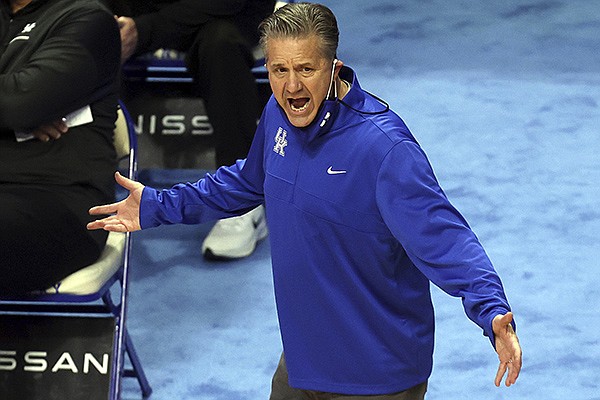 Kentucky head coach John Calipari reacts to a call during the first half of an NCAA college basketball game against Arkansas in Lexington, Ky., Tuesday, Feb. 9, 2021. (AP Photo/James Crisp)
After a sustained run of success in his first 11 seasons at Kentucky, John Calipari knows that none of his team's opponents are going to feel sorry for his team when it struggles.
So despite one of his team's best efforts of the season, Arkansas still ended its eight-game losing streak in the series with an 81-80 victory over Kentucky on Tuesday night at Rupp Arena.
The Wildcats lost despite hitting a season-best 14 3-pointers and rallying from a 12-point deficit to take a one-point lead in the closing seconds. Arkansas won after Jalen Tate turned an offensive rebound into two go-ahead free throws with 4.3 seconds left and Davonte "Devo" Davis stole a pass to keep the Wildcats from getting off a final shot.
More from WholeHogSports
"Guys, this has been one of those, I told them today: They've worked hard enough and had enough bad things happen to them, they deserve something good to happen, but no one is giving it to them," Calipari said. "You have got to take it. We got closer today to taking it."
It was the fifth straight SEC win for Arkansas (15-5, 7-4 SEC) ,now alone in third in the SEC standings. The loss was the
seventh in eight games for Kentucky (5-13, 4-7).
Brandon Boston had 17 points and Oliver Sarr 14 for the Wildcats, who trailed 72-60 with 6:11 left before rallying to take the lead on Davion Mintz's 3-pointer with 14 seconds left.
"Like I said after the game, it's hard for me to be mad," Calipari said. "I wanted to win the game. I will look at things down the stretch to see how I feel, but the reality of it is the team fought and they executed and they threw daggers today. Finally, guys threw daggers.
"That's the best we've finished a game, so I can't be too upset. …This team fought."
The final play did not go off as Calipari had hoped. Davis stole the ball and dribbled out the clock.
"That ball was supposed to go to Olivier and then one of the guards, but we didn't get quite open," Calipari said. "Or ... to BJ Boston, who was open, on the inbound — didn't throw it to him."
It hurt Kentucky when center Isaiah Jackson picked up his fourth personal foul plus a technical with 6:11 remaining.
"I just told Isaiah 'If he missed a call you have just got to let it go. You can't get a technical in a game like this,'" Calipari said. "(They) keep the ball and all of a sudden things change on us. Now from that point, we had our chances and got a one-point lead, but we don't want it."
He was curious to watch the tape on Tate's offensive rebound and foul call that led to the Razorbacks' game-winning points.
"In a game for us, there are game-ending calls that we have seen at Auburn," Calipari said. "It's a game-ending call. Not a jump ball, but a foul. So those things are done. The game ends. It is a game-ending call. I have got to wait and see other tape. I don't know. You guys can tell me. You probably saw it. If it was a foul, it was the right call. If it wasn't a foul, it was the wrong call."
Boston was less reserved about the final call, a foul on Jacob Toppin.
"I think the refs gave them that game," Boston said.
Discussion
Have a comment on this story? Join the discussion or start a new one on the Forums.