SEC basketball roundup: Mizzou falls hard ahead of Arkansas game
By: The Associated Press
Published: Tuesday, February 9, 2021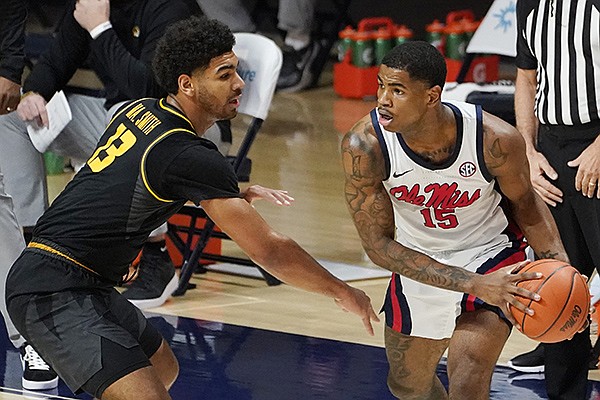 OXFORD, Miss. — The recent mastery of ranked teams continued Wednesday night for Ole Miss as Jarkel Joiner scored 21 points as the Rebels beat No. 10 Missouri 80-59.
Ole Miss (11-8, 6-6 Southeastern) stretched their win streak to three games, including a win over No.16 Tennessee and the No. 10 Tigers. The surge left the Rebels in the middle of a logjam of the SEC standings, with eight teams within three games of each other.
"Having success gave us confidence," Mississippi coach Kermit Davis said. "We didn't give up baskets in transition and did a good job staying in front of them. You can't let Missouri play downhill."
Devontae Shuler and Luis Rodriguez added 15 points apiece for the Rebels (11-8, 6-6 Southeastern), extended their winning streak to three games that includes wins over No. 16 Tennessee and the No. 10 Tigers.
Ole Miss used a 17-2 run that spanned the final two minutes of the first half and the opening three minutes of the second half to build an insurmountable 51-37 lead. The Rebels led by as many as 22 points midway in the second half as Missouri never seriously threatened again.
"That (17-2 run) was the critical part," Davis said. "It's a coach's cliché but it's true how you finish and how you start. We got out in transition, got our hands on the ball and made some good plays. It was great to see."
Dru Smith led Missouri (13-4, 6-4) with 17 points as the loss snapped a three-game winning streak. Javon Pickett added 10 points as the Tigers struggled at the free throw line, shooting 5 of 15 (33 percent) and were outrebounded 34-19.
"We just didn't have the edge we normally have," Missouri coach Cuonzo Martin said. "I don't know where to start. We didn't have it tonight and give those guys credit."
Ole Miss finished 29 of 51 (57 percent) from the field and 8 of 21 (38 percent) from three-point range, including five by Shuler. The Rebels were 14 of 17 from the free throw line (82 percent) and had 21 assists for 29 baskets, including four apiece from KJ Buffen and Robert Allen.
Tide win at Carolina
COLUMBIA, S.C. — John Petty Jr. wasn't going to let another one slip away for Alabama.
The 11th-ranked Crimson Tide were coming off their first Southeastern Conference loss of the season last Saturday and were locked in a tight game with pesky, determined South Carolina.
Behind Petty's 20 points and three 3-pointers, they came through, bouncing back from their loss to No. 10 Missouri with an 81-78 victory over the Gamecocks on Tuesday night.
"I was going to do whatever it took to get a win," Petty said.
It took about every point he could score as the Gamecocks (5-8, 3-6 SEC) rallied from 78-70 down in the final four minutes to cut it to 79-78 with 2 seconds left.
But James Rojas preserved the win with two foul shots to keep Alabama's best league season in more than six decades going. The Crimson Tide (16-5, 11-1) won their sixth straight over the Gamecocks.
"We've got a special thing going this year and we're real motivated," Petty said.
With South Carolina trailing 79-76, coach Frank Martin said he drew up a play with three options for a tying 3-pointer. Instead, Jermaine Couisnard connected with Justin Minaya for an uncontested layup.
The Gamecocks were forced to foul Rojas, who made his free throws.
"Instead of running what we asked to run, we just kind of ... no mental connection with the situation," Martin said.
AJ Lawson led South Carolina with 21 points, making five 3-pointers.
The Gamecocks had their chances. Wildens Leveque tied it at 59 with 11:11 left before Alabama went ahead for good on Jaden Shackelford's layup on the following possession. Jahvon Quinerly extended the lead with a jumper.
The Gamecocks scratched back within 65-64 on Lawson's 3-pointer and a foul shot by Bryant. But Petty, the team leader in made 3s, hit another from behind the arc and South Carolina could not rally, losing for the third time in its past four games.
Alabama, which fell behind by 22 points to Missouri before losing 68-65, trailed South Carolina 16-5 with less than five minutes elapsed.
That's when the long-range shooting of Petty and Joshua Primo got Alabama back in contention. Primo, a 6-foot-6 freshman, had totaled seven points combined in his last three games with only one 3-pointer. This time, he hit three of his team's six 3s in the first 20 minutes and had 10 points at the break.
Quinerly finished with 13 points for the Tide while Petty added eight rebounds, two blocks and a steal.
Tennessee holds on to beat Georgia
KNOXVILLE, Tenn. — Jaden Springer scored a career-high 30 points to lead No. 16 Tennessee to a 89-81 victory over Georgia on Wednesday night.
Santiago Vescovi added 19 points, Josiah-Jordan James had 18 points and Keon Johnson scored 11 for the Volunteers (14-4, 7-4 Southeastern Conference).
Tennessee was playing without 6-foot-6 senior Yves Pons, who is nursing a right knee injury. Pons, a leader in rebounds and blocked shots, had scored 69 points in the last five games.
Without that size, the Vols went with several four-guard combinations to go with inside player John Fulkerson.
K.D. Johnson scored 20 of his 22 points in the second half to lead the Bulldogs (12-7, 5-7). Toumani Camara scored 14 and Sahvir Wheeler had 11.
Shots that fell in the first half for the Vols rimmed out early in the second. Tennessee built its lead to 23, 51-28, in the first couple minutes of the second half. From there Georgia's defense became effective.
The Bulldogs came up with a 12-3 spurt and got the difference down to 14, 54-40. Camara had five of the points in that burst.
Springer helped Tennessee recover by hitting two free throws and a 3-pointer to get the lead back to 19 with just over 11 minutes to play.
It took four minutes for the Bulldogs to chip away and narrow the gap to 67-54. A three-point play by Johnson was key in the run.
Johnson had a couple driving baskets with just over a minute to play to cut Tennessee's lead to six, 79-73.
It didn't get any closer.
Tennessee was hot from the field in the first half en route to a 44-26 lead. The Vols shot 53% (8 of 15) from 3-point range and totaled 55% (16 of 29).
Leading by five midway through the first half, Tennessee went on a 9-2 run, fueled by Springer who had six of his 12 first half points.
Auburn snaps streak at Vanderbilt
NASHVILLE, Tenn. — Sharife Cooper and Jamal Johnson scored 19 points apiece and Auburn held off Vanderbilt with a 73-67 win on Tuesday night.
Cooper scored 18 of his 19 in the second half in 14 minutes and finished 10 for 11 from the foul line altogether.
Devan Cambridge's 3-pointer with 13:08 to play gave Auburn a 40-38 lead it never surrendered. Vanderbilt led 25-23 at halftime.
Cambridge finished with 11 points and Allen Flanigan 10. Jaylin Williams grabbed 10 rebounds for Auburn.
Dylan Disu scored 18 points for Vanderbilt and collared 10 rebounds, Jordan Wright scored 14 and Scotty Pippen Jr. 12 before fouling out with five minutes left.
The Tigers entered ranked 289th nationally among Division I teams in scoring defense, surrendering 76.2 points per game. Auburn had allowed at least 75 points in six straight games going 2-4 during that stretch. They'd also given up 75 or more in eight of their last nine games.
While Auburn (11-10, 5-7 Southeastern Conference) may improve a tad in scoring defense, they have Vanderbilt's (5-10, 1-8) 11-for-22 shooting effort from the foul line to be thankful for.
Auburn faces Kentucky at Lexington on Saturday. The Commodores head to Starkeville to face Mississippi State on Saturday.
LSU pulls away on the road
STARKVILLE, Miss. — Cameron Thomas scored 25 points, Javonte Smart had 22 points and 11 assists, and LSU pulled away down the stretch to beat Mississippi State 94-80 on Wednesday night.
Darius Days added 16 points and 11 rebounds and Trendon Watford had 14 points for LSU (12-6, 7-4 Southeastern Conference).
Deivon Smith made a layup to cap an 8-2 spurt that trimmed Mississippi State's deficit to 73-70 with 8 minutes to play. Smart answered with a step-back fade-away jumper and Thomas followed with a 3-pointer to start a 12-3 run that pushed LSU's lead into double figures for good.
Tolu Smith had 24 points on 10-of-11 shooting and grabbed 11 rebounds for Mississippi State (11-10, 5-7). Derek Fountain scored 20 points, Iverson Molinar added 16 and Deivon Smith 12.
LSU set season highs for field-goal percentage (61.3) and assists (22). The Tigers scored 26 points off 15 Mississippi State turnovers and had a 24-8 advantage in fast-break points.
Thomas hit a jumper to make it 35-34 with 2:45 left in the first half and LSU led the rest of the way.
The Bulldogs, who went into the game ranked No. 32 nationally in field-goal percentage defense (39.9), gave up their most points in a game since a 98-92 loss to Auburn on February 7, 2017.
Discussion
Have a comment on this story? Join the discussion or start a new one on the Forums.