NLR's Ware a rising talent
Published: Thursday, February 11, 2021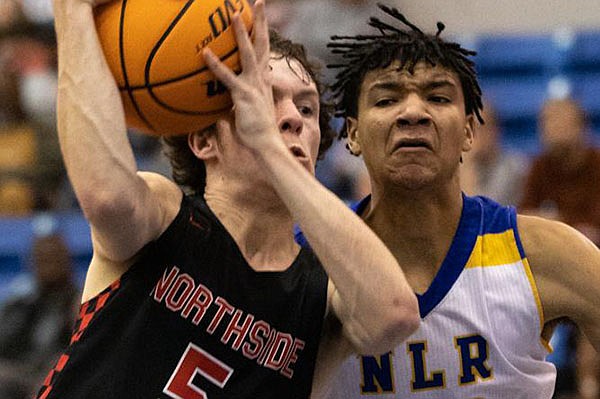 (
Justin Cunningham
)
Fort Smith Northside guard Garrett Keller (left) drives against North Little Rock center Kelel Ware during a game Friday, Jan. 24, 2020, in North Little Rock.
While a number of Arkansas-born standouts were helping the Razorbacks take down Kentucky on Tuesday night at Rupp Arena, one of the state's biggest and best high school basketball players was showing why he could be a key in doing the same in the future.
North Little Rock center Kel'el Ware (7-0, 215) put up 32 points, grabbed 17 rebounds and blocked four shots Tuesday night in his team's 93-55 win over Little Rock Southwest in Class 6A-Central conference action.
That followed up a 19-point game where the No. 4 Charging Wildcats (15-2, 9-2) handled Conway, 74-64.
"The last two games Kel'el has stepped up and played like an elite player," North Little Rock head coach Johnny Rice said. "In our last loss to Central, he only had six touches, but was 5 of 6 from the field.
"Some of it was we didn't do a good job of getting him the ball and some was he wasn't demanding the ball. The last two games, he has demanded it and was also a factor protecting the rim, but also out on the floor demanding the ball screen.
"When he plays like that, we are a good team."
Ware, one of six in-state junior prospects Arkansas head coach Eric Musselman and his staff have offered, is ranked as the 37th best player nationally by Rivals.
"I was getting second chance points," Ware texted after the win on Tuesday. "I feel like I have been playing pretty good this season. My strengths have been in the post and grabbing rebounds."
Ware has offers from Arkansas, Kansas, Florida, Auburn, Ole Miss, Missouri, Oklahoma State, Kansas State, Michigan State, Illinois, Texas Tech, TCU, Texas A&M, Virginia Tech, Tulsa, ORU, UCA, Hampton and others.
He has been happy to see the Razorbacks' four Arkansas-born freshmen — Moses Moody, Davonte Davis, Jaylin Williams and injured Khalen "KK" Robinson — have success. The Hogs are 15-5 after the 81-80 win at Kentucky.
"I think they are playing good for freshmen," Ware texted.
Ware has missed some games this season due to covid contact tracing.
"He has done really well, but he has been quarantined three times now after having close contact two other times earlier in the year," Rice said. "We have played some games without him, but we know we are much better with him.
"We are hoping now that he can stretch and finish the whole year without any breaks."
Ware has seen increased attention this season on the court and off because of the offers he has received.
"Some teams have keyed on him," Rice said. "He has gotten better than he was last year. He was better as a sophomore than he was as a ninth grader and so he has just continued a progression that I am tickled to death with.
"He scores a lot of different ways and when he is locked in with a high motor, he is an elite guy. He has done that most of the time this year."
Ware joins Morrilton small forward and Arkansas commit Joseph Pinion (6-5, 175), Magnolia guard Derrian Ford (6-4, 190), Little Rock Christian forward Creed Williamson (6-8, 225) and Mills guard Javion Guy-King (6-5, 200) as in-state offers.
Northwest Arkansas fans should get a chance to see Ware during the Class 6A state tournament in March in Fayetteville.
Some of the top contenders are Bentonville, Fayetteville, North Little Rock and No. 2 Little Rock Central (18-4 10-1). Central has handed the Charging Wildcats both of their losses this season.
North Little Rock has won five state championships since 2013 and over 200 games with Rice as its head coach.
"If we play like we are capable of and Kel'el plays like he has been, we have a good chance of being right there at the end again," Rice said.
Discussion
Have a comment on this story? Join the discussion or start a new one on the Forums.